Perfect 10 for Lewis?
The Sky Sports experts are divided over whether Adrian Lewis can realise his dream of 10 world titles.
Last Updated: 03/01/12 9:19am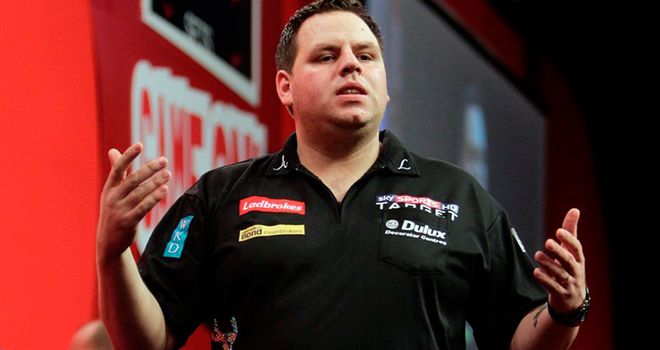 Can Adrian Lewis go on and win 10 World Darts Championships?
That was the question debated in the Sky Sports studio after the 26-year-old claimed his second successive title with a 7-3 victory over Andy Hamilton.
After collecting the trophy, Lewis immediately signalled his intention to repeat his success, saying in his post-match interview that he wants to win the World Championship "at least" 10 times.
Sky Sports expert Rod Harrington feels Jackpot is capable of winning multiple titles, as he will potentially have another 30 trips to Alexandra Palace during his career.
And he feels that at this precise moment, there is no better player in the world than Lewis.
Harrington said: "At this moment in time of course he's the best in the world, he's the world champion.
"There was a great quote when he won his semi-final and he said he believed he's the best in the world at the moment. I like to hear that in a guy, any sportsman who believes in his own ability.
"He went on that stage believing that he was going to do it. Any time you doubt yourself you don't do it.
"He's got plenty of years on his side. He's got 20 or 30 years on his side as long as he looks after himself and he'll go on and he'll win more World Championships.
"He's got that extra gear that not many people have got. When he sets them up and gets the shots out with that scoring power then he's absolutely impossible to beat."
Illustrious
Phil Taylor has won 15 world titles during his illustrious career, but his impending retirement - The Power says he may quite the sport within three to five years - could open the door for another player to dominate.
However, fellow Sky Sports expert Wayne Mardle does not expect anyone to reach the heights that Taylor has reached and he feels Lewis, who turns 27 later this month, could struggle to match his ambition of 10 world crowns,
"I think that's pushing it," Mardle added.
"He's 27 years of age. If he does everything right in his career then it's possible - but to do it all right you've got to be Phil Taylor haven't you?"