Rod Harrington: Happy Barney is threat to Michael Van Gerwen
Rod Harrington says Barney looks happy and calm - and so will be a threat against Michael van Gerwen.
Last Updated: 11/10/13 10:43am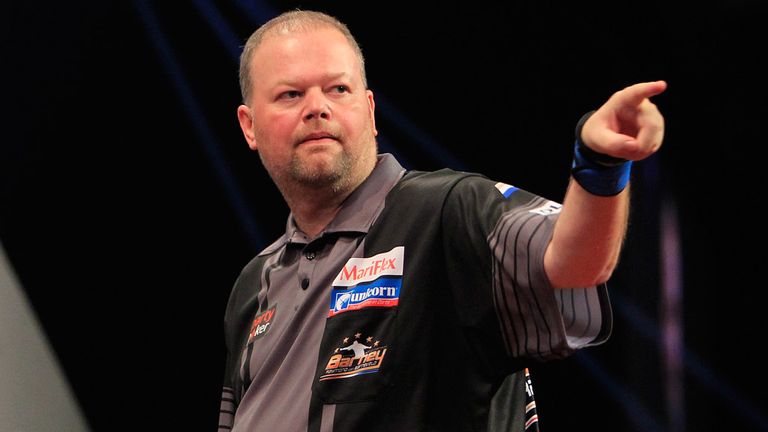 He has his wife with him in Ireland and doesn't have managers or other people telling him to get up early in the morning these days - and sometimes you just have to do what you feel like.
For example, this morning I was supposed to play golf but decided to have a rest and had a fry-up for the first time in ages instead (I'll go to the gym later to burn it off). In darts you sometimes have to do what you feel like and you can't stick with a routine all the time - because routines have made Barney miserable and bored in the past.
He also has a terrible attitude for losing, which I don't think helps, but currently he looks calm and happy and that could take him a long way.
However, in Michael van Gerwen he's up against a young kid who throws darts for fun and the key to their match on Thursday night is whether Van Gerwen gets in front early.
When Barney falls behind he sometimes lacks the determination for a fight, but if he gets in front and gets his confidence and his lovely silky smooth throw going then we could see a Barney win.
It should be a cracking night. Here's what we've got to look forward to on Thursday:
Adrian Lewis v Justin Pipe
This will be like a sprinter against a marathon runner - although Justin Pipe has speeded up his game a little bit and isn't as slow as a lot of people say he is. I've got to back Adrian to pull it off, but there's no doubt Pipe has learned how to win games. He's a streetfighter and never gives up so Lewis will need to stay totally focused and not give any sets away. I'm backing Lewis just to edge this one.
Dave Chisnall v Wayne Jones
Dave Chisnall is a prolific scorer and always hits more 180's than his opponents, but Wayne Jones has been playing exceptionally well in the last two months. In round one he knocked out Mervyn King, who has been playing really well, and this could be a really tough game. I'd normally back Chisnall and if he gets in quickly I think he'll win, but based on Jones' form I'm going to sit on the fence. This could be a very close game and the scoreline could go either way.
Michael van Gerwen v Raymond van Barneveld
As I mentioned above, the first set is crucial in this match and whoever wins the first set will probably win the game - but you wouldn't get any of my money going on this. However, I do think putting money on Barney each way to win the tournament is a great value bet because he was around 20/1 when I last checked. If he wins this match he'll go in as second favourite straight away. In a way you are simply backing him to beat Van Gerwen at 20/1 because if he wins then I think he'll make the final.
Andy Hamilton v Kevin Painter
These two players are very similar, both very solid and both had very impressive first-round wins. I love both players and would like to see them both win - and I'll shake the hand of whoever comes out on top. But I've known Kev since the first time I threw a dart and if I had to pick one from my own heart I would pick him as my old practice partner. This is a tough one and I could see it go either way.