World Darts Championship: Rod Harrington picks key matches on first weekend
From Taylor to Barney, Rod Harrington selects the matches to watch in the World Darts Championship.
Last Updated: 14/12/13 12:26pm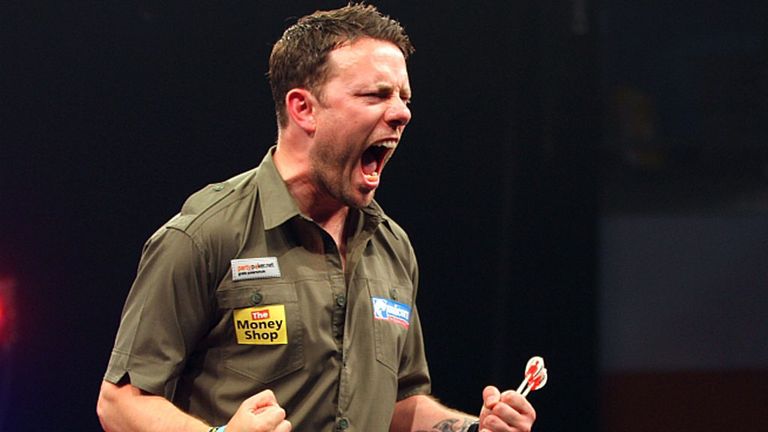 ROD SAYS: This opening night is a sign of how strong the game is. There are some great pairings here and I'm really looking forward to the last match. Dean Winstanley came over from the BDO and did well initially, but has started doubting himself and faces one of the toughest games of the first round. A lot will depend on his attitude if he misses a few doubles and he needs to find the confidence that he lacks. Richie Burnett has been coming back into a rich vein of form and if he keeps that up then he may just win this. It's a very hard one to call though.
Phil Taylor won't have a problem here. He doesn't make mistakes in the World Championship, especially early on, and someone will need to play brilliantly to beat him later on. As for John Part, he hasn't been playing well lately and I've never seen him miss as many doubles as he did at the Players Championship in Minehead. Usually when he gets chances he closes games out and I wonder if that will affect him. I expect him to get through, but if he doesn't get going then Mareno Michels is no mug. Then there's Peter Wright, who is one of the most improved players of the year - a great scorer, who has made himself into a character. I'd love to see him do well, but I'd like to see Joe Cullen go through as well because he's a nice guy as well. I wish both of them could win!
Saturday December 14
Afternoon Session (12pm, Sky Sports 3)
Mark Walsh v Jarkko Komula
Colin McGarry v Per Laursen (P)
Wayne Jones v Kevin McDine
Terry Jenkins v McGarry/Laursen
Ian White v Kyle Anderson
ROD SAYS: The first game will probably be one of the slowest games of the first round. Mark Walsh has got the pedigree, but he's not been playing well and Jarkko Komula is an outsider who's been around for a long time and his form line is probably a little bit better. If Walsh turns up on form then he could easily win.
Terry Jenkins is an old campaigner and I don't expect him to lose. He has nothing to prove and he could have a good run in this World Championship. He keeps saying he could retire at any time, which is rubbish because while there's money to be won he is still going to be there. I can't see any upsets there.
Evening Session (7pm, Sky Sports 3)
Robert Thornton v Max Hopp
Julio Barbero v Andree Welge (P)
Gary Anderson v Mark Dudbridge
Andy Hamilton v Barbero/Welge
Paul Nicholson v Stuart Kellett
ROD SAYS: This evening session features a couple of good games and possibly a couple of upsets as well. Paul Nicholson has got to stay focused against Stuart Kellett, who has been playing really well. He's an up-and-coming player who knows how to hit the double 20. Nicholson keeps doubting his ability to hit what he's aiming at in the middle of games and he's got to learn to go to a different place in his head. He has the experience, but his opponent has nothing to lose.
For me, Gary Anderson v Mark Dudbridge is the pick of the first-round matches. Dudbridge has had a couple of small operations and has been playing well again on the Pro Tour. Gary Anderson's scoring power is incredible and that should be enough to win the game. I would expect the Scot to go on and win it, but it wouldn't surprise me if it went the other way.
Sunday December 15 (7pm, Sky Sports 1)
Dave Chisnall v John Henderson
Dennis Lindskjold v Edward Santos (P)
Raymond van Barneveld v Jamie Lewis
Brendan Dolan v Lindskjold/Santos
Jamie Caven v Jelle Klaasen
ROD SAYS: Jamie Caven v Jelle Klaasen is going to be a cracker. Klaasen is playing some wonderful darts again and seems to have slowed his throw a little bit. He's nowhere near as fast as he used to be and I think that has made him more consistent. Caven has been playing some unbelievable darts at times and I could make a great case for both of those players to win.
Raymond van Barneveld is playing one of the stars of the future in Jamie Lewis. He is still learning the game and had a great run in Gibraltar recently, so he has nothing to lose. We all know what Barney is like. He can step and beat anybody, but if he loses the first set you might see him starting to shake his head and doubting himself. He has a new manager and a new psychologist, but I don't understand why they let him go on TV and speak so negatively about himself. He's always done that and if Lewis gets ahead early we could see a repeat of 2012 when he lost 3-0 to James Richardson.