Rod Harrington: Phil Taylor to return to form in Premier League in Bournemouth
Rod Harrington says Phil Taylor will be back on song when the Premier League hits Bournemouth.
Last Updated: 12/02/14 9:26am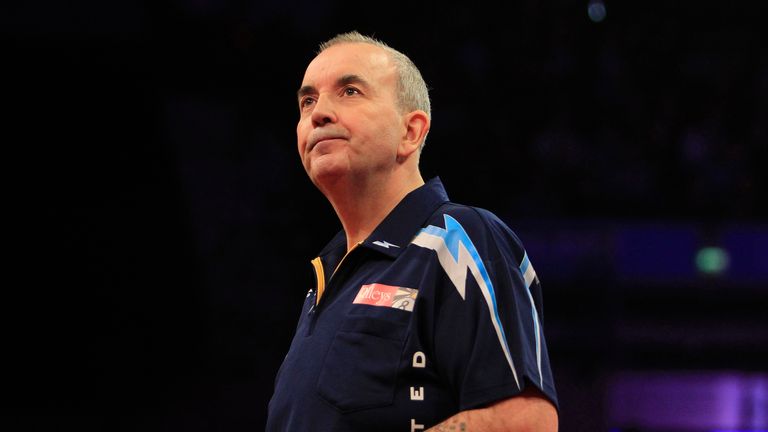 Adrian Lewis v Phil Taylor
I don't think anybody - not even us insiders - predicted Phil Taylor would lose 7-0 to Michael van Gerwen last week. It's the first time The Power has been beaten to nil and it was a bad day at the office for him. Remember, he had only played two competitive matches in a two-month period and I don't think he was match fit. A footballer who's been playing in the reserves for two months might struggle to adapt to the first team straight away and I think that was the case for Phil. But last Sunday he proved it was just a little blip. He won the UK Open qualifier and threw two nine-darters in the process and now it seems to be business as usual.
Meanwhile, Adrian Lewis enjoyed a brilliant result against Simon Whitlock last week and is showing his maturity as a former world champion. He lost to Taylor in the final in Wigan at the weekend and apparently The Power played unbelievably well and Thursday's game could be similar. If Taylor gets in front then he will go on and win, but Lewis is a great leader and if he gets his nose in front he won't bottle it. I'm expecting a good high-scoring game and it could go all the way. Phil will want to bounce back big time and will not want to be sitting bottom of the league with two defeats next to his name.
Robert Thornton v Michael van Gerwen
Robert Thornton is one of the toughest players on the tour and always plays a good game. He's no mug when it comes to scoring and when he gets a dart at a double he rarely lets you down. He was a newcomer to the Premier League last year and it's often hard for debutants, but he did really well.
However, Michael van Gerwen is now a world champion and the world number one. You can't take anything away from what he did to Taylor with that 7-0 victory last week and you would expect a world number one to do that when his opponent is not firing on all cylinders. He will be very hard to beat again on Thursday night and I can't see Thornton beating him. Van Gerwen is on such a high after beating Taylor and as long as he doesn't mess around then it's hard to see past him.
Wes Newton v Raymond van Barneveld
We always say that if you get out of the gate quick then you can put your opponent under pressure and that's what Barney did against Gary Anderson last week. He stayed in front of him and won very well - and he's always been a great leader - but when he's under pressure he can't street fight at the moment. I spoke to him last Saturday and he said he's feeling comfortable with his darts - because the stems and flights are exactly the same as the ones he used to beat Taylor in the 2005 World Championship. Those of us who know what we're talking about have been telling him to do that for years, but he's been listening to other people and got other things in his head! He's playing well and is hopefully back to his best - but I still think he lacks the passion to fight. He needs to get that back.
Last year we wondered if Wes Newton was going to be the whipping boy and he may be that again this year. He is a great player with a great game, but he sometimes hasn't got the kick that you need to go to the next level. If Barney plays as well as he did last week then I can't see Wes beating him. On form, you've got to go with Barney.
Gary Anderson v Simon Whitlock
Gary Anderson won the German Darts Championship a couple of weeks ago and I thought he was going to take it to Barney last week - but his opponent was too quick for him. Barney narrowly missed a nine-darter on the eighth dart and was averaging 130 after two legs, so it was always going to be hard to cope with that. Anderson is a very unpredictable player and you wouldn't be surprised to see him throw seven 12-darters and blitz anybody. A lot depends on how he feels at a certain time, how many cups of coffee he's had and if he's tired or not! He's one of those Ronnie O'Sullivan / George Best style of sportsman and darts needs someone like him in the game - and that's why he got a wildcard to be in the Premier League. I think he will bounce back.
Simon Whitlock has been out of sorts lately and wasn't too well in Wigan at the weekend. He had some cold and flu and if that has continued into this week and has affected his practice it could have an impact on his match. It's so hard to predict this game, but given all of that I would probably have to go for Anderson to nick it.
Dave Chisnall v Peter Wright
I was really pleased to see both Dave Chisnall and Peter Wright get positive results on the opening night. Ever since Chisnall was whitewashed by Phil Taylor in the Grand Prix Final he has been on a downer. Great players bounce back - and he did bounce back last week. He had a good run at the weekend and hit a nine-darter so he will be feeling good.
Wright told me he was going to go back to his old darts - and he did - and that helped him get back to his old self, which is good news. We should be in for a cracking match between the two Premier League debutants.