Rod Harrington: Michael van Gerwen to beat Raymond van Barneveld in Glasgow
Rod Harrington tips Michael van Gerwen to beat Barney in Thursday's Dutch showdown.
By Rod Harrington
Last Updated: 26/02/14 8:18am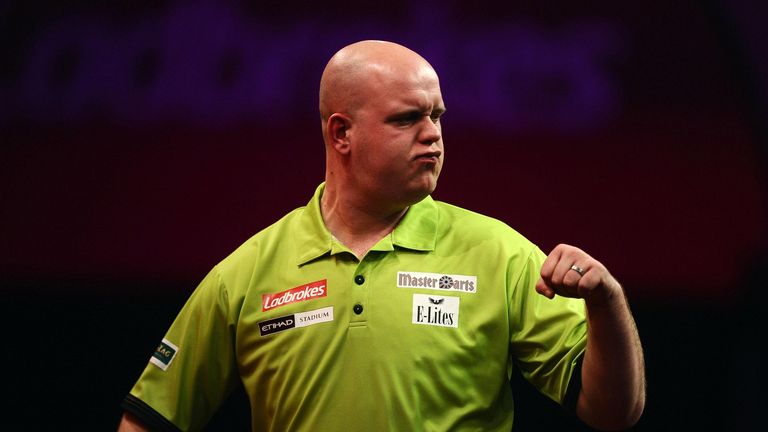 Michael van Gerwen v Raymond van Barneveld
At the moment Michael van Gerwen could probably throw darts hanging off a bar with his left hand and they would go in because he's playing so well. He won one of the tournaments at the weekend and is so full of confidence; he's also a lovely young man and just loves playing darts all the time. For the good of the tournament we probably want him to win all of his games and that gives everybody else more of a chance of getting in the top four! If he loses a few then it could really spread the field out.
Raymond van Barneveld played in the tournament on Saturday, but decided to go home on the Sunday because he felt tired. I suspect that if Van Gerwen gets in front of him early on then he might start shaking his head and end up losing 7-1 or 7-2 - but if Barney can get in front early and get a bit of confidence then he could give the world champion a good game. At the moment he can lead, but he can't follow and I can't see him winning this. Van Gerwen is able to come from behind or lead from the front - and like everybody else I will go for him to win it.
Simon Whitlock v Phil Taylor
You'd have to say that whoever loses this match will be in big trouble. They have both started with three straight losses and whoever loses a fourth will be odds-on favourite to be relegated after week nine. If Phil loses this then people will be saying he might not make the top four and could even be relegated, which is incredible. We all know Phil could probably get out of it a little bit better than Simon though and you can't write him off. He will certainly be back, but we'll just have to see how long it takes. He has lost a lot of weight and has a lot going on after changing his darts and it will take a while for his body and mind to get round all of those things. However, he still produced an average of 101 against Peter Wright last week, so write him off at your peril, but he has got to get off a losing run because when you continuously lose it can get in your head. He has been dominant with his brain power over the years, but you may start to see a few negatives creep in. However, he knows better than anybody what he needs to do.
Simon still isn't well and hasn't been able to fly anywhere due to an ear infection. That means he has had to drive to tournaments and that has obviously taken a lot out of him. For example, he had to take the ferry to Belfast last week instead of flying and that doesn't help. I spoke to him at the weekend and I think that has had an impact. This is a mega crucial game for both players and I would have to go for Phil to win.
Peter Wright v Adrian Lewis
Peter Wright goes into every game with loads of confidence now. Last week he changed his darts to a straight barrel and performed brilliantly, beating Phil Taylor. If you can change your darts and beat The Power, that shows you've got the right mindset. In fact, you could probably give him a Bowie knife and he'd hit the treble 20 with it because he's feeling so good. All players go through ups and downs, but he's on a massive up at the moment and good luck to him.
Adrian played well at the weekend and seems to have got over the flu that affected him in the Premier League last Thursday. This is a real tough match to call because Lewis has got electric scoring power and if he brings that to the board then he wins. But if he is off his mark, with the way Wright is playing, then he will lose. It could go either way and the person who starts the quickest will win it - and I wouldn't be surprised to see a draw and lots of 180's.
Robert Thornton v Wes Newton
At the start of the season we thought Robert Thornton wasn't playing so well, but all of a sudden he has come back on form. He threw eight 180's last Thursday and I spoke to him afterwards and he's really up for it. It seems like he's enjoying his darts and he could be really dangerous in this competition.
Adrian Lewis was full of flu last week, but you can't take anything away from Wes Newton's victory over him. He has learned how to do the right things at crucial times. I keep saying Newton will lose each week and he keeps coming up trumps so fair play to him, but I've got to go for Thornton here. It's nothing to do with liking or disliking somebody, I've just got to call it on the form - and Thornton was incredible last week. He kept it up in the weekend tournament too and so I've got to pick him.
Dave Chisnall v Gary Anderson
I often talk about people getting out of the gate quickly, but Gary Anderson was like a derby-winning greyhound in his match with Thornton last Thursday. I was commentating on it and even though he lost the match he was playing really well. He won a tournament at the weekend as well, so is in good shape, and he wasn't disheartened about losing to Thornton because he feels he walked into an opponent who was playing at his best.
The problem with Dave Chisnall this year is that he's not getting into his rhythm quickly enough and is not producing 140's and 180's early enough in his matches. It is taking him two or three legs to get into the match and he might find himself 2-0 or 3-0 down and chasing for the whole game. That can give your opponent confidence - and you don't want to walk into Gary Anderson when he's full of confidence! This will be a high-scoring game and I'm going with Anderson to just win it - but being a Premier League pundit is a nightmare at the moment because these games are so hard to call.