Premier League Darts 2014: Rod Harrington previews Week 6 in Nottingham
Phil Taylor has real issues with his darts and Rod Harrington is tipping him to lose to Dave Chisnall.
By Rod Harrington
Last Updated: 11/03/14 2:12pm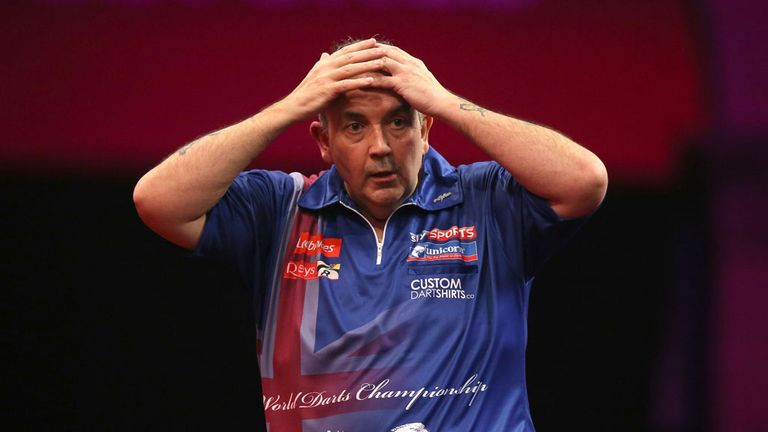 Phil Taylor v Dave Chisnall
I spoke to Phil at length after he lost to Aden Kirk at the UK Open and he has got a lot of things to put right. When you have one or two little issues to solve then you can put them right easily enough, but when there's lots of things it's hard to know how to prioritise. He is out of sorts with his darts and I don't think he has got the stem, the grip or especially the flight right. He twice hit double 12 when going for double five to check out 130 at the UK Open - and that's quite unlike him. He's not playing as badly as people think, but his opponents are taking the chances to beat him when they weren't before.
For me personally, it was pleasing to see Kirk progress from the Youth Tour (I stuck my neck on the line to get that going), but I would love to see Taylor bounce back. Phil could easily turn up and average 105 like he did in Glasgow, but Chisnall will never have a better chance of beating him. This will be a tough match and if Taylor plays like he has done in the last fortnight then I think he will lose. Chisnall can't afford to let Phil get in front and get his confidence back, but if he gets out of the gate then the form says he will win. For the first time ever in this column, I will predict that Taylor is going to lose
Adrian Lewis v Gary Anderson
Adrian played unbelievable darts in the final of the UK Open on Sunday. He was averaging between 110 and 112 for the whole game and it's that leg-on-leg consistency where a top player earns his money. He was pounding away on the trebles against Terry Jenkins, who had a wonderful tournament, but he had nothing to counter Lewis in the final. I think we are going to see the best of him now for the rest of the year, at least, because he was fluent, he wasn't rushing his darts and it was a joy to watch.
Anderson is playing very well himself so this is going to be a very high-scoring game full of 140s. I would have to back Lewis after he won the UK Open, but it's hard to predict and it wouldn't surprise me if Anderson gets a draw or nicks a win. It's very difficult to be a pundit on this Premier League but I've got to go for Lewis on form.
Simon Whitlock v Peter Wright
Aden Kirk not only beat Taylor in the UK Open, but also beat Peter Wright - however the World Championship finalist is in a good place in his head. When you're in a positive frame of mind, losing a game that you should have won doesn't hurt so much and you can get over it. When you're in a bad place it can be another nail in your coffin, but I think Wright will get over that defeat fairly quickly.
Simon Whitlock might be bottom of the Premier League table but I am going to go for a draw. The form would say I am totally wrong, but I honestly think the Aussie can get a point in Nottingham and with the way the Premier League is going you can't always go on the form book. Wright would bite your hand off now because one point will put him even nearer to the Play-Offs. He's top of the table and doesn't need to do much more to secure a top-four finish.
Michael van Gerwen v Wes Newton
Michael van Gerwen's semi-final defeat to Terry Jenkins at the UK Open was not a big surprise to me because Jenkins has been a great player for the last 15 years. Van Gerwen has periods of three to five legs where he plays brilliantly, but then a few legs where he's not hitting his trebles. If he has more dull periods then his opponent may be able to take advantage.
Wes Newton was not able to play in the Premier League last week or the UK Open due to illness and at the time of writing I don't know if he will have recovered. I can't see him being fully recovered or as strong as he would want to be so I can only see a Van Gerwen win. Wes has been doing well and has learned to grind out results, which is a great thing to have in your locker, but I don't think MVG will make many mistakes.
Raymond van Barneveld v Robert Thornton
Robert Thornton played twice last week due to Newton's illness and that happens every now and again. He had a draw and a loss and he has another tough night on his hands here against Raymond van Barneveld. I've often said that it's hard to back Barney - but it's also hard to back against him.
You could say the same about Thornton, who can be brilliant one week and then the next week he doesn't quite seem able to do it. It's really hard to call this one and I would probably back Barney, but that's only a very slight lean. We saw three draws last week and it would not be a surprise to see another one in this game.