Premier League Darts 2014: Rod Harrington previews Week 7 in Leeds
Rod Harrington says SIX men will be scrapping to beat the drop when the Premier League hits Leeds.
By Rod Harrington
Last Updated: 22/03/14 9:58am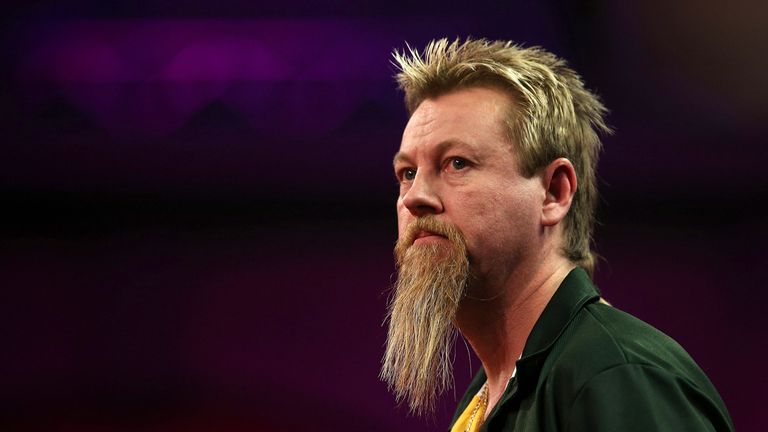 Dave Chisnall v Simon Whitlock
I've given this article the headline 'squeaky bum time' because that's exactly what it is. The 10 players now need to put themselves in a position to avoid relegation after Week Nine - but also to try and get in the top four. If Simon Whitlock loses then I think he's relegated, but if he wins then it brings Dave Chisnall back into the scrap as they'll both be on four points.
Neither player has been consistent enough this season. Chisnall has not been getting out of the gate early enough and his leg-on-leg game hasn't been strong enough. We saw him play terrible darts against Phil Taylor last week and then suddenly he'd produce a pair of 180's and win a leg easily. You might be able to win a few Tour events playing that way, but there's no lucky draws in the Premier League as you're up against top players each week and you need consistency. Whitlock has been a bit unlucky at times, but will be up for this game because a draw does him no favours so he might as well go hammer-and-tongs at it. It could go either way and it wouldn't surprise me if it's a draw (which wouldn't be a bad result for Chisnall). Expect an edgy game on the doubles.
Robert Thornton v Adrian Lewis
I think everybody up to Gary Anderson is at risk of being relegated - and in my mind only Peter Wright, Michael van Gerwen, Raymond van Barneveld and Adrian Lewis are safe. Robert Thornton will be at risk if he loses, but if he can come out firing as he has at times this season then he will have a chance of beating Lewis.
But Adrian is the form horse at the moment. He won the UK Open and he played brilliantly in the Tour event last weekend. My son drew him in the first round on Saturday, missed a dart at the double for a 12-darter and then never had another visit! You have to go with Lewis when he's in this type of form, but Thornton is no mug and he needs a win to pull clear of the relegation area. I'm sure he'd bite your hand off if you offered him a draw right now though.
Gary Anderson v Michael van Gerwen
For me, these are two of the rawest talents in the game. This will be a fast and furious game and both are in exceptional form. They both won Tour events at the weekend with Anderson winning on Saturday and van Gerwen winning on Sunday, so both will be in a good frame of mind. Gary's partner Rachel is due to have a baby soon and sometimes if you've got something major in your life to take your mind off your job then you can do your job without pressure. I think Anderson just wants to get his matches over and done with because he could become a dad at any time and that's helping him to relax.
Van Gerwen is also flying and the form book says he should edge this match - but there is a flaw in his game because he goes off the boil for a couple of legs at times. A lot will depend on Anderson's doubles, but it wouldn't surprise me if we see another draw.
Wes Newton v Phil Taylor
Wes Newton has been the surprise package of the season with his results and he has played exceptionally well - but Phil Taylor will be up for this. He knows he has got to win or else he could be relegated. I think he will get the two points he needs to go above Newton and that will put him in a bit of trouble, despite looking cosy at one stage earlier this season.
Phil's darts still aren't quite right and he keeps drifting into the fives and sevens at times, but his scoring power has been exceptional in the last couple of weeks. He has been missing doubles and if that happens on Thursday night and Newton can punish him for it then the pressure will be on him. Wes needs to play well in the early part of the game because if he goes a couple of legs behind then I don't see how he can win. Wes has two wins and a draw so he has proved he can grind results out if he gets a sniff, but I think Taylor will win the game.
Peter Wright v Raymond van Barneveld
Peter Wright has 10 points and I think we'll definitely see him in the Play-Offs. You can't call him a surprise package because I've seen his progress over the last few years but he has now become a class player. Eric Bristow would call him a "proper" darts player and he proved that against Whitlock last week. Sometimes it's hard to perform against a lower ranked opponent when you're top of the league (just look at Chelsea on Saturday), but Wright has been focused and isn't showing any complacency. He's got the Phil Taylor mindset of concentrating on the next three darts he's going to throw - and not worrying about anything else. It's great sports psychology and he's not putting himself under any pressure. The confidence he has in his own ability is through the roof.
Barney is a hard player to back, but a hard player to back against. He's a five-time World Champion and is capable of doing anything - but if Wright gets in front we'll see him shaking his head and doubting himself. If he gets in front he will feel upbeat and anything could happen. Like several of the other matches, I think this could be a draw. The form book says Wright will win, but you can never write Barney off.