Premier League Darts 2014: Rod Harrington previews Week 8 in Dublin
Rod Harrington can't see Phil Taylor losing to Barney as the Premier League Darts hits Dublin.
By Rod Harrington
Last Updated: 26/03/14 3:49pm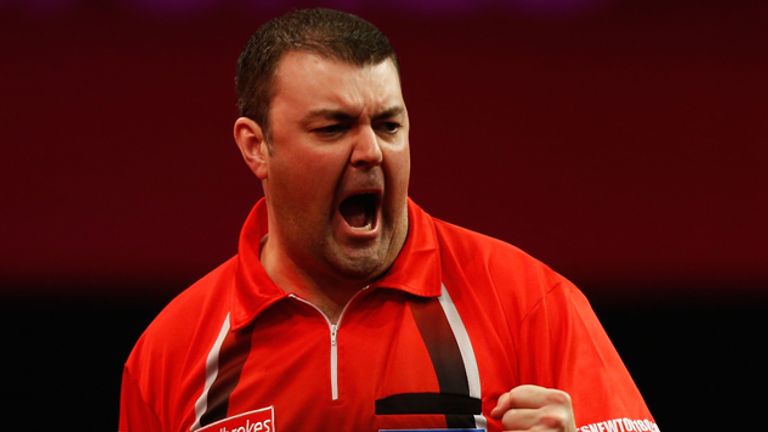 Gary Anderson v Wes Newton
The Irish crowd love their darts and with relegation staring a few players in the face, this should be a good night. It's strange to see Gary Anderson so close to the bottom two because he's been playing well. He's won four tournaments this year - only Michael van Gerwen has won more - and he only lost to Van Gerwen by the odd leg in Leeds last week.
Gary beat Phil Taylor in the final of a Tour event last weekend and I honestly believe the fact his partner Rachel is due to give birth any day is helping him. It's taking his mind off darts and sometimes - when there's other things going on in your life - it alleviates the pressure. On form he is a joy to watch - and he certainly is on form.
Wes Newton plays twice this week and he must not start thinking about the second match before he plays the first one. He has to go up hammer and tongs and prepare 100% for the first game. He was unlucky last week because he averaged 100, but still got mullered 7-1 by Phil Taylor and it probably wasn't a fair reflection. Whoever loses this match is right in the relegation battle, but I think Gary will win.
Adrian Lewis v Dave Chisnall
Mathematically, Adrian still isn't out of the relegation picture but a draw in this match would do it for him. Dave Chisnall is definitely in the relegation scrap because his leg-on-leg form hasn't been good enough.
He played Simon Whitlock last week and for the first time in a long time he got out of the gates straight away and got a substantial lead. He then went off the boil and ended up drawing the game. That one point he lost could come back to haunt him.
This is a tough match because Lewis is playing well. Last week he battled back to get a draw and he will be the favourite yet again here. As a PDC board member I'm not allowed to gamble, but as I said on my blog for William Hill you wouldn't get any of my money on this game.
They are two of the sport's raw talents and anything can happen. One of them could fire in a 180 in every leg and win easily, but I think it will be close. I will go for Lewis to edge it.
Wes Newton v Simon Whitlock
I think Wes Newton needs three points out of his two games this week and that's going to be a struggle. However, he has got a couple of decent games because both of his opponents are in the relegation battle and they are effectively four-pointers.
If he beats Simon Whitlock that pushes himself out of the bottom two and pushes his opponent towards relegation. I don't think he'll win the first game, but on the form I would go for him to win this match.
I think Whitlock will be eliminated and the thing that has let him down this season was the illness he had which has lingered on and on. When you're trying to perform at something like darts at a high level, it's tough when you're not 100%.
Unlike the Tour events where you can have easier first-round matches, in the Premier League you're straight in against one of the best players in the world and the pressure is on. That has accumulated, he has been hitting one or two bad scores in legs and you don't get away with it in this field. I think the most he will get out of Newton is a draw.
Michael van Gerwen v Peter Wright
There's a bit of needle between these two players. Last week, Peter Wright said 'Michael who?' and suggested everyone was talking about Van Gerwen too much. I like to see that because this is professional sport with testosterone flying around; there's a bit too much lovey-dovey in darts at times!
Wright has not made any mistakes in the Premier League this year. He scores well, he sets his shots up well and he doesn't miss doubles. However, he's up against Van Gerwen who is on a run and not many people can stop him at the moment.
Every now and again, Michael has two or three legs where he goes off the boil. We see the same thing with the other raw talents like Lewis, Anderson and Chisnall - and it makes you wonder how it happens. How can you throw three 12-dart legs and then suddenly throw a 25-darter?
If Van Gerwen is to lose this match it will be because of that happening in the early part of the game. I can't see it that though and while this will be close, I suspect MVG will nick it.
Phil Taylor v Raymond van Barneveld
These two players have drummed up some real classics in the past, but of late Barney has been battered by Phil Taylor regularly and I don't think he has the mental strength to beat him. He will have been looking at Taylor playing poorly all year - and then think that as soon as their match comes along he has found his throw and his grip.
In the early weeks of the season, Taylor was losing his grip on release. He has had the back of the dart roughed up where he holds it between thumb and forefinger and can grip it better now. That gives him more power to push the dart and they go in straighter, rather than flipping to the left.
He played unbelievably well in the Tour events at the weekend, reaching one final and winning the other. That proves that he not only has the mental strength back, but the physical strength. Everybody, including myself, felt he lost too much weight too quickly, but even though he's one of the oldest men in the field he kept his performance going for two full days.
He is bloody minded, he wants to prove people wrong and that sets things up perfectly for Thursday. If Barney is to win he needs to get ahead early and get a bit of confidence going - but if Taylor wins the first two legs it could be a battering like it has been so many times in the past. The first three legs of the match will tell us a lot.