World Matchplay: Phil Taylor back to his best, says Rod Harrington
Michael van Gerwen blown away in Blackpool
Last Updated: 28/07/14 1:40pm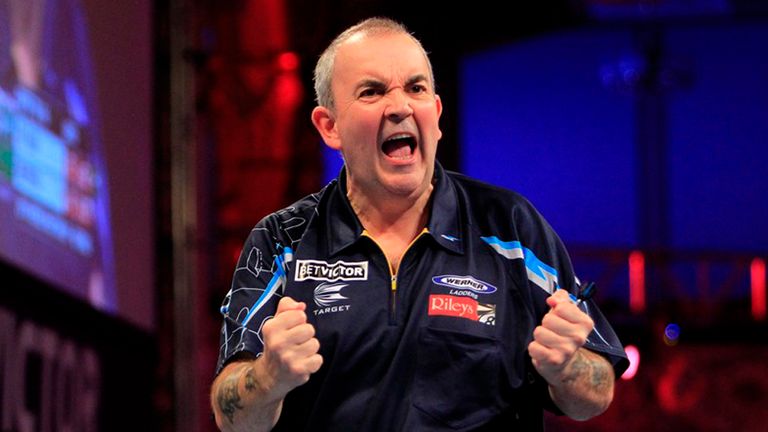 Rod Harrington reckons Phil Taylor is back to his best after his emphatic World Matchplay win over Michael van Gerwen in Blackpool.
The Power stormed to his 15th World Matchplay title – and seventh on the spin - with a stunning 18-9 victory over the current world number one.
After rushing into a 7-1 lead, Taylor, who finished with an average of over 107, barely gave a shell-shocked Van Gerwen a chance – and Sky Sports pundit Harrington was pleased to see the Stoke thrower back to his best after a tough year at the oche.
It sends out the statement that Phil Taylor is back.
Rod Harrington
"This is one of his biggest wins," said Harrington. "It's hard to say that because he's won numerous world championships and numerous times here. But he's never been on such a downer as he was.
"He's had blips in his career before but nothing like he's just come out of. He even talked about packing the game up if he couldn't turn it around. So to come here, after getting everything sorted out, and beat Michael like he has done, I think it is [one of his biggest wins].
"It sends out the statement that Phil Taylor is back.
"Taylor's had blips before in his career and he's come back but this time he's come back stronger. He's got his darts sorted out but more than anything he's got his mind-set sorted out.
"He upped his game on what he did all week tonight. All Michael did for the first dozen legs was come out with a 98 average and that was never good enough for Phil. And once Phil got in front of him then it was history."
One to remember
Wayne Mardle was equally impressed with the Power's performance and believes Taylor's 15th title at the Winter Gardens will live long in the memory.
"I've spoken to Phil before about all his wins and he says some of them he doesn't quite remember because they don't stand out but he'll remember this one for a long time," he said.
"He's beaten the right man at the right time and it's the most satisfying win of his career right now.
"The world of darts wants Phil Taylor to play well. He puts bums on seats, he makes people watch darts. I've certainly enjoyed watching him throw at his very best again."
As for world champion Van Gerwen, Mardle insisted it was the high level set by Taylor which held the Dutchman back, rather than a poor performance from the 25-year-old.
"It was all down to Phil, why Michael didn't perform," he said.
"From the outset Taylor looked more comfortable and confident. Michael was bitterly disappointed and literally in tears but his body language wasn't right all the way through, he looked beaten.
"Taylor didn't relent. In his pre-match interview he said he wanted to keep Michael quiet and that's exactly what he did. Every time Michael did something special there was a muted celebration, if that.
"But Phil's opening shot was a 140 and his bad shots after that were a 135 and a 137! It really was sublime stuff. 55% on the doubles as well."