Top Ten feuding team-mates after Sebastian Vettel and Mark Webber's clash
After Sebastian Vettel and Mark Webber's latest bust-up, we look at the biggest team-mate rivalries.
Last Updated: 27/03/13 5:40pm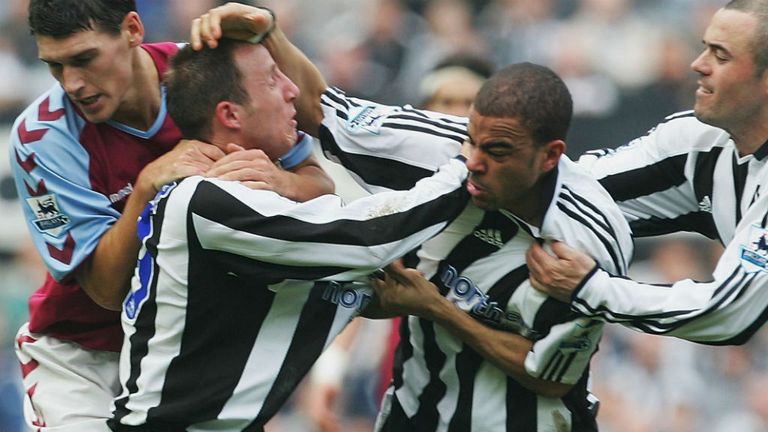 Let us know your thoughts using the feedback form below.
Webber v Vettel
Webber's face said it all after Sunday's Malaysia Grand Prix - he could scarcely believe that Vettel had defied team orders, and then produced such a risky passing manoeuvre which could have easily seen both men crash out of the race altogether. It has happened before, with Vettel and Webber crashing during the Turkish GP three years ago, and having had to take team orders before Webber is clearly fuming and this time it might just be too much for him to stomach.
Bowyer v Dyer
Surely the most infamous piece of in-fighting came at St James' Park when Lee Bowyer and Kieron Dyer engaged in a huge dust-up in front of 50,000 fans and the world's TV cameras. Footballing team-mates often fall out but most of these are confined to training grounds and dressing rooms but in April 2005 these two ended up in the most famous Premiership on-field brawl. Then Aston Villa midfielder Gareth Barry had to separate the two as tempers boiled over with Newcastle on the end of a 3-0 defeat by their opposition. Both men were sent off to add insult to injury.
KP v England
Kevin Pietersen became the black sheep of the England dressing room when he was dropped for sending 'provocative' text messages to his South African chums in the opposition dressing room during a Test series between the two. Texts were said to include abuse aimed at former captain Andrew Strauss, and KP was removed from the Test set-up as a result before eventually being 're-integrated'.
Tiger v Mickelson
As number one and number two in the world for so long, Phil Mickelson and Tiger Woods have long been battling it out to be the best, and with that has come a certain amount of tension. Although neither have made any public outbursts, it's fair to say their relationship has been a frosty one at times - so you can only imagine what Hal Sutton was thinking when the 2004 US Ryder Cup captain paired them together - twice! Both matches were lost and Woods looked hugely disgruntled when Mickelson was spraying the ball off the tee during their foursomes round.
Prost v Senna
One of Formula One's greatest rivalries ironically had its iconic moment when both men raced for the same McLaren team during the 1989 season - although the Frenchman had already said he would leave for Ferrari at the end of the campaign due to having Senna as a team-mate. With the title coming down to the duo, they clashed in Japan with both men leaving the track at Suzuka. Senna continued as Prost had to retire, but the Brazilian was disqualified for running through the chicane meaning that Prost claimed the world title in controversial circumstances. The two would continue to lock horns as they went their separate ways.
Henson v Toulon
Welshman Gavin Henson tried a number of times to resurrect his faltering rugby career, but he hardly helped matters himself during a short but headline-grabbing spell with French side Toulon. Henson was banned and fined for a couple of drinking incidents, most notably when he ended up fighting with a couple of his disgruntled team-mates after a drunken rant against Jonny Wilkinson, amongst others. Unsurprisingly the French club did not offer him a new contract after his short-term move expired.
Lewsey v Cipriani
When rugby players clash they really mean business, and former Army man Josh Lewsey was in no mood to take any stick from young team-mate Danny Cipriani as they clashed during a heated defensive drill at Wasps in 2008. Cipriani apparently threatened Lewsey to watch his mouth, but he should have been watching his fists as World Cup winner Lewsey then laid out his team-mate with a knockout punch that left him with a cut lip and nose.
Batty v Le Saux
England and Blackburn international team-mates David Batty and Graeme Le Saux clashed after just four minutes of their team's UEFA Champions League tie against Spartak Moscow in Russia. The pair collided as they chased a ball into touch, before exchanging a few choice words and eventually getting physical. Tim Sherwood pulled the two apart but the damage was done as they continued to bicker throughout the game- which turned out to be a 3-0 hammering by the Russians.
Hartson v Berkovic
Unlike the other two on our list, this footballing clash did occur on the training ground, but it was captured on camera as big Welshman John Hartson laid into Israel international Eyal Berkovic with a left-footed volley to the head as tempers really flared down at West Ham. Hartson has since stated his regret at the incident, but the images live on long in the memory.
Steve Smith v Ken Lucas
NFL is a hard-hitting sport so from time-to-time tempers often boil over - given that part of the game is to lay your hands on your opponent and physically try to get the better of them. Even in training players put their all in, and for Carolina Panthers duo Smith and Lucas that overstepped mark resulted in Smith smacking Lucas, breaking his nose and giving him a black eye. The Panthers suspended Smith for two games, maybe also because he had previously belted another team-mate during a session watching a training film.