Brazilian GP diary
F1 reaches its climax in Brazil this weekend with skysports.com in situ amid the chaos of Sao Paulo's Interlagos track.
By Mike Wise
Last Updated: 27/11/12 5:24pm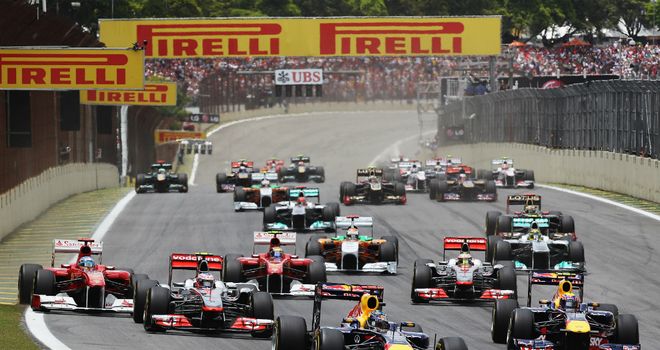 Tuesday
So...did it live up to expectations? I thought so. I thought the Brazilian Grand Prix reflected the season as a whole in terms of its glorious unpredictability. There was even the possibility of one final twist but in the end Sebastian Vettel managed to do what he needed to. Full marks to Fernando Alonso, though, for taking it as far as he did. How many times this season have we seen a race seemingly bend to his will? And besides Alonso's talent, Ferrari's team work and the opportunism of both, how much of what has happened has been sheer luck? That's what I found myself pondering, briefly, after the opening lap, when the seas appeared to be parting for him once again. Yet back came Vettel and in spite of the chaos, there was a feeling of inevitability about the eventual outcome. The best car-driver combination almost always tends to triumph and there's no doubt that's what Sebastian and his Red Bull have been.
Natural justice, I suppose, but don't we watch sport to escape the rational and the expected and look for the improbable? Perhaps a season like this deserved an outrageous climax? I wondered whether the outcome played a part in the sense of deflation around and about the paddock afterwards. The spitting rain that had played such a part earlier continued to linger but now it was wholly unwelcome. Dare I say it, but the weather was even poignant as Michael Schumacher signed a few autographs in the paddock before leaving one last time. If there was elation then, at the end of a long, hard season, it wasn't being expressed. Even members of the Caterham team who, in getting the result they needed to in the nick of time had more reason to celebrate than just about anybody, seemed quiet. I'm sure the partying will follow as the result sinks in. Right now, though, people are tired. Time for some rest.
Sunday pre-race
They say you cannot predict the weather at Interlagos. Whoever they are, they're right. They're certainly righter than the forecasts I've been hearing since Austin, which have all predicted constant rain. It was going to sweep in on Saturday night and, according to one, "stay 'till Tuesday". It hasn't been like that so far. But who knows? The skies seemingly change every time I look the window.
The vagaries of the local climate are breeding all sorts of predictions of how the race might unfold. My favourite came from journalist Adam Cooper, who posited the following: a wet race; Vettel crashes or retires somehow; Alonso takes the lead; conditions become so bad the race is red-flagged; half points are awarded...and Vettel takes the title by half a point! We shall see...
Right now, it's about an hour-and-a-half before the race is due to start and the grandstands are filling up nicely. One grandstand was pretty much full when we arrived at 8.30am. It's down by Turn 4 and is home to the 'Pisa Fundo', a local - how can I put this? - supporters' club come gang, who drink beer, sing songs and act in a generally rowdy way. Someone drew a parallel between them and those 'ultra' gangs you get in Spanish and Italian football. I don't see it, though, as they don't really follow a team; I've seen them unfurl both Ferrari and Red Bull banners so far this weekend. Still, it's further evidence that Interlagos just isn't like other tracks.
Saturday
We've made it: race 20 out of 20. Melbourne seems such a long time ago now; where has the year gone? Such thoughts will be familiar to anyone who is acutely aware of time's passing. Not that time is speeding up right now; in fact, the opposite seems more the case and it's probably down to having six races in the last eight weekends. As a consequence, people seem slower too. They are certainly coughing more. Every other person in the paddock seems to have a cough; Monisha Kaltenborn speaks into my Dictaphone but it gets difficult to hear what she says when someone stood nearby starts hacking up a lung. The troops are battle weary. It's almost over...
...and yet...one thing that became immediately apparent doing this is that, no matter how tired you get, no matter how much the world that surrounds the sport might grind you down, the adrenalin kicks in and it sees you through. I had one of those moments stood trackside yesterday. Interlagos is to F1 tracks what, say, Craven Cottage is to Premier League football grounds. It stands out amongst the conveyor belt of newbuilds: cramped and chaotic, it has an atmosphere quite like no other. The start-finish straight, which appears so wide on television, seems more like a tunnel when standing right next to it because the grandstands are so close by.
Yesterday, I headed out to the infield for P2. In the absence of a tunnel or bridge, we crossed the track between Turns 5 and 6. No way back, then, when the session got underway. But why would anybody want to do that? Starting at Juncao, I wandered slowly round to the Pinheirinho corner. The former is steeper than it looks on television while latter is the tightest of what is a very tight, short track by modern F1 standards.
It makes you wonder how they managed to cram the old track, which was about 8km long (the current layout is 4.3km) into the space. But they did. The curves of the old Interlagos are still very much evident, although the ones that have survived the chop are put to more prosaic use these days. Situated in a natural bowl, the track (now called the Autodromo Jose Carlos Pace, in honour of the Sao Paulo native who won the 1975 Brazilian Grand Prix) is surrounded by concrete walls, with suburbs and favelas beyond. It's seen better days and is completely out of kilter with the image that F1 likes to present. Probably for that very reason, everybody likes it. It's a mischievous attitude but then it is the end of term.