Paul Hembery Q&A
Pirelli's Motorsport Director talks testgate, Paul Di Resta's mammoth stint in Canada and the Italian firm's future in the sport
By William Esler
Last Updated: 14/06/13 10:20pm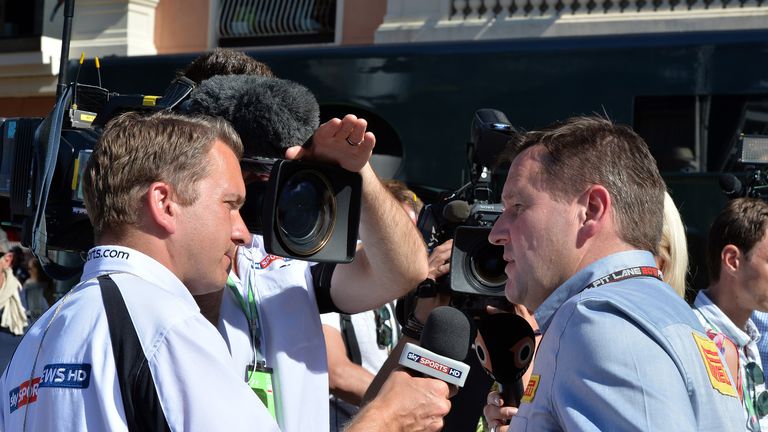 Is the Tribunal next week something you are looking forward to - getting it all out in the open?
PH: "I think so because maybe there are a lot of things being said that aren't quite correct and we would like the opportunity to explain our situation in particular and we will participate with willingness."
Are you hopeful a positive outcome of this could be that it moves people towards more cooperation in the future?
PH: "From our point of view, obviously there are two aspects to the enquiry, but from Pirelli's point of view yes, we hope it will mean we have a better chance of doing our job better. That is all we are trying to do - do our job in quite difficult circumstances."
How frustrating is it to not be able to get to where you want to be? How frustrating a sport is it to work in at the moment?
PH: "It is difficult because you have 11 individual teams as well as the governing body and the promoter and finding conscious in a situation like that is going to be very, very difficult.
"So we have been caught in the middle of some of that this year and that has made it much more difficult than we have seen in the last two years to do what we feel is our job. But we still have a very interesting Championship and I think that is maybe the one thing that is frustrating is that it takes the focus away from what is a great sporting event."
If you were in charge of Formula 1, from a tyre point of view, what would you like to see?
PH: "I think there needs to be the ability to test correctly and sometimes that is very difficult. For example for the next season you would like to test November and December of the season before but such an opportunity doesn't exist.
"When you are in that situation, you at least want to have a process of rectification if you need it during the year. You would only need to work with one or two teams at a time - unfortunately you cannot work with everyone - so the teams need to trust us that we are working in a fair and ethical way.
"We win every race, but we also come last so it doesn't bother us who wins, but we do sometimes need to do our technical work with representative teams that can push the limit of our product so we can understand if we need to make changes or provide solutions or provide solutions for a subsequent season to see that we are working the right direction."
Where are we in terms of a contract for 2014? What kind of mood are your bosses in after the company came in for negative press?
PH: "They are unhappy with some of the comments and a lot of those are largely unjustified. We will see how things progress over the next period of time to see how the mood changes. But we came into Formula 1 to stay in the medium-term and we still want to be in the sport medium-term.
"An easy reaction would be to say 'this is madness, get out,' but we are a company that likes to provide solutions and we want to use this as an opportunity to take things forward and make a change for the better of the sport.
"We have some long-term agreements in place with a number of parties involved in the sport - we are trying to refine all of those and make sure we complete all of those - and we can all work together for the future."
When is the deadline for resigning for 2014?
PH: "I guess it has already passed in many ways and hence we were starting to push our test programme. We know that the power train next year is going to be significantly different - it is going to put a lot of stress on the tyre, there will be a lot of wheel-spin, overheating of the tread area and we have seen some of these issues this year, when we knew we were being aggressive.
"But next year we will have a very big input coming from the power train, hence we need to have some big changes to the design to ensure we are ready for next year. Hence why we have been trying to progress and have been progressing our research and develop programmes even in the absence of having the contracts in place.
"Unfortunately the timings are not lining up, on September 1st, we have to deposit the blueprint for next year's tyre and with the August holiday in the middle of that we haven't got long.
"You would then need refinement, we have seven more test sessions planned but we have to see how and what we can use in terms of car for that, but it is fundamental for the pre-season tests next year that we have very early indications in correct race conditions of what is happening with the new car and the new tyres."
Can you see a scenario where Pirelli are not in Formula 1 next year?
PH: "There is always that scenario and you have to wait and see what happens over the next week, but we are trying to look at things positively. We want to stay in the sport, we have enjoyed much of it and I think it shows the strength of the company that despite much of the comment now, we know we are better than that and we need to go forward.
"The season still has a long way to go and hopefully this period is marked as a period and is not reflective of the whole season and we can get back to concentrating on what my friends tell me has been a great season to watch."
What are the major sticking points over the contract for next year? Is it more tests? What are you looking for out of it?
PH: "A lot of it is bureaucratic in many ways as you have the teams' 11 lawyers and you have to go through the process. I think as time goes on that is being resolved. We have the agreement in place with the promoter - which is an important aspect as well from a branding point of view - so it is just a matter of time."
You won't be able to use the new compound as you had hoped - can you explain why?
PH: "I think it is important that people understand that when we gave the design of this year's tyre, some teams took a different design direction to others. That probably has not been so clear to the fans because it does not come out in the open so much.
"Some teams made an engineering decision to design their car in a way that would maximise our tyres in hot or aggressive conditions by being lighter on the tyre and trying to maintain the tyre at a certain temperature. Once we had the issue of the delamination which we needed to solve, one of our proposals half of the teams felt would give a performance advantage to the other teams - there was a clear divide between the teams.
"From a sporting equity point of view, we know that we need to make as few changes as possible because you shouldn't be penalised if you have made a design decision to use the product we have. As time has gone on we have had more and more solutions and we now have a process change allows us to get rid of the delamination but maintain the current tyre.
"Now that won't please everyone as some would have loved us to change as that would have been better for them, but from a sporting equity point of view it is quite correct and I think the FIA would agree with us that if we have found a solution down the route that we have done, then that is exactly what they would like as we haven't changed the challenge during the season."
Red Bull were thought to be one of the teams wanting a tyre change, but they took a dominant win in Canada. Have they ended their tyre worries?
PH: "Even before Canada they were still leading the Championship so they weren't suffering that badly. I think it is all relative, they are a fantastic team that have been dominant for three season and you would be brave to bet against them this year.
"The Canada performance was a very dominating one, the likes of which we haven't seen this season, but there is still a long way to go. Mercedes have a really quick car in qualifying, if they could sort out their overheating issue they have with the rear tyre and not have the degradation they have, that could be a factor which makes them a major player. Ferrari have been competitive in most situations this year - they might not have been winning, but they have been coming second.
"So there is still a long way to go and maybe McLaren will have that relaunch they did last season - they had a tough start to the 2012 season, but by the end of the year they had the quickest car. Lotus have also been delivering strong performances and we are seeing the top boys at the front of the grid having a good battle."
How pleasing was it to see Paul Di Resta do 56 laps on one set of tyres in Canada?
PH: "It is one of those things - you are damned if you do and damned if you don't. Some people came to use and said that was really boring because of that. We've always said we could do what the sport asked of us - Paul had to take a different strategy and I think Force India should be applauded for doing that on a number of occasions to bring home a result.
"Many times we are surprised that others don't take the same approach too or even split the cars and put one on a slightly different strategy. We can make the tyres last the whole race if we need to, but we were asked to provide two and three stops per race and apart from Barcelona - which was maybe a push to far - but there is not much we can do about that as you would need to change one of the compounds and you would need all 11 teams to agree which I don't think you will get to happen."