Martin Brundle Q&A: The Sky pundit on Vettel's dominance and Alonso's relationship with Ferrari
Plus is Di Resta on his way out and what next for Hulkenberg?
By William Esler
Last Updated: 10/10/13 12:39pm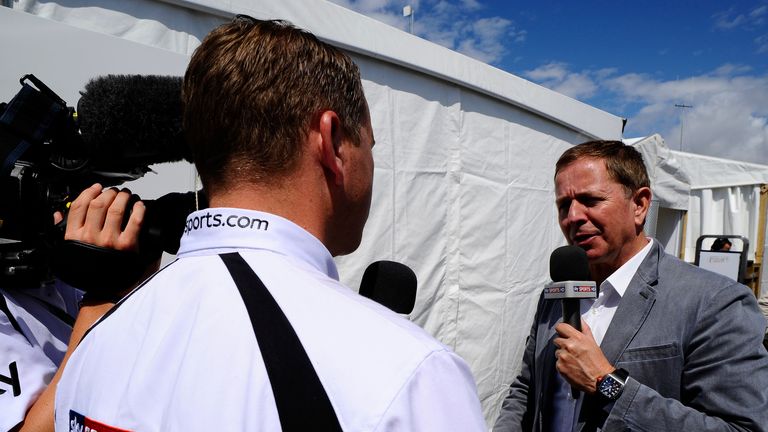 We've heard Sebastian Vettel responding to Lewis Hamilton's comments about this being a Vettel-era and listening to Sebastian Vettel it seems he thinks Michael Schumacher was more dominant than he was. Do you think Sebastian's achievements are more notable? Have Red Bull had it tougher?
Martin Brundle: "It has varied over the seasons and I think that was Lewis hitting reverse after saying F1 was a snoozefest and realising he shot himself in both feet because there is no point in knocking your own sport and he then came back and said Vettel is doing an amazing job as he is.
"2010 he pulled it out of the bag - he didn't have a totally dominant car that year - and it has varied a little bit as the regulations have changed. Right now he does have a dominant car as Michael did in certain phases of his Ferrari career and he is just running and hiding. I think Michael had in a way a more placid, more compliant team-mate than Vettel has - I mean Mark Webber yields him pretty much nothing and even less if he can get away with it - and is probably more highly rated than some of Michael's team-mates were at the time when they were basically his whipping boy and testing his tyres for him.
"But we are heading that way - luckily there is a massive regulation change for next year and we can see what Adrian Newey can come up with - but it has a Schumacher feel to it hasn't it."
Fernando Alonso has carried the challenge to Sebastian Vettel and said this week that 'it is a miracle we are still in mathematical contention for this championship.' Is that a fair assessment or is he putting a positive spin on what has been a disappointing year for Ferrari when maybe they have under-achieved again.
MB: "I think I read that that as he is basically poking the Ferrari team and saying 'how am I still in contention with that thing you have given me there - it is not fast enough, it is not fast enough in qualifying.' He hasn't excelled either in qualifying, but he has excelled at the starts."
So he should take some responsibility?
MB: "I think possibly for qualifying, but I think that he starts the car and races well and he seems to keep getting up there on the podium. But the car is not fast enough and instead of progressing closer to Red Bull it is falling away - after the August break Red Bull took off as they have a tendency to do over the past three or four years - and I think Alonso is saying 'I don't have the car, when are you going to give me the car?'."
He has a new partner in Kimi Raikkonen who leaves a space at Lotus. Nico Hulkenberg has been linked with that - should someone move in quickly and nail down Hulkenberg? If Lotus miss out on him is that a bad miss from their point of view? Is he a man someone should be snapping up?
MB: "I would do. If I was McLaren I would have taken him last year and I certainly would grab him now, but it is never as straightforward as that because a lot of these deals are looking forward.
"For example Honda are coming to McLaren and they may be signing up a new sponsor to replace Vodafone who are leaving as a title sponsor - it is far more complex and far reaching than it appears and they are not playing cards that you just trade them around as you want. Some of them are on longer-term contracts with unilateral clauses in there that you can or cannot take up, so it is not as simple as 'oh yeah I'll have you and put you in there.'
"But if McLaren have a space and Hulkenberg is available I would put him in it - the same with Lotus. But I am sure Hulkenberg is thinking 'I don't want to be in the right place at the wrong time again - Lotus are losing a lot of key technical people, they haven't been paying their bills, they haven't paid Raikkonen so he has run off - is that the right place for me?'."
We talked about Paul Di Resta's career being on the line even before the Korean GP - is it in double jeopardy now?
MB: "Paul has all the ingredients to be a long-term Formula 1 driver and I think to win Formula 1 races. He is not exactly having a purple patch and is making a lot of mistakes under pressure it seems and it is not going well for him and he'd do well to put that right this weekend. I think it does become a fashion business - everyone says 'we don't make decisions based on one race,' but I'm afraid to say it becomes a bit of fashion business where it is a case of 'what do we do, what do we do?'
"Team Principals, two of the most critical decisions they make in any year is who their two drivers are and they will canvas opinion around the team and I don't think Paul is the most popular driver in that team that is for sure. But I think critically the bottom line is next year is a huge reset for the cars and experience will count. So I think teams will be a little bit loath to take a gamble on a new boy - unless he comes with a pot of gold that they happen to need - because they need as many known aspects to their team as the car and new engine and powerplant is massively unknown, so they need stability."
There is lots of speculation Ross Brawn is heading out of Mercedes. Can Mercedes afford to part company with Ross Brawn?
MB: "I think it is a question of whether Ross is ready to move onto another phase of his life. I think there was a point earlier on in the year where he was taking a bit of stick and the test-gate thing came out and they were bringing people in to put around him and I think a couple of months ago he was probably more clear that he wanted to stop than he is now.
"It has gone quite well, they have won races and I think a few people - like Niki Lauda, like Toto Wolff - that are in there have seen what a great job he does and thought 'hang on do we want to lose this skill in our team and really want to put other people in his role?' So I am sure there is a bit of rethinking going on there."