John Button, Jenson Button's father, has died aged 70
The F1 paddock unites in paying tributes to a friend and "a lovely man"
By Sky Sports Online
Last Updated: 14/01/14 9:24am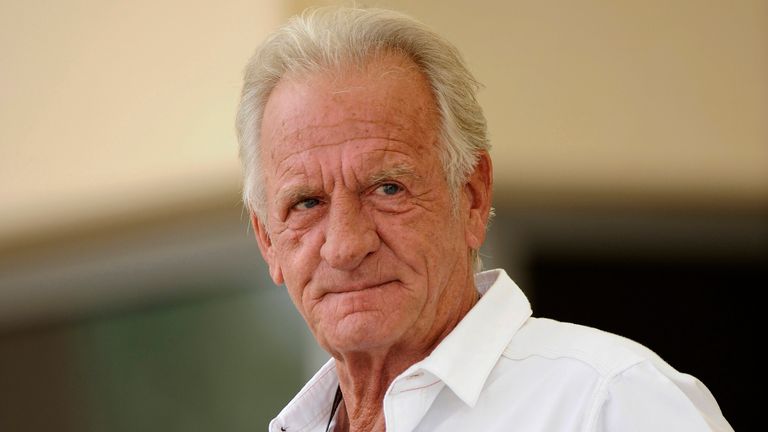 The 70-year-old was a permanent feature at grands prix from the moment his son made his F1 debut in 2000 and a popular member of the paddock.
A statement released by the driver's agent read: "It is with great sadness and regret that I can confirm John Button passed away at his home in the South of France on Sunday. Whilst we await confirmation, initial signs would indicate a suspected heart attack. A close friend who was visiting John on Sunday was the first to discover the tragic news.
"John's children Jenson, Natasha, Samantha and Tanya and the rest of the family are clearly devastated and ask for their privacy to be respected during this extremely difficult time."
Having been a successful rallycross driver in his own right in the 1970s, Button Snr was a guiding force behind Jenson's career as the now McLaren driver enjoyed a swift rise up the junior ranks to the top level.
McLaren Team Principal Martin Whitmarsh has sent the team's condolences to their driver and his family and described John Button as "not only a great dad, but also a lovely man".
"Speaking on behalf of all at McLaren Mercedes, I want to say how very sad I was to hear the news of John's passing," Whitmarsh said in a statement.
"In my long Formula 1 career, I've encountered many drivers' fathers, but I think it's safe to say that John was perhaps more devoted to his son than any of them. Ever since Jenson was a boy, racing go-karts, his dad has been at his side, helping him, supporting him, finding the money for the next race.
"As Jenson grew older, and continued to win in cars, still John was always there, his most steadfast helper and supporter.
"And, even now, in recent years, during which Jenson has become the consummate Formula 1 world champion that he is, the most experienced driver on the Formula 1 grid in fact, still John has been ever-present, as loyal and as loving as ever, a benign and popular member of Jenson's small and intimate entourage.
"This coming season will be Jenson's fifth as a McLaren driver. I believe John has attended every grand prix over the past four seasons, and over that period he's become a unique and, I think it's fair to say, irreplaceable part of the McLaren 'family'.
"He was not only a great dad, but also a lovely man, and he'll be enormously missed by Jenson, of course, by all at McLaren, and indeed by the Formula 1 community at large.
"I'm sure that everyone at McLaren, and indeed everyone in Formula 1, will join me in sending our heartfelt condolences to Jenson, to the Button family, and to their many friends."
Further tributes to John Button have swiftly arrived from around the paddock:
So sad to hear John Button has died at 70. What a great character and lovely man. All of F1 will miss him. Condolences to Jenson and family

- Martin Brundle (@MBrundleF1) January 13, 2014
My condolences to all the Button family, especially to Jenson . Very sad news. John....a great man, a friend, we will miss him.

- Fernando Alonso (@alo_oficial) January 13, 2014
So sad and shocked to hear the sad passing of John Button. One of the greatest characters in the paddock & will miss him dearly.

January 13, 2014
We have so many memories of John's love of life from his years with the team in Brackley. He will be greatly missed pic.twitter.com/F7WchKApEG

- MERCEDES AMG F1 (@MercedesAMGF1) January 13, 2014
Shocked & saddened to hear that John Button has passed away. A truly lovely guy & a pleasure to have known. Some great memories of a top man

- David Croft (@CroftyF1) January 13, 2014
We're shocked to hear about John Button. Many of the team knew him well, he was a great personality in the paddock and will be hugely missed

- Red Bull Racing (@redbullracing) January 13, 2014
Our thoughts are with Jenson & the Button family after the terribly sad loss of one of the F1 paddock's favourite characters, John Button

- Marussia F1 Team (@Marussia_F1Team) January 13, 2014
Very sad and shocked to hear about the death of John Button. A great character but above all a very kind man F1 will badly miss #johnbutton

- Paddy Lowe (@paddylowe) January 13, 2014
We're really sorry to hear of the passing of John Button. Our thoughts are with Jenson and all of John's family and friends in this moment.

- Sahara Force India (@clubforce) January 13, 2014
We join the motorsport community in passing on our sincere condolences to @JensonButton & his family on the sad news of John's passing. RIP.

- Caterham F1 Team (@CaterhamF1) January 13, 2014
I'm very very sorry for my team-mate, @JensonButton. His dad was a really great guy who will be missed by all in #F1. #JohnButtonRIP

- Kevin Magnussen (@KevinMagnussen) January 13, 2014
We're deeply saddened to hear of the passing of John Button. Our thoughts are with Jenson & all of John's family & friends at this time

- Williams F1 Team (@WilliamsF1Team) January 13, 2014
So sad and shocked to hear the sad passing of John Button. One of the greatest characters in the paddock & will miss him dearly.

January 13, 2014
Gutted to hear about John Button....great character. Always the first smiling face you'd see in McLaren motor home every day,every race.

- Simon Lazenby (@SimonLazenbySky) January 13, 2014
RIP John Button. So sad to hear that. All my thoughts to @JensonButton and his familly.

- Jules_Bianchi (@Jules_Bianchi) January 13, 2014
So sad to hear of the passing of John Button. Such a character, he'll be greatly missed in the paddock. Thoughts with Jenson and family RIP

- Rachel Brookes (@RachelBrookesTV) January 13, 2014
@JensonButton , all my thoughts to you and your family... Really sad news, we will miss John a lot.

- Romain Grosjean (@RGrosjean) January 13, 2014
January 13, 2014
Jenson-I think your dad would say his favorite thing in life was being dad to you @JensonButton. Thanks for sharing him with us. Im so sorry

- Mario Andretti (@MarioAndretti) January 13, 2014
Ciao John R.I.P. We will miss you!

Very sad for @JensonButton

- Giancarlo Fisichella (@OfficialFisico) January 13, 2014
What a really sad day with the loss of John Button, a racer who helped guide his Son all the way to a F1 World Championship..R.I.P mate.

- Johnny herbert (@johnnyherbertf1) January 13, 2014
Such a nice guy!! RIP John Button!! You will be missed in the Paddock!!! All the best to you and your Family JensonButton !!!

- Sergio Perez (@SChecoPerez) January 13, 2014
Deeply saddened by the passing of John Button. I'm so sorry @jensonbutton John was such a great man and will be missed by so many. God bless

- Lewis Hamilton (@LewisHamilton) January 13, 2014