It's a big year for...Lewis Hamilton
How might arguably the fastest driver in F1 adapt to the new formula?
By Mike Wise
Last Updated: 07/03/14 9:28am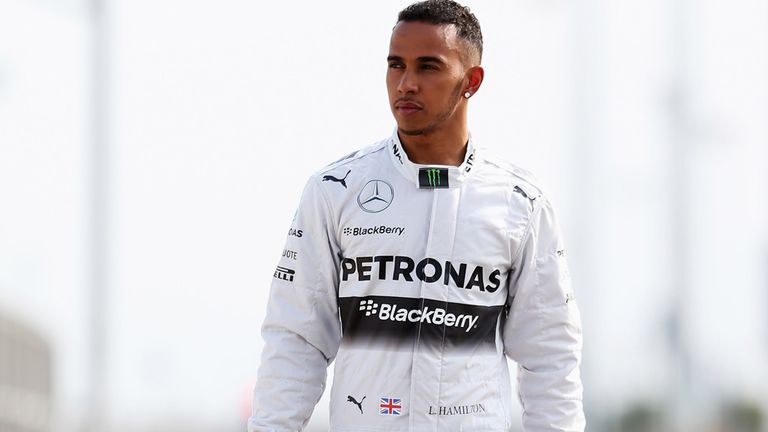 But never mind the on-off celebrity romance, chat show appearances and attempts to cultivate a public persona David Beckham-style; what about his 'off' during the first day of testing at Jerez? On a day when the ripeness of various responses to F1's biggest technical shake-up in 25 years was finally up for scrutiny, it was the sight of Hamilton climbing out of his battered W05 that made all the newspapers. A flimsily-designed front wing was not his responsibility, of course, but it is uncanny how often these things happen to him.
The man himself would, no doubt, view such incidents as a curse rather than a blessing - no-one is a willing passenger in a car heading towards a barrier at upwards of 150mph - but throughout his career Hamilton has somehow managed to scale higher peaks and also plumb lower depths than his contemporaries.
Vettel has been up there far longer now than any of his rivals would consider appropriate, but did the German win any of his world titles at the last corner on the last lap of the last race of the season? Moreover, has Vettel ever found himself issuing a public apology not long afterwards for deliberately misleading stewards, as Hamilton did following the 2009 Australian GP? From hero to villain in just two races. Melbourne also brought controversy 12 months later, with Lewis this time arrested for doing 'doughnuts' outside Albert Park. Maybe it's the extremes that help make him so popular.
A list of the quixotic during Hamilton's seven seasons in F1 would be a long one but two snapshots from last season immediately spring to mind. First of all, there was the Spanish GP, in which tyres played havoc, with Lewis and Mercedes suffering in particular. "Now I've been overtaken by a Williams," he crackled forlornly over the radio after falling way down the field. But fast forward a couple of months and Hamilton easily won the Hungarian Grand Prix, defying predictions - including his own - that his car's tyres wouldn't last the distance in temperatures nudging into the high 30s. Such extremes do make one wonder sometimes whether Lewis is fully aware of his gift; he doesn't appear as consistent as Vettel and Fernando Alonso, say, and yet still ended up ahead of team-mate Nico Rosberg in last season's standings. Not bad compared to a driver who had already been with the team for three years.
The big question now is how he'll respond to the sport's new formula. Hamilton seemed happy enough as pre-season testing ended with the right sort of bang this time - his name top of the timesheets - and the Silver Arrows appear well-poised to prosper from the shift towards turbo hybrid engines. But how might the driver adjudged by most as the fastest in the sport cope with a reduced 100kg fuel limit?
The notion of managing energy is one that appears to fly in the face of just about everything Lewis stands for; then again, the actual management is, to a degree, out of the drivers' hands - and if Mercedes step up in the requisite manner then the pleasure of winning will surely outweigh the pain of driving to a delta time. F1 is now more complicated than ever but if there's a driver capable of transcending what a car is capable of then it's Hamilton. Anticipate headlines, but don't wait for an explanation.
@SkySportsMike