Lewis Hamilton to compromise qualifying preparations after breakdown in practice
Hamilton fastest in P2 but car breaks down on track; Mercedes driver misses out on 'most important run of the day'
By Pete Gill
Last Updated: 05/07/14 4:56pm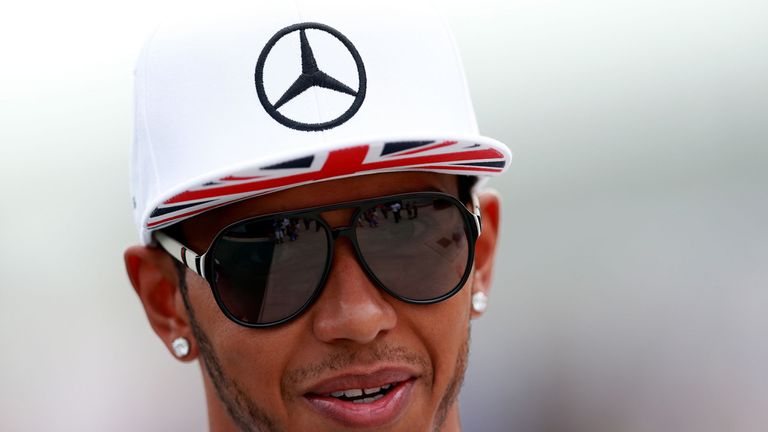 Lewis Hamilton will 'compromise' his preparations for qualifying after another mechanical failure on his Mercedes car during British GP practice prevented him undertaking any race simulation work on Friday.
While Hamilton ended the day top of the charts, the mood of the Englishman, and that of an expectant Silverstone crowd, was soured by the latest in a worrying line of reliability issues to have befallen Hamilton this season when his W05 car crawled to a halt as he exited the pits to start his long-run simulation in the final half hour of Practice Two.
The failed engine was scheduled to be changed on Friday night in any case, but the setback nevertheless leaves Hamilton playing catch-up behind team-mate and title rival Nico Rosberg and already deprived of the 'clean weekend' he was desperately seeking at the outset of his home race.
"I lost the long-run part of the session and so lost 20 or so laps of finding out how the car feels on heavy fuel loads," Hamilton told Sky Sports News. "But I can change around and compromise some of my running tomorrow and get in a long run.
"I don't know about overheating, whether it's the front or rears, where I need to put the brake settings for the race, the diff settings, but I'm a professional - I'll do it."
In a subsequent update on his personal website after consultations with his race engineers, Hamilton confirmed that he would change his scheduled programme for Saturday morning's hour-long Practice Three.
"The car felt pretty good here today but unfortunately I lost my most important run of the day this afternoon when I stopped out on track with an engine problem," he wrote.
"We haven't identified what the issue was yet but it shouldn't impact the rest of my weekend. We will change my programme around tomorrow morning to try and recover the time that I lost and make sure that I can complete my race preparation with a long run. It's not ideal but we'll recover!"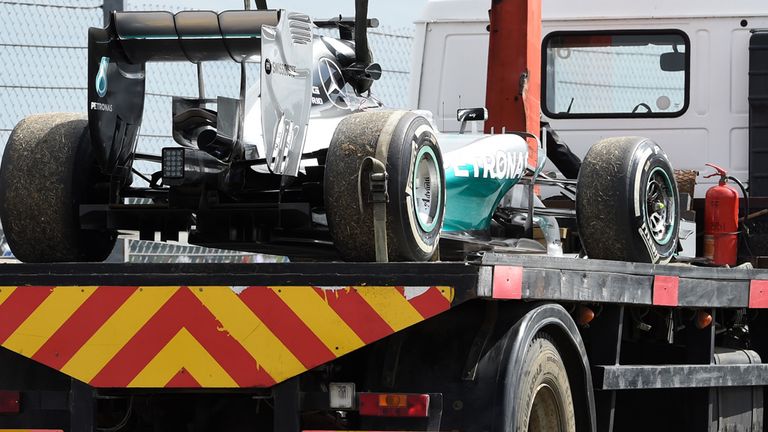 While a healthy grid position is not considered to be as vitally important at Silverstone as it is some of the other circuits on the calendar, any dilution of Hamilton's preparations for qualifying is not without risk. Rosberg, 29 points clear of his team-mate in the standings, has held the upper hand at Mercedes ever since he claimed pole position in highly circumstances at Monaco two months ago, while Hamilton hasn't won a race since he last claimed pole for the Spanish GP in early May.
Nor, despite Mercedes boss Toto Wolff publicly calling for transparency from his two drivers, can Hamilton expect any favours from Rosberg with the German making clear on Friday night that there is a limit to how much data he is willing to share.
"We share everything and that is why we are where we are," said Rosberg. "The team is dominating the sport because we really work together. You can only have success if you work well together, Lewis and I push the team in the same direction.
"But of course in the end there comes a point where I am fighting him and at that point then I will always try to keep certain advantages - as he will too, it's very normal that when we are fighting we will try to keep an advantage over the other. We'll never compromise the team but there is a fine line between the two."
There was just a fine line between the two Mercedes drivers on the track on Friday too, with Hamilton generally two-tenths quicker than his team-mate on both types of compounds. While his loss of track time is significant, it is by no means insurmountable. At the start of the year, mechanical failures on his W05 meant Hamilton was unable to complete a race simulation during winter testing before his car broke down on the opening lap of the season-opening Australian GP. When Hamilton did finally complete his first race distance of the year at the Malaysian GP, he won by almost 20 seconds.
What he and the home support would give for a repeat dose this weekend.
Watch the 2014 British GP live on Sky Sports F1. Our extensive coverage of the Silverstone race weekend continues with Qualifying from midday on Saturday.