Nico Rosberg says he had the British GP under control before he was forced to retire
German doesn't think lead was under threat from Lewis Hamilton
By William Esler and James Galloway
Last Updated: 07/07/14 9:32am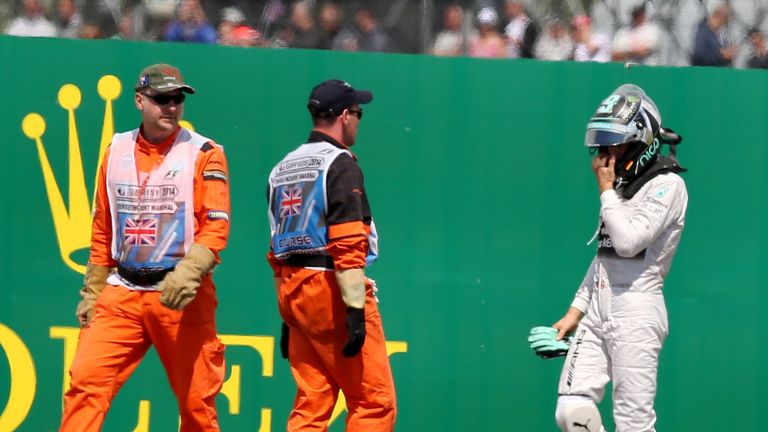 Nico Rosberg claims he had the British GP under control when a gearbox issue forced him out of the lead at Silverstone.
It was the first time the German had failed to finish a race this season and his demise handed victory to Lewis Hamilton, allowing the Briton to narrow the gap in the Drivers' Championship to just four points.
Hamilton was fast closing on his team-mate having pitted for the hard Pirelli tyres when Rosberg retired, but the German rejected any suggestion he was under threat for victory before his gearbox woes developed.
"It is always a good battle, but I was very much in control up until then which is why I was all the more disappointed," the championship leader told Sky Sports F1.
"I'm very confident that I would have won the race," the German added in his post-race media session.
Rosberg explained that his issues first arose after the first round of stops and that he tried everything to keep going.
"There was one thing before the start or just after which was weird and then after that it sort of got worse and worse from lap 20 onwards," he explained. "It resulted in some neutral [gear] occasions so I had to pull the clutch and go again. Then it just got worse and worse from there.
"My mentality changed: 'let's stop racing Lewis and let's just try and get this thing to the end somehow because I have such a pace advantage I can do some pretty radical things to try and keep this gearbox alive'. But there wasn't really anything that could be done from their opinion [in the garage]."
Whilst disappointed with the retirement which cost the team a seventh one-two of the season, Mercedes Executive Director (Technical) Paddy Lowe admits such problems are always a risk given how close to the limit the cars are.
"Formula 1 cars are always fragile as they are built right on the edge," he said.
"You need the ultimate performance so it means things are built lighter and smaller than ever. I think it gives people a glimpse for people of how complex the cars are and it is not always an easy ride. There is a lot of paddling under the surface to keep these cars as successful as they are."