What we've learnt from the winter testing
A team-by-team review after the culmination of the 'winter season'.
By Pete Gill, James Galloway and Mike Wise
Last Updated: 05/03/13 11:59am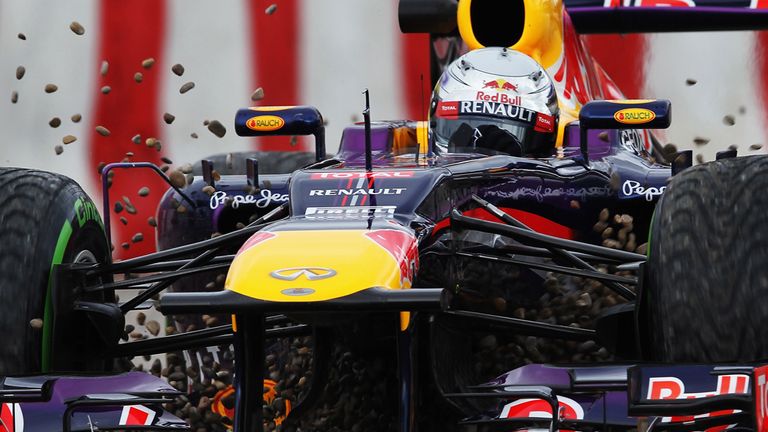 RED BULL
The World Champions still look the team to beat, with Martin Brundle reporting from trackside at Barcelona 'the Red Bull looks mighty out on track' and both Sebastian Vettel and Mark Webber conducting their winter work without any obvious alarm or discomfort.
A suite of upgrades were bolted on to the RB9 for the final two days of testing, including front-wing and changes at the rear, and while their pace on the timesheets wasn't especially impressive, it's Red Bull's capacity to maintain that relentless level of development which makes the Milton Keynes team such a formidable foe for the chasing pack.
Nonetheless, the fact that the RB9 only topped the timesheets on one of the twelve days of testing would seemingly support Red Bull's own protestations that they do not expect to have it all their own way in Melbourne. "We're not out on our own, that is for sure," remarked Webber after his penultimate day of running. For his part, Vettel insisted it was "impossible to make out the favourites".
Whether Red Bull have really shown their hand is another matter. All through the long month of winter testing, the RB9 looked far better on track - grounded, balanced and upshifting where others cars had to ease off the throttle - than it did on the clock and the near-universal suspicion remains that Red Bull never had less than 60kgs of fuel in the tank. It's of pertitent recall that, two years ago, the team only took fuel out of the RB7 for the first time in qualifying at Australia when they duly blitzed their startled opposition.
It's a mesmerising balancing act that Red Bull have learnt to perfect over recent years - giving little away but still managing to look mightily ominous.
The good news for this year, though, is that even when taking estimated fuel loads into account, the Red Bull is reckoned to boast only a slight advantage over its competitors. Nor did they have their own way with the RB9 on the final weekend, with the trialled Passive DRS device removed and a new front-wing design reworked.
When Vettel, frustrated at how little the team were able to learn on quickly-graining tyres, complained "we have never had a winter more inconclusive than this one", he wasn't bluffing. Red Bull are probably still out front, but they look to be within touching distance of at least two other teams.
FERRARI
A winter of two halves for the Scuderia with the early-February relief that the F138 was a considerable step forward compared to the F2012 last winter latterly tempered by the acknowledgment that Ferrari are, in the words of Fernando Alonso, "a little bit behind the frontrunners".
Quite how far behind, though, is anyone's guess, not least because the team will only debut their race package for Melbourne during Friday Practice at Albert Park. That delay - all the other leading teams were able to trial their Australia spec at Barcelona - is another unsettling reason for disconcert, but Alonso himself sounds unconcerned and verging on intriguing optimism. Indeed, if Ferrari can get the new package working straight away at Albert Park, things suddenly look a lot rosier.
According to the Spaniard, the current Ferrari is already "200 times better" than its predecessor was a year ago, and while a podium finish at the season-opener on March 17 is probably the extent of their expectations, we wouldn't put it past Alonso to pull another rabbit out of his considerable hat - after all, he finished fifth last year in a car that couldn't even make Q3.
McLAREN
Speculation McLaren may be in a fair bit of bother was given grippy traction at the conclusion of the first Barcelona meet with the admission of Jenson Button that the team were struggling to understand their revolutionary new charger.
But as written at the time, McLaren's lack of clarity was precisely what was expected following their decision to build their new car around a brand-new design philosophy. Equal prominence also ought to be given to Jenson's relief midway through the second Barcelona test when the team enjoyed their "best day of the winter".
All the signs are that McLaren won't possess race-winning pace at the start of the season - although quick, the MP4-28 is inconsistent and "plagued by understeer" and tyre degradation according to Sky F1 pundit Mark Hughes. Yet McLaren weren't focusing on winning at Melbourne and Malaysia when they built the MP4-28. Having reached the performance ceiling with the design philosophy behind the MP4-27, their prescribed intention was to build a car they could improve throughout the campaign.
In sum, McLaren have risked going backwards in the short-term to make substantial long-term gain - and, one month after their new car's track debut, their test season has scarcely begun.
MERCEDES
Well, well, so what do we have here? Having been reasonably impressive during the opening salvoes at Jerez and Barcelona, the W04 suddenly burst to prominence on the final weekend in Catalonia when first Lewis Hamilton, and then Nico Rosberg, set the fastest times of the winter. Cue gravity-defying eyebrows and bookmakers slashing Mercedes' championship odds.
In reality, with Rosberg all-but admitting that his time of 1:20.130 - which was set on a qualy-style, one-flying lap run - was as fast as the W04 could go, projecting Mercedes as serious title contenders is still premature. They've only proved themselves in testing; the battles which start on March 17 are what really count.
Yet it's hard not to wonder just how good this car might be - and even harder not to be excited about the prospect of a competitive Hamilton a year ahead of predicted schedule. "We will definitely be able to win a race at some point," conceded Mercedes' new recruit after giving up on his attempts to calm the excitement generated by his stunning turn of speed on his last appearance before Melbourne.
The critical question of whether the Mercedes can sustain such impressive pace when the sun truly shines is still unanswered and until the W04 proves it isn't a tyre eater in the manner of its predecessor then they will remain title outsiders. Some strong runs on the medium tyre for both drivers across the final weekend, however, certainly offered encouragement.
Above all else, the welcome impression remains that Mercedes are a definite threat to the elite, which after the way their 2012 dismally petered out, is already more than most were expecting.
Indeed, while we might not know the amount of fuel Rosberg's car was carrying when he set his 1:20.1 lap, it is a fact that his fastest lap in qualifying for last year's Spanish GP at Barcelona was two seconds slower at 1:22.8. Now are you impressed?
LOTUS
Along with Mercedes, Lotus leapt out during testing as an emerging force - or at least gave the impression they could be a force if only they cure the nasty dose of unreliability which was threatening to become chronic by the end of the second Barcelona test.
Although the Lotus frequently impressed when out on track, the problem was that the E21 didn't look quite so handy when stuck in the garage - which is where it spent a worrying amount of time in each of the three tests. It's an indication of how little mileage the team achieved compared to their rivals that, after finishing off his winter's work, Romain Grosjean admitted feeling under-prepared for Melbourne despite completing approximately twice as many laps as Kimi Raikkonen!
Concern about Lotus' lack of track time became particularly acute on the last two days of the winter season when Kimi called in sick on the Saturday and then sat out the final morning due to a gearbox failure. Less than perfect winters haven't held the Enstone team back before, but though the E21's pace looks very promising, the only certainty is that the car's promise won't be fulfilled unless it can be made reliable.
WILLIAMS
One of the toughest teams to read.
The FW35 was the last of the 2013 cars to launch and since then its performances have been hard to gauge for both observers and the team itself. Pastor Maldonado described the final wave of upgrades as feeling "very different" and the handling of the FW35 as "completely different" when compared to the FW34 on account of its new Coanda exhaust.
Just to add to the layers of obfuscation, the Williams appeared to run heavy throughout both Barcelona meets with plenty of fuel apparently onboard. Nonetheless, Sky F1's Mark Hughes saw enough to hail the FW35 as 'the best of the rest'.
SAUBER
Having been quietly impressive at Jerez, Sauber went a little too quiet for preference at Barcelona, dipping under the radar and failing to deliver the sort of lap times which might have roused interest.
Having praised his new team's car's prowess in high-speed corners after driving it for the first time back in early February, Nico Hulkenberg flagged up a few areas of weakness as the test days progressed - first its pace in slower corners and then some general handling difficulties he was experiencing.
Neither the German nor Esteban Gutierrez were able to complete their race simulation on the final weekend due to technical malfunctions, and while in general there was no particular cause for alarm as Sauber's overall mileage was as good as anyone's during the winter, neither was their much reason to suppose during the course of the tests that Sauber's beautiful C32 will be a threat to the frontrunners in 2013. Were we alone in hoping for a little bit more after seeing the C32 for the first time?
FORCE INDIA
Having built an evolutionary charger and only introduced a few updates for the second Barcelona test, the Force India looks to be precisely where you'd expect it to be: in the heart of the midfield, projected to reach Q2 but a fair distance short of Q3.
Beyond that, it's anyone guess, with the midfield runners appearing to be particularly closely-matched this term and Force India thus set to be anywhere between 18th and 11th.
Still, the apparently seamless reintegration of Adrian Sutil into the team, and the fact both he and Paul di Resta did both manage to complete full race distances across the final weekend, means the VJM06 is certainly reliable heading to Melbourne and that can often prove as key as outright pace early on.
TORO ROSSO
After regressing in 2012, Toro Rosso appear to be heading in the right direction again. The STR8 looks a handy motor and, just as revealing, the body language of Jean-Eric Vergne and Daniel Ricciardo - neither of whom made a sharp impression last season - in the paddock has been far more positive, although the latter did strike a note of caution in the final week when he stressed the team weren't quite there with the new car yet.
But having drifted back towards Marussia and Caterham in 2012, the new season should begin with Toro Rosso back in the midfield and, with a few useful tweaks here and there, perhaps the upper midfield.
MARUSSIA
Arguably the team which can be the most confident they've made a tangible step forward. In the grand scheme of F1, Marussia's improvement is only a small one, but the evidence of the winter has provided compelling evidence that - despite their driver upheaval, which has seen three different drivers listed as Max Chilton's 2013 team-mate - they have overtaken Caterham at the back of the grid. Their mileage count of 4003km during testing this winter is also an improvement of 4003km on last year after the MR01 failed its crash test.
They are only relatively small steps, but small and steady progress is a giant step forward compared to standing still.
CATERHAM
Unfortunately from Caterham's perspective, one team's step forward is another's step back. With an all-new driver line-up, a new base, and a new manager, Caterham give every impression of being a team in transition, and the start of the 2013 season will surely prove a difficult time for Cyril Abiteboul's outfit with a comprehensive upgrade package for the CT03 not expected until May's Spanish GP. It could be a long three months until then.