Hamilton - McLaren looking good
Lewis Hamilton admits he is feeling confident about the MP4-27's competitiveness going into the final days of pre-season testing.
Last Updated: 02/03/12 6:28pm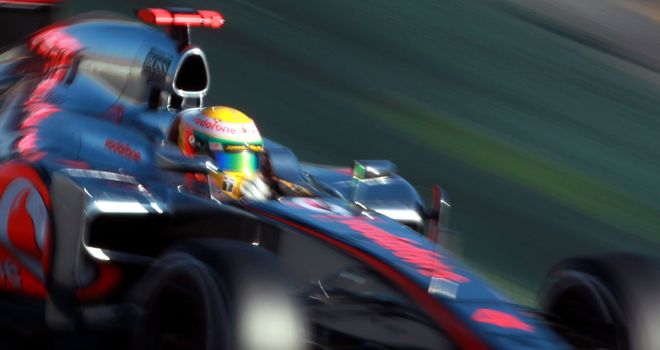 Lewis Hamilton feels confident that McLaren head into the new season with a competitive car, even before the Melbourne-spec aero kit is bolted onto the MP4-27 on Saturday.
The 2008 world champion took over the challenger from team-mate Jenson Button on day two of the final test at the Circuit de Catalunya, and while he finished a lowly ninth on the timesheet with only 65 laps on the board, both driver and team were content with how the day panned out.
McLaren explained that rather than chasing lap times, their day had centred around development work with lengthy set-up adjustments limiting Hamilton's time on the track but meaning the team completed their evaluations of the car in its launch specification.
With those assessments now completed, the team will roll out what they are describing "a suite of new components" for the final two days of the test ahead of the opening race in a fortnight and Hamilton is looking forward to seeing how a car he is already pleased with responds to those changes.
"Today was all about testing set-up," he said after finishing day two with a best time of 1:24.111.
"It was a good day: we learned quite a lot and improved a few things. We didn't get a lot of mileage, as we had a lot of downtime inbetween changes.
"Our car feels better set-up wise, we still haven't added the new aero package - so I think we'll get a better picture of what the car will be like in Australia over the next two days.
"But I definitely feel like we have a competitive car."
After heading into the first race last year on the back of 11th hour revisions to their car's exhaust layout following a problematic pre-season, Hamilton is delighted with the shape the team find themselves in heading to Melbourne this time round.
"This year's winter testing has been way better than last year. I've not had any problems, we've ironed out a lot of issues and I feel very comfortable. I'm fit and ready for Melbourne," he added.
Button returns to the car on Saturday, with Hamilton to close out the test on Sunday.