Japanese GP: Few clues to Suzuka formbook after rain dogs Friday
F1 still waiting to see whether Mercedes' Singapore struggle was a blip after teams complete no dry running in practice; Sky F1's Martin Brundle predicts "manic" final practice on Saturday
By James Galloway at Suzuka
Last Updated: 29/09/15 10:47am
The F1 drivers believe the field will be "starting from zero" when action resumes at Suzuka on Saturday after the rain-hit day one provided few answers to the questions thrown up by last week's shock Singapore GP results.
In arguably the least representative Friday of the whole season, rain of varying intensity in Japan meant that drivers were unable to run slick tyres at any stage of the day. Toro Rosso's Carlos Sainz topped the opening session and Red Bull's Daniil Kvyat the second - the first time Mercedes haven't headed either P1 or P2 since November 2013.
It is the dry-weather pace of world championship leaders Mercedes which remains the big talking point heading into this weekend's race, less than seven days on from their completely unexpected slump around Marina Bay when they were beaten by both Ferrari and Red Bull.
But while Friday proved a near wash-out, fine weather is forecast for the qualifying and race day - meaning the fight for supremacy around Suzuka now effectively begins on Saturday.
"Maybe we start a little bit from zero if it's dry in the morning," declared Williams' Felipe Massa. "The long run will be a bit of a surprise from everyone on Sunday."
Saturday morning's one-hour final practice session is usually the chance for teams to hone their qualifying set-ups, but the track is likely to be unusually busy throughout as teams try to make up for lost time.
"After today's washout, if it's dry the track action will be manic, so much work to do," predicted Sky Sports F1's Martin Brundle.
Underlining the compromised nature of Friday's running, Lewis Hamilton completed just 14 laps all day as he finished fifth and third respectively on the timesheet.
"We did some practice starts and stuff but there wasn't much to learn," Hamilton told Sky Sports News HQ. "It's just a shame for the fans."
Asked how his W06 had felt in the wet, the title leader replied: "I have no idea, it was slippery and wet and aquaplaning and not the most exciting conditions." 
Team-mate Nico Rosberg, who cut the Briton's title lead to 41 points in Singapore after Hamilton retired, was more upbeat about what he learned from the day after Mercedes pressed his Monza engine back into service.
"The car felt quite good and the pace was also good - which was great to see," said Rosberg, who was pipped to the fastest P2 time by 0.023s. "Kvyat was quick and those times are representative. We have tried the engine for the first time since Monza and it worked fine."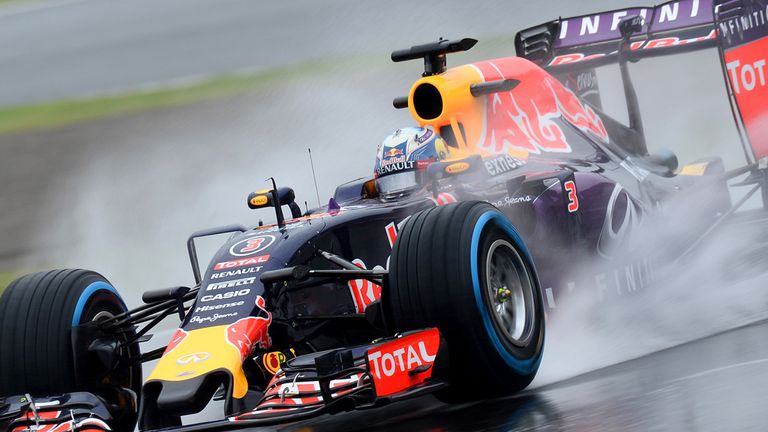 Fresh from their most competitive showing of the year in Singapore, Red Bull will take encouragement from Kvyat's pacesetting form in the wet - even if the forecast suggests there is little chance of the business end of the weekend being disrupted in the same way.
"It was quite slippery, especially when there was more drizzle coming," said Kvyat, who has now topped the last two P2 sessions. "There was more of a tendency for aquaplaning and quite tricky to keep the car on the track."
Daniel Ricciardo, who wound up fourth, said it was vital Red Bull now immediately found a strong set-up for the RB11 on Saturday morning if they were to remain in top-five contention for qualifying.
"We have to work pretty efficiently tomorrow. Getting the car set-up, we're not going to have much time," he said. "We should be there among the top five. But we'll see, we need to make sure we start with the right car because we won't have much time to change the balance once we get there."
Like all teams, Mercedes find themselves in the same boat and, in the wake of the events of Singapore, aren't taking a resumption of their 2015 domination as read.
"Singapore was our weakest track last year in qualifying as well but we aren't taking this weekend for granted either," insisted executive director Paddy Lowe at the end of an opening day which provided few - if any - clues to the Suzuka formbook.