Sergio Perez explains why 2015 is his best F1 season yet
Mexican on the brink of outscoring team-mate Nico Hulkenberg
By James Galloway in Abu Dhabi
Last Updated: 26/11/15 9:57am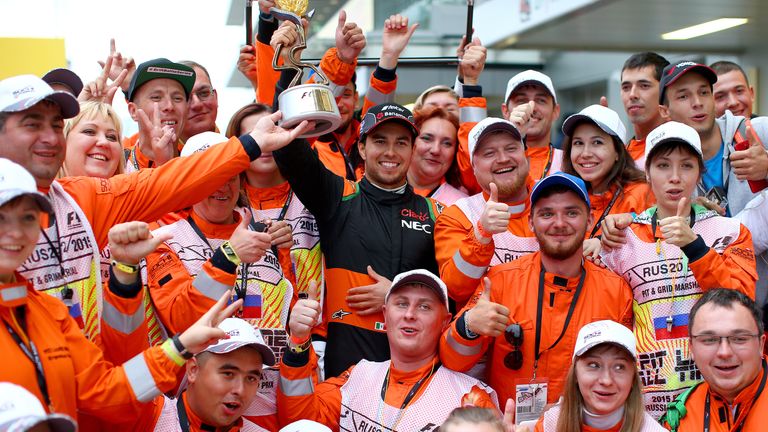 Sergio Perez believes he has performed better than ever in F1 this year, as the Mexican stands on the brink of outscoring Force India team-mate Nico Hulkenberg.
The 25-year-old has proved one of the grid's form drivers since the August summer break, scoring points in six out of the eight races. That strong run - headlined by a podium finish in Russia - means Perez stands ninth in the Drivers' Championship on 68 points, 16 more than the highly-rated Hulkenberg has scored.
And Perez, who was outscored by over 30 points in his first year alongside the German, reckons he has delivered his most complete season yet since arriving in F1 with Sauber in 2011.
"It's been a pretty good year," said Perez at the season-ending Abu Dhabi GP on Thursday.
"At Sauber in 2012 three podiums was a lot more [than this year], but the consistency that I've shown this year and the way I've driven throughout the year, that's more important than the results or making more points than ever in a Formula 1 season.
"The most important thing is the level I managed to achieve in terms of driving, confidence and experience. I definitely had my best season so far."
Perez's strong run of points has played a key role in Force India already securing fifth place in the Constructors' Championship - the best result in the team's eight-year history.
But although it has been the performance of their upgraded 2015 car, which arrived at the British GP in July, which has allowed Force India to pull away from early-season rivals Lotus, Perez cites the team's results with the original VJM08 as their biggest achievement.
"It's been a very strong second half of the year. We have had great results, great races, some bad luck here and there but that's quite normal," he said.
"The part that really surprised me the most was how we managed to get the maximum out of the car before the upgrade came.
"Remember, in Austria, before Silverstone, we were fifth in the Constructors' Championship and we were always a good three or four tenths away from Lotus. And that's a big number. Every simulation was saying we were going to finish behind them and we managed to beat them race-by-race and once the upgrade came it turned around the season.
"But before that, that was the best part of the year for me."
Watch the Abu Dhabi GP live on Sky Sports F1. Race-show coverage begins at 11:30am on Sunday with lights out at 1pm. Watch all three days of the Abu Dhabi GP for £10.99 on NOW TV. No contract.