Abu Dhabi GP Practice Two: Nico Rosberg fastest from Lewis Hamilton
World champion slips back to second fastest after pacing P1, but Rosberg reckons old engine he has been forced to run could be a factor this weekend
By Mike Wise
Last Updated: 28/11/15 4:16pm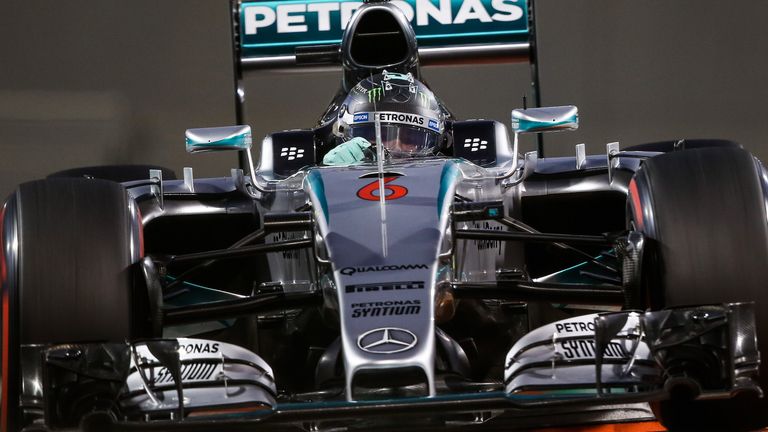 Nico Rosberg might have gone fastest in second practice for the Abu Dhabi GP from Lewis Hamilton on Friday but he has predicted a difficult weekend ahead.
Having been outpaced by his world champion team-mate in the earlier session, Rosberg took over at the top under floodlights at the Yas Marina circuit with a 1:41.983s lap that put him 0.138s faster than Hamilton.
It might be seen as another fillip for the Mercedes driver, whose season has been transformed since Hamilton retained the title and who is seeking his sixth consecutive pole and third straight win this weekend.
Yet Rosberg - now on the limit for engines used during the season - is running an old V6 turbo this weekend and reckoned that the day's running was unrepresentative.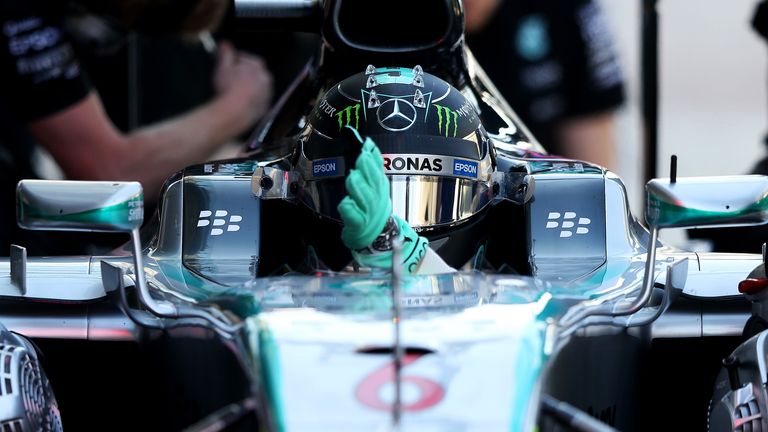 "It's been a good start to the weekend even though Lewis didn't show his pace on one lap," he told Sky Sports News HQ. "It's going to be difficult because I have an extremely old engine, as a result of having lost my fourth engine of the year.
"I have a lot of miles on, and that's definitely costing straight line speed."
Of that challenge posed by his team-mate this weekend, Rosberg added: "It's clear that he still has some in reserve. Today is not the real picture."
Hamilton sounded confident he can make up the deficit. "I didn't really get the best out of the tyres," he told Sky Sports F1. "There's not really much more to say. It's the same every Friday."
As for breaking Rosberg's pole run, Hamilton added: "I feel good. I've made some changes to the car and so far it feels relatively good.
"I'll make some more tweaks tonight and hopefully tomorrow it'll feel even better."
That Mercedes remain on top as the season draws to a close is no surprise, although the only story to match their dominance for legs in 2015 - Red Bull's never-ending quest for an engine deal - appears to be edging towards its end-game. 
The appearance of Sergio Perez in P3 was a surprise, though, with the Force India driver's lap 0.627s shy of Rosberg's best - although his running was brought to a premature end when his car's rear brakes caught fire.
It was pretty much business as usual further down the order, with Daniel Ricciardo fourth fastest ahead of Sebastian Vettel and Daniil Kvyat.
Kimi Raikkonen was seventh ahead of Nico Hulkenberg while Fernando Alonso was ninth fastest in his McLaren-Honda ahead of Pastor Maldonado.
Williams pair Valtteri Bottas and Felipe Massa were next up, with Jenson Button 16th in his McLaren.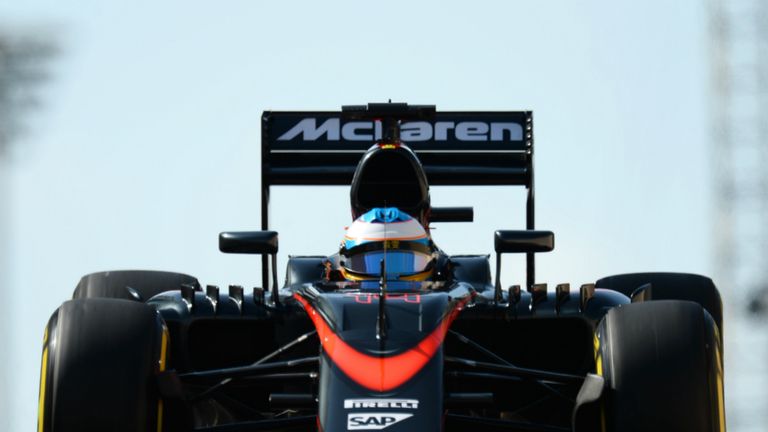 Practice Two times:
1. Nico Rosberg, Mercedes, 1:41.983
2. Lewis Hamilton, Mercedes, 1:42.121
3. Sergio Perez, Force India, 1:42.610
4. Daniel Ricciardo, Red Bull, 1:42.647
5. Sebastian Vettel, Ferrari, 1:42.717
6. Daniil Kvyat, Red Bull, 1:42.798
7. Kimi Raikkonen, Ferrari, 1:42.849
8. Nico Hulkenberg, Force India, 1:42.928
9. Fernando Alonso, McLaren, 1:42.955
10. Pastor Maldonado, Lotus, 1:43.431
11. Valtteri Bottas, Williams, 1:43.441
12. Felipe Massa, Williams, 1:43.506
13. Max Verstappen, Toro Rosso, 1:43.662
14. Carlos Sainz, Toro Rosso, 1:43.854
15. Romain Grosjean, Lotus, 1:43.929
16. Jenson Button, McLaren, 1:44.050
17. Felipe Nasr, Sauber, 1:44.116
18. Marcus Ericsson, Sauber, 1:45.116
19. Will Stevens, Manor, 1:46.450
20. Roberto Merhi, Manor, 1:47.022 
Watch the Abu Dhabi GP live on Sky Sports F1. Race-show coverage begins at 11:30am on Sunday with lights out at 1pm. Watch all three days of the Abu Dhabi GP for £10.99 on NOW TV. No contract.