Lewis Hamilton: I'll be happier than Nico Rosberg this winter
'Being world champion sounds a lot better than winning a race'
By Mike Wise
Last Updated: 02/12/15 3:36pm
Lewis Hamilton was only too keen to re-assert his world champion credentials after Nico Rosberg bowed out of the season in commanding style with another win in the Abu Dhabi GP.
With Rosberg enjoying a first in his F1 career after claiming his third straight victory and Hamilton now a three-time champion - yet having gone off the boil since retaining the title in Austin - the Mercedes pair were asked after the race who was the happier.
"I'm feeling very happy," beamed Rosberg, whose recent performances have belied those he gave earlier in the season, suddenly giving voice to the suggestion that he may provide a much sterner challenge in 2016.
But Hamilton said in Brazil that his work for the year is already done and gleefully accepted another chance to make the point on Sunday. "I think being a world champion sounds a lot better than winning a race, obviously," said the Briton, who thinks the about-turn in fortunes has more to do with a recent car set-up change.
Attending the post-race press conference at the Yas Marina circuit, both drivers were then asked whether they intend to exchange Christmas presents.
Watch the video (above) for their responses, although that of third-placed Kimi Raikkonen perhaps sums it up best.
Speaking to Sky Sports F1 a little later, Rosberg said: "To finish the season in such a manner, it's been a special end to the year - to have found more performance through the season.
"Of course, it's too late but I don't look back. What's behind is done, I just look forward. I want to do better.
"We could go to Melbourne tomorrow."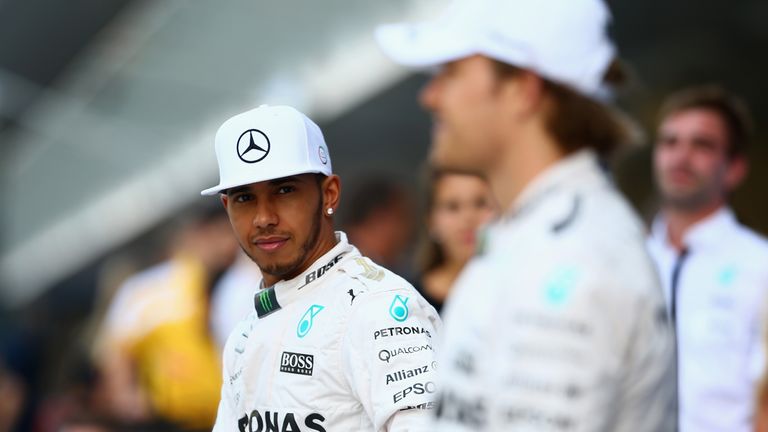 Hamilton, who won 10 times this season to Rosberg's six, said: "It's very easy to forget the amount of wins we did have on our side, so we've had a very good season.
"Whilst the last three weren't spectacular, overall it was an amazing year."
Mercedes team boss Toto Wolff speculated after the race that Rosberg's renewed spark may have been caused by a release of pressure from no longer having to fight for the title.
"I don't know to be honest because suddenly it has ignited something and he has driven superbly. But then if you lost the championship, this is all that matters for a driver," he said.
"So whether his stress levels reduced and on an unconscious level…we have to give it a thought over the winter."
Don't miss the F1 Midweek Report for analysis of the Abu Dhabi GP and all the latest F1 news. Former BAR boss David Richards and car designer Gary Anderson join Natalie Pinkham on Sky Sports F1 at 8:30pm on Wednesday.