Sebastian Vettel guarded on Ferrari future to focus on 2017 title bid
"It's my first time in this situation where I don't really know what happens next year," world championship leader tells Sky F1
By Pete Gill at Barcelona
Last Updated: 13/05/17 11:27am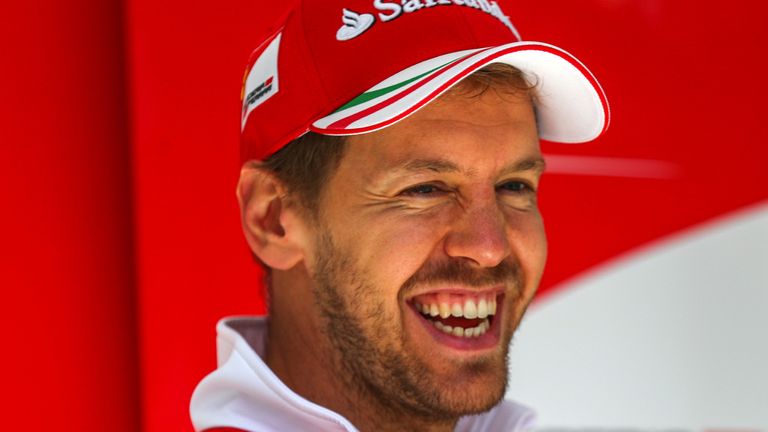 Sebastian Vettel says he is in unknown territory after delaying contract talks for 2018 in order to focus on his current title bid.
Both Vettel and his Ferrari team-mate Kimi Raikkonen are out of contract at the end of the year and reports this week claimed the German could have made a pre-contract pact with Mercedes.
"It's my first time in this situation where I don't really know what happens next year, but I'm not too worried," Vettel told Sky Sports F1. "I'm really focused on what's going on right now, and that's the same in the team from what I hear from people.
"There's also other people in the team that don't have a contract for next year, but they're not worried! We're full on trying to focus on this year, trying to improve the car we have and fight with Mercedes."
Alonso's warning to McLaren over 2018
Vettel was thought to be close to agreeing a new deal with Ferrari last autumn but the talks apparently floundered after the four-time world champion was unexpectedly warned by the team to focus on his driving.
Vettel swerved an opportunity to dismiss speculation linking him with Mercedes ahead of this weekend's Spanish GP, telling reporters: "Maybe you should ask the Italians, they seem to know more than I do. I think the situation is clear. Obviously, the main focus is on this year, that's not a secret and it's not a line that I drop, it's a fact for all of us inside the team.
"There have also been some rumours in previous years. Maybe some are from Italy, some are from Germany..."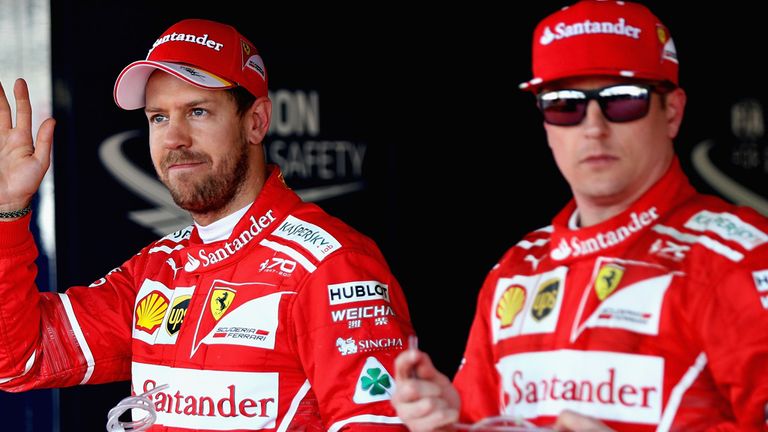 Reports in Italy claimed that Niki Lauda, Mercedes' non-executive chairman, had told friends about Vettel's supposed pre-contract arrangement.
When the rumours were put to him at the Spanish GP, Ferrari boss Maurizio Arrivabene told Sky F1: "I have a lot of respect for Niki but if you put on paper all his statements in the last two or three years, some things are true and some things are just to create a bit of noise.
"If the objective is to create some disappointment to us or to our driver, the objective failed."
While it remains highly unlikely that Vettel, currently leading the drivers' world championship ahead of Lewis Hamilton, will fail to agree a new deal with the Scuderia, the German has recent history for making stunning - and unexpected - career changes. Just three years ago, Vettel exercised a secret opt-out clause to leave Red Bull for Ferrari barely 10 months after claiming his fourth successive title with the team.
Little wonder, then, that the Vettel-Mercedes link has caught widespread attention in the paddock.
"You always have an interest because it's always interesting to know what a driver is thinking and where they are potentially going to go," said Red Bull's Daniel Ricciardo.
"He is out of contract at the end of the year and he has options. He's in a good position and has good confidence. We know that when Seb is enjoying his environment and confident, he is very quick - that's how he won four in a row here with massive confidence in the car.
"If he continues this season with strong confidence with the Ferrari, l don't think he'll leave. But we also know that he likes a challenge."
And what of Ricciardo himself? Were Vettel to jump ship, the Australian's Italian ancestry would make him a leading contender to fill any vacancy - at least in the mind of paddock gossips.
"The current situation is that l am still contracted here with Red Bull," confirmed Ricciardo. "Unless something weird changes in the air, nothing will change."
Just never say never in F1.
Don't miss the Spanish GP exclusively live on Sky Sports F1 on Sunday - lights out for the race is at 1pm. Check out all the ways to watch F1 on Sky Sports for subscribers and non-subscribers - including a NOW TV day pass for £6.99!
Have your say! Comment below to get involved in the debate, but please adhere to our House Rules. If you wish to report any comment, simply click on the down arrow next to the offending comment and click 'Report'.