McLaren expect tough Azerbaijan GP as Honda woes continue
McLaren-Honda under "no illusions" over slim Azerbaijan GP prospects as divorce speculation intensifies; Boullier insists McLaren "aren't standing still"; Alonso expects engine penalties
By Matt Morlidge
Last Updated: 26/06/17 12:56pm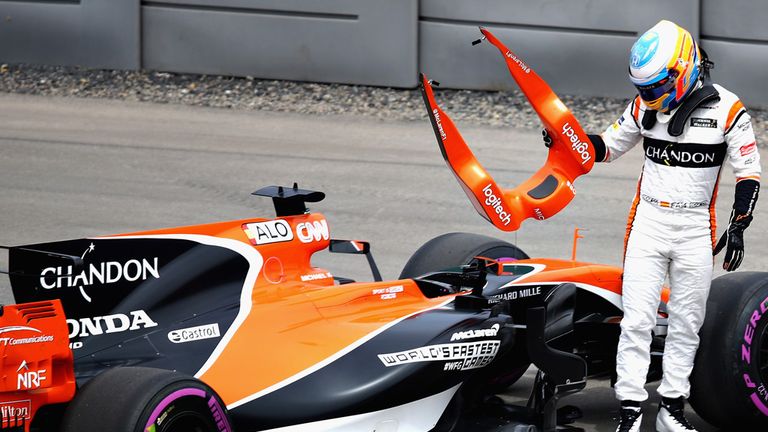 McLaren do not expect the Azerbaijan GP to offer any respite to their current woes, but insist they are "not standing still" in their search for a solution.
Formula 1's eight-time constructors' champions are the only team without a single 2017 point thanks to a catastrophic start to the season, and are thought to be considering severing ties with beleaguered engine suppliers Honda.
But while McLaren's management remain "proactive" as they look to provide clarity over the future, Fernando Alonso and Stoffel Vandoorne must make do with the power-shy package they have at a Baku circuit which boasts the longest straight of any track on the calendar (1.2 miles).
"After getting so close to scoring our first point in Canada and suffering another retirement, we go to Baku with even more determination, but it's no secret that we expect to find this weekend tricky," said Alonso, who was running 10th at the Canadian GP before an engine failure ended his race.
"After the power unit issues it's likely we'll need to take penalties, and the nature of the narrow, fast straights and tight corners means overtaking is generally tough. However, it's certainly not impossible, and we'll keep fighting as we always do."
As McLaren remained rooted to the bottom of the standings thanks to more reliability problems two weeks' ago, Sky F1's Martin Brundle claimed his former team were "in crisis" following their 10th race retirement of the year.
And though executive director Zak Brown claimed the team would wait and see how the next few races pan out before a decision is made about their Honda engines, the Daily Mail have since reported that McLaren have already made the call to end their three-year partnership and switch to Mercedes power for 2018.
Eric Boullier, however, claims the "hunger and determination is stronger than ever" ahead of this weekend's race.
"In Canada we were unable to fulfil any potential we showed during the weekend, and we anticipate that in Baku we will face a similar challenge due to the demands this circuit's characteristics place on the car," the racing director added.
"Nevertheless, in the midst of our current struggles, we aren't standing still. Quite the opposite, in fact, and the team's hunger and determination are stronger than ever to move us forward and into the hunt for more positive results.
"Rather than focus on the negatives, we need to turn our attention to solutions and work together to get the best out of our situation."
Honda's F1 chief Yusuke Hasegawa, meanwhile, has already admitted the Japanese firm needed to "do everything" to improve their performance, but is still adamant that McLaren-Honda must continue as one.
"We're under no illusions that this weekend will be straightforward for us - I think we can expect another tough challenge for the team," he said.
"We're going through a difficult time at the moment, but we're doing all that we can to rectify the situation. We must continue to concentrate on development as one team with McLaren and turn things around as soon as we can."