Japanese GP: What you may have missed during Friday practice
Missed Friday practice at Suzuka because of the early starts? Here's a review of the major talking points...
By Matt Morlidge
Last Updated: 10/10/17 11:35am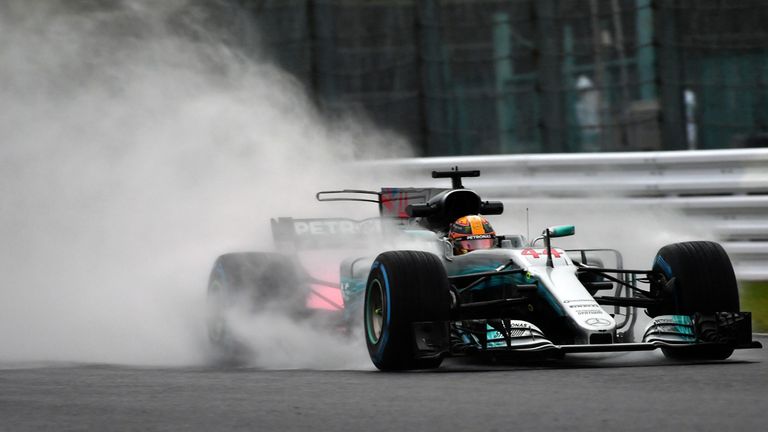 Mercedes back on track - but still behind?
Just over an hour of dry running in total was completed on Friday but that was enough time for Ferrari, Mercedes and their championship-competing drivers to lay down their markers.
But was this first blood to Sebastian Vettel?
Lewis Hamilton appeared to be in a class of his own on the supersoft tyre in the early stages of Practice One - again someway clear of the horribly out-of-form Valtteri Bottas - but Vettel first closed to within a tenth of his title rival on the soft tyre, and then knocked him off top spot completely when on the quickest compound.
Japanese GP Practice: Vettel ahead of Hamilton on rain-hit Friday
Rosberg joins Sky F1 in Japan
The combination of cooler temperatures and a flowing circuit, similar to Silverstone where the Silver Arrows dominated, was expected to suit Mercedes' W08, but the early running here was another indication of Ferrari's improvements.
And while their package is flourishing, so should Vettel. A four-time champion, a four-time Japanese GP winner - no F1 driver has won more than Vettel at Suzuka, and this is his favourite stretch of tarmac in the world.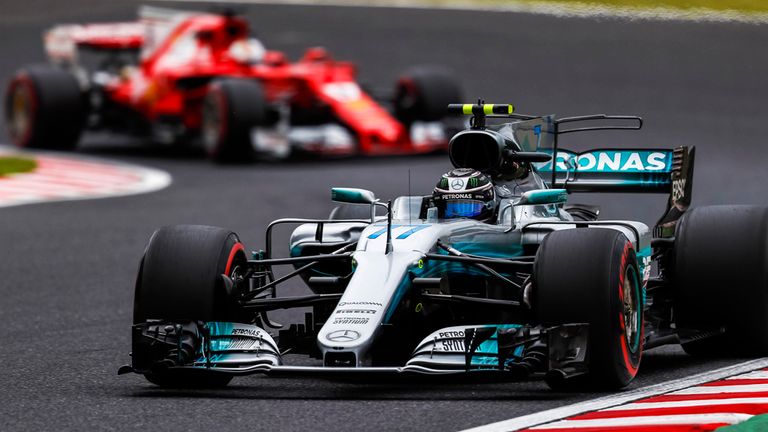 Mercedes bounce back
Nevertheless, this was a marked improvement from Mercedes compared to this time last week, when they were half a second off the pace set by Ferrari and Red Bull. They look to have at least dispatched Red Bull in Suzuka, and will be confident of making up the 0.2s deficit to the Scuderia on Saturday. And was this recovery at least partly down to what was apparently an intense post-race meeting in Malaysia?
"We had an extremely good debrief on Sunday night where a lot of things came to the surface," Mercedes boss Toto Wolff admitted to Sky F1. "There was good interaction between the drivers and the engineers in order to assess the problems and that is the first step to change them."
The big question
Vettel's gearbox was taken from Asia, to Italy and back to Asia again via Germany after his crash with Lance Stroll, and while Ferrari did not need to try it out on Friday they will need to have it back in the car for Practice Three.
So, is really free of damage and will it last the session and indeed the rest of the weekend? Vettel may not seem worried - but a grid penalty would be a hammer blow to his title hopes.
Renault make it official - and hint at six-month wait
Marcin Budkowski's resignation from his technical role with the FIA was only made public last week - and since then there's been rumours, controversy and criticism across the paddock, with team bosses far from happy a man in his position could move on to a rival team at just three months' notice.
And when Renault turned the speculation into an official announcement on Friday morning - with Budkowski taking an Executive Director position - without mentioning when his new job will start, the anger continued.
"I don't think there's any real issue with Marcin but the issue is the notice period," Red Bull's Christian Horner told Sky F1. "He's been privy to everybody's secrets, everybody's designs for next year. I think it could be a big issue for Renault if a team finds one of their components on that car. Personally, I think it's incorrect that a person of that seniority within the FIA should be allowed to be in another working environment within a three-month period. I'm sure it will be on the agenda at the next strategy group. It absolutely needs looking at."
And Wolff added: "I think common sense will prevail. Jean Todt needs to step in. I think Renault will have a realistic assessment of whats morally and ethically correct and what's not."
A matter of hours later in the team principals' press conference, Renault chief Cyril Abiteboul added some clarity to the situation. He said the French team were discussing a resolution with the FIA which would satisfy all parties - with the former Ferrari and McLaren aerodynamicist likely joining Renault in early April 2018, meaning a six-month gardening leave.
"When you recruit someone it is not a short-term opportunity," said Abiteboul. "All the designs for next year's car are already are frozen. This is not something he is going to influence and we will start from scratch for 2019.
"There is a limited influence that someone like this can make to a car. We are taking this person because he has the skills, and experience of Formula 1 that is required for our project - which is to become a top team by 2020."
There's that, then...
Sainz's smash
It's rare to see a driver error from Carlos Sainz, but that's exactly what caused his heavy shunt in Practice One. Running wide at the hairpin, the Spaniard then flicked onto the astroturf as he looked to get on the power and spun into the barriers - causing significant damage to his Toro Rosso in the process. He didn't even have a wet track to blame it on.
His engineers shook their heads upon watching the replay, and all this after it was confirmed he would take a 20-place grid penalty for engine component changes. It could be a tough weekend.
The magic of Suzuka
Seeing the lap times tumble this season is hardly a rarity - indeed, records are regularly smashed in these new-for-2017 beasts - but watching the marked improvement at Suzuka was a joy to behold. The top teams were taking a second out of last year's times through the iconic first sector alone in FP1, their heads jolting from side to side as they weaved through the Esses, rarely taking their foot off the gas.
Michael Schumacher's 1:28.954 is the ultimate lap time to beat here but expect that to fall this weekend should the conditions improve - and the onboard footage should be a lot of fun.
We love you too, Jenson...