'Kubica could race again in 2011'
Robert Kubica's manager has contradicted the owner of the Renault F1 team by insisting that his driver could race this season.
Last Updated: 30/05/11 12:20pm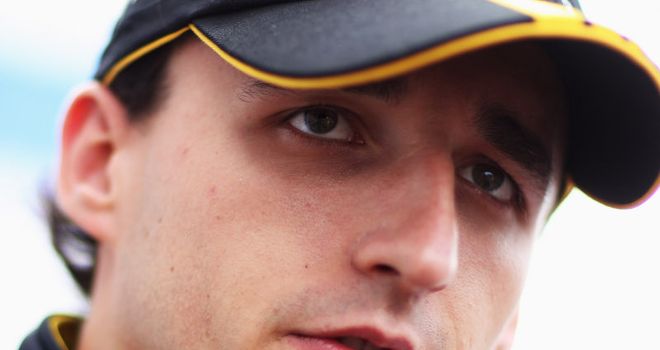 Robert Kubica's manager has contradicted the owner of the Renault F1 team by insisting that his driver could race again this season.
Speaking at the Monaco Grand Prix, Daniele Morelli said the Pole was making good progress in his recovery from a rally accident and that they would have a clearer picture in August about his comeback.
However, he also said that Gerard Lopez, whose Genii Capital owns the Lotus-backed team, was wrong in writing off Kubica's chances for the 2011 season.
Speaking to Spanish radio last week. Lopez said he thought that Kubica would not be making a comeback this year, although he could get a run during a Friday practice session.
"I think you have to ask Lopez why he made such a statement that is in clear opposition to what the specialists are saying," Morelli said.
"All the doctors, not only ours... are not writing off Robert for this season. I think that Lopez's statement is incorrect.
"Robert when he will be back, he will be back for racing and there will be no need to make a control of his capability in a Friday session.
"If Robert is sufficiently fit to drive a Formula One car for one lap he can do it for a whole weekend."
Improvement
Kubica, 26, suffered serious injuries when he crashed his Skoda car in the rally, held in Italy, on February 6.
Besides suffering arm and leg fractures, he also severed tendons and nerves in his right hand.
Kubica spent more than two months in hospital before leaving at the end of April.
"Since then there was an important improvement of his general condition," said Morelli, who expected Kubica to be driving a road car again in the next few weeks.
"He's working a lot, we have a standard of five hours a day for the rehabilitation of the leg and of his arm. There are no complications at this stage and we are forecasting August as the month when we will have a clearer idea of when Robert can be back.
"Altogether all the affected parts are improving, and there are no major risks at this stage like infections."
Morelli said that Kubica was already able to grab things with the hand but lacked muscle strength after being bed-ridden for so long.
"In this kind of situation you cannot really forecast and predict what will be the final functionality of the wounded parts," he said.
Morelli added that the Monaco resident stayed at home during the weekend's grand prix because he did not want to be mobbed by well-wishers.
"He will come back when he will wear his overalls," he said.