Kubica closer to return
Robert Kubica will get behind the wheel of a road car or simulator at some stage next month as he nears his F1 return.
Last Updated: 09/09/11 6:22pm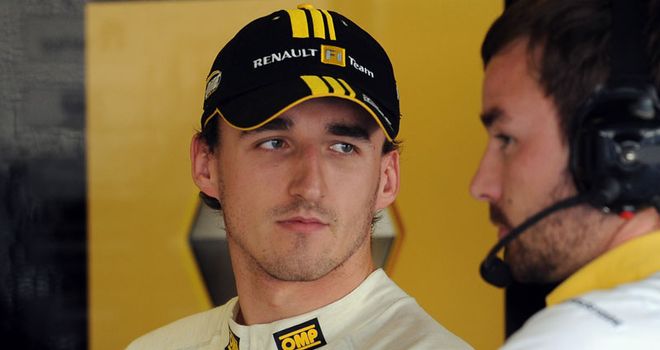 Robert Kubica will get behind the wheel of a road car or simulator at some stage next month as he takes a giant stride towards making a Formula One return.
Kubica has undergone the five operations he has been forced to endure in the wake of his horrific rallying accident in February.
And now he'll be able to get the feel of driving again next month after manager Daniele Morelli declared the surgery to his right elbow "a success".
"In October we think he can put a helmet on to give a message on what he can do," said Morelli on the Renault driver.
"It's important he starts to drive, and whether it's in a simulator or road car is not important.
"Robert will decide when he feels he has the condition to drive any car. He has never lost the feeling in his mind he would be back."
Kubica will require a further four weeks intensive physiotherapy to help build muscle strength in his right arm that was badly damaged in the accident.
At present movement is restricted, although Morelli has confirmed Kubica can hold - but not yet squeeze - objects in his right hand.
For now, Morelli is happy all is going according to plan for the Pole, adding: "Robert has started the final part of his recovery and this is a very important step.
"The day after his latest operation Robert could move his elbow with almost normal movement.
"We still need nature to do its work because the nerves must complete their recovery, but we do not have a concrete obstacle now. It's just a question of time."
Full support
Kubica is out of contract at the end of this year with Renault, but Morelli has confirmed the team have provided assurances "there is a seat for Robert", and that they have "full support".
Should Kubica's 'test session' next month go well, it would then be a question of whether he could physically cope with the demands of an F1 car.
The possibility of a drive in the season-ending Brazilian Grand Prix is still being mooted, although Morelli would prefer if it did not occur.
"There must be a reason to be there because you cannot jump in the car as if nothing had happened," added Morelli.
"Robert would need some preparation. I would be happy if Robert is not driving in Brazil, but I know he could drive."