Massa not enthused by kerbs
Felipe Massa is to speak to the FIA in a bid to avoid a repeat of the kind of accident he was involved in during Indian GP qualifying.
Last Updated: 29/10/11 3:34pm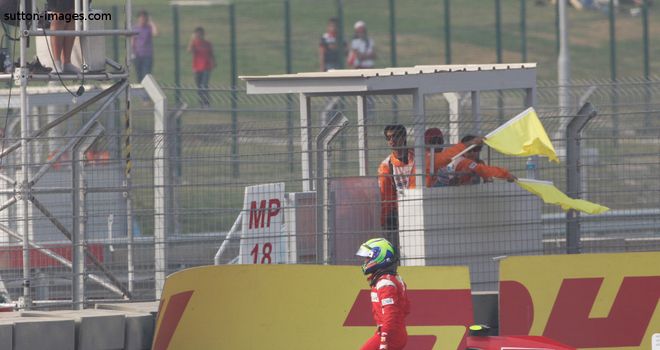 Felipe Massa is to speak to the FIA in a bid to avoid a repeat of the kind of accident he was involved in during qualifying for the Indian Grand Prix on Saturday.
The Brazilian was undertaking his final flying lap in Q3 when the front-right suspension on his Ferrari broke after hitting a piece of orange concrete behind a kerb designed to prevent cutting corners.
Massa claims the offending, sausage-shaped object is too high and said that FIA race director Charlie Whiting should seek to remove it in time for next year's race.
However, he also appreciated that nothing can be done ahead of Sunday's race at the Buddh International Circuit.
"It's important to discuss it," said Massa, who starts sixth on the grid alongside McLaren's Lewis Hamilton.
"For me, it's a high-speed corner, and as something happened then this 'sausage' is a little bit too high.
"Although it will not change anything for tomorrow, for next year he (Whiting) can do a better job with these kind of kerbs."
Massa is concerned, though, there may now be a repeat in the race, adding: "I hope not with me, but yes it could happen.
"It's a high-speed corner where you have a low kerb, and then this high 'sausage' behind it.
Power
"When it's like that and the car has a lot of downforce, a lot of power to the ground, and when you hit concrete like that, you can have a failure with the suspension, as happened with me.
"I didn't take the kerb that strongly, I took just a little, but my suspension didn't survive, so it could be a problem in the race.
"It's better to have them a bit higher, like normal kerbs, which I feel should change for the future."
Red Bull's Mark Webber, however, offered Massa his thoughts on how to avoid a similar accident.
"I think Kamui (Kobayashi) hit it yesterday with the middle of the chassis (on his Sauber) and he went into the air," said Webber.
"So maybe it's better to misjudge it a lot more than just misjudge it by not much.
"I suppose you try and stay away from them. That's the best thing, but it's not always easy."
As for Hamilton, he is unsure what Massa is complaining about as he said: "I think they're the best kerbs we've had.
"As for the orange parts they are a lot shallower, not as high or steep as at some of the other circuits.
"They've done a great job with them. You can ride the rest of the kerb and they're quite wide. Normally, you can lose a bit of time on them, but I think they're great."