McLaren & Ferrari exhausts cleared
Sky Sports sources understand the exhaust positioning on the new Ferrari and McLaren cars have been declared legal by the FIA's Charlie Whiting
Last Updated: 10/02/12 5:52pm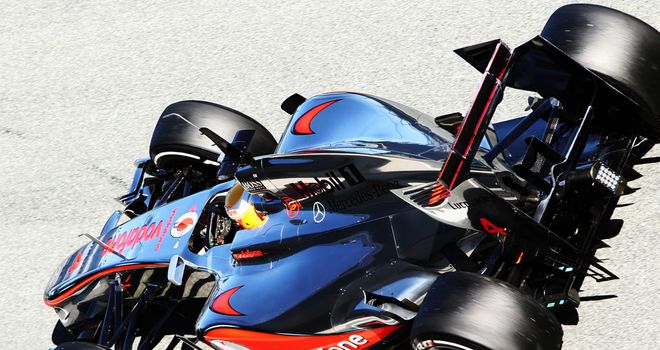 Ferrari and McLaren's rivals look set to have to revisit their interpretation of the revised exhaust regulations after the F2012 and MP4-27 were reputedly deemed legal by the FIA at Jerez.
Sky Sports sources understand that FIA technical delegate Charlie Whiting, who has been in attendance at the opening test of the winter this week to run the rule over the new cars, has ruled that the packaging of the exhaust outlets on the new Ferrari and McLaren comply with both the letter and intention of the 2012 regulations.
The blown diffuser concept, which rose to prominence over the past two seasons, has been effectively outlawed for this year following the mandated switch to higher, 'periscope-style' exhausts in a bid to dramatically cut down on the aerodynamic benefit being derived from the channelling of gasses towards a car's rear aerodynamics and diffuser.
Teams were therefore forced to rethink their approach to this area of the car over the winter and it has become increasingly clear over the course of the first week of pre-season that Ferrari and McLaren's new challengers feature more aggressively-positioned exhaust outlets than most others.
It had been thought that rivals may seek clarification of those interpretations but Sky Sports F1's Ted Kravitz, in attendance at Jerez, has learnt that the exhausts on the two cars have been cleared by Whiting.
"I understand from sources in the pitlane that FIA Race Director Charlie Whiting has told the teams that he considers Ferrari and McLaren exhaust designs as legal," Ted told Skysports.com. "Even though the way those two teams have packaged their exhaust outlets, with channels leading exhaust gases out to specific areas of the car and therefore appearing to have a beneficial aero effect, which is against new exhaust regulations, it seems Whiting believes that they comply sufficiently with both the letter and the intention of the law.
"This has been accepted by the other teams, who launched with less aggressive exhaust concepts and it means that they will now effectively green light their own, shall we say more exotic, exhaust designs.
"We can expect to see these in time for the third test in Barcelona, if not before."
McLaren and Ferrari's chief rival, World Champions Red Bull, appear to have a less aggressive interpretation of the rules and their chief technical officer Adrian Newey admitted earlier this week that the team may be harder hit by the ban on blown diffusers than most as they designed their double title-winning car around 2011's concept.