Rosberg fastest in P3
Mercedes' Nico Rosberg was fastest in final practice ahead of qualifying for the Malaysian Grand Prix as Lewis Hamilton spun.
By Mike Wise at Sepang
Last Updated: 24/03/12 7:50am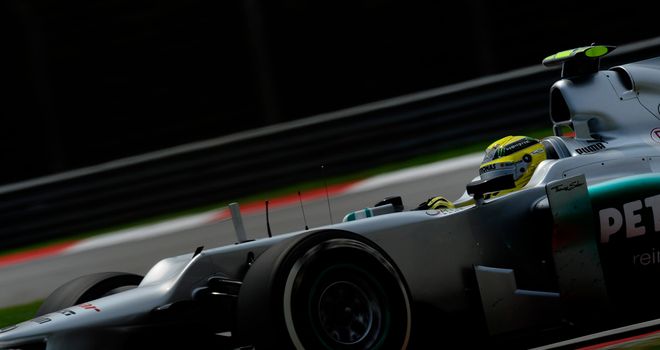 Nico Rosberg was fastest in final practice ahead of qualifying for the Malaysian Grand Prix on Saturday as Lewis Hamilton spun off the track.
Rosberg lapped the 5.543km circuit in a time of one minute 36.877 seconds to go 0.443s faster than World Champion Sebastian Vettel, with his Red Bull team-mate Mark Webber third quickest.
However, Hamilton, who set the pace in both of Friday's sessions, ended the hour down in ninth after completing a total of just eight laps.
The McLaren driver lost control of his car in Sepang's difficult Turn 14 midway through the session. Although Hamilton gathered it up immediately and headed back to the pits, he stayed there until the final 10 minutes.
Like all the drivers, Hamilton's running had already been curtailed by a rain shower which struck about half an hour before the session got underway.
The rainfall was not of the magnitude that can strike but although cars took to the track for installation laps on intermediate tyres, they stayed in their garages for the next 20 minutes or so.
Taking the plunge
Bruno Senna was the first to take the plunge on slicks and with the Williams driver experiencing a twitch or to at first, others slowly started to follow.
Senna and Lotus's Romain Grosjean were the pacesetters at the halfway point before Vettel and Webber lowered the benchmark, with Pastor Maldonado also moving P1 in his Williams.
It was at this point that Hamilton appeared on hard tyres but he was soon back in his garage after his spin, although his car did not appear to suffer any damage.
Senna was also the first driver to switch to the medium tyre but when Hamilton made his return on mediums, he did not match Maldonado's time set on hards.
However, Jenson Button, Webber and Vettel all went quicker on mediums before Rosberg finally went quickest of all on the white-walled Pirelli.
Kimi Raikkonen ended the session fourth fastest ahead of team-mate Grosjean, while Button, Maldonado, Michael Schumacher, Hamilton and Kamui Kobayashi completed the top 10.
Times
1) N Rosberg Mercedes 1:36.877 16 laps
2) S Vettel Red Bull 1:37.820 15
3) M Webber Red Bull 1:37.338 12
4) K Raikkonen Lotus 1:37.356 13
5) R Grosjean Lotus 1:37.382 13
6) J Button McLaren 1:37.404 12
7) P Maldonado Williams 1:37.455 13
8) M Schumacher Mercedes 1:37.663 15
9) L Hamilton McLarenn1:37.776 8
10) K Kobayashi Sauber 1:37.977 17
11) B Senna Williams 1:38.091 20
12) S Perez Sauber 1:38.178 15
13) F Alonso Ferrari 1:38.246 17
14) N Hulkenberg Force India 1:38.285 16
15) D Ricciardo Toro Rosso 1:38.423 13
16) J Vergne Toro Rosso 1:38.640 11
17) P di Resta Force India 1:38.794 18
18) F Massa Ferrari 1:39.209 16
19) V Petrov Caterham 1:39.704 15
20) H Kovalainen Caterham 1:40.189 14
21) C Pic Marussia 1:41.901 14
22) T Glock Marussia 1:42.007 14
23) P de la Rosa HRT 1:42.464 14
24) N Karthikeyan HRT 1:43.378 17