Team bosses standing firm
To a man, F1 bosses played a straight bat on Friday when fielding questions about the decision to press ahead with the Bahrain Grand Prix.
By Mike Wise in Manama
Last Updated: 20/04/12 5:02pm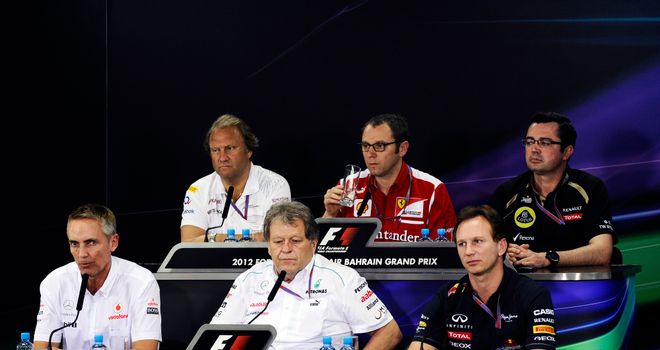 To a man, Formula 1 bosses played a straight bat on Friday when fielding questions about the decision to press ahead with the controversial Bahrain Grand Prix.
As the sport's commercial rights controller Bernie Ecclestone toured the paddock alongside the troubled island state's Crown Prince, the likes of McLaren Team Principal Martin Whitmarsh, Ferrari counterpart Stefano Domenicali and Red Bull's Christian Horner once again backed the FIA's decision not to cancel the race despite ongoing political and civil unrest.
Protests are expected to intensify this weekend as the global spotlight is shone on Bahrain but the team bosses all said they were happy with security arrangements currently in place.
However, their responses became more guarded when pressed on the sport's presence and some questions - an accusation of being "used as political tools" was made at one stage - were met with a frosty silence.
"There's undoubtedly been difficult times here but from a pure team perspective, we feel comfortable with the situation," Whitmarsh said. "Clearly we race in an international sport all over the world and we've had security concerns and issues in a number of races. We take that very seriously, we're cautious and we try and take the right precautions.
"Ultimately we're a race team and we're here to go motor racing."
Horner said: "It's wrong for it to be used politically. We're here to race, we trust the FIA and the decisions that they made and I'm comfortable with the decisions that they've made.
"For us it's about trying to extract the maximum out of this weekend as a sporting team in a sporting championship. But the calendar is also set by the FIA."
"I have to say that we don't feel to be the target of anyone that is protesting," said Domenicali. He added later: "We need to be positive in life. It seems we are looking for something to happen - and this is what we don't want".
Also present was Force India Deputy Team Principal Bob Fernley, whose outfit failed to take part in Friday afternoon's practice session as a direct consequence of an incident two nights ago, when team personnel were inadvertently caught up in a protest after leaving the track.
Fernley denied the suggestion they had pulled out in protest over security arrangements, saying it was because the incident, in which a Molotov cocktail hit a car carrying Force India technicians, had "destabilised the emotional element of our team".
"Yesterday evening, we put a programme together that addressed all the issues from the team," he explained.
"That meant a slight restructuring of the programme in order that we could make sure that there was comfort within the team, that we delivered very strong qualifying and race programmes.
"I have to say that Sheikh Abdullah, Bernie and everybody has been enormously helpful in that process. We have, as a team, to make sure we gel that together properly and it's nothing whatsoever to do with that.
"It's an internal matter that just needs stability. We've provided that stability and we've stuck with the programme we've had to put in place.
He added: "It's not a slight at all on the event; it's just the internal structure of Force India. We've had to do that, we've done it with pleasure and we've supported our team in that process."