Driver reaction - Canadian GP
The drivers have their say after a thrilling race in Canada, where Lewis Hamilton took his first win of 2012 and McLaren's first since Australia.
By William Esler
Last Updated: 10/06/12 11:29pm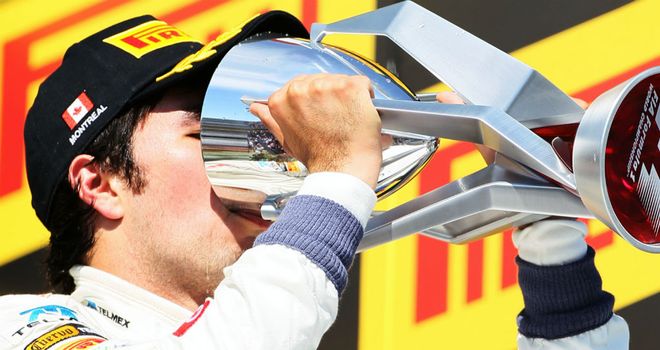 The drivers have their say after a thrilling race in Canada, where Lewis Hamilton took his first win of 2012.
Red Bull
Sebastian Vettel: "It was a difficult race today. We found ourselves in third place, quite far away from Lewis. He decided to box again, but Fernando and I took the decision to stay out. I felt pretty comfortable on the tyres and obviously we were hoping to get the place back, but as it turned out it was the right thing to go for the second stop. We decided a few laps from the end to do a pit stop - a stop here is not so long, about 15 seconds - and in the end it was the right decision.
"Before the stop we were three four seconds behind Fernando, but we ended up six seconds ahead of him. It was a good call considering what you can lose with only eight laps to go. It's easy now to analyse and know everything, but I think we learned a lot today and we've seen that races can be interesting until the very last lap. All in all it was a good weekend.
"We had a very smooth run up to qualifying and a very good qualifying - in the race we maybe lost some of that edge, but we were there or thereabouts. We have another winner today also, I think Lewis deserved to win today, no doubt, but we have learned more and will make step forward in Valencia."
Mark Webber: "I knew it was going to be mixed up today, but not that mixed up. In the first ten laps, we had a small issue with the engine which we had to manage, but then I settled into the pace. We pitted and came out behind the one stoppers.
"It's hard to get it right here - if you push to try and pass you kill the tyres but if you wait, then you find you're on the same strategy and finish behind them anyway. I think ultimately we were quick at times today and it's good that we finished in the points. With hindsight we could have done a different strategy, but it's easy to say that now and I've had worst days than today."
Ferrari
Fernando Alonso: "Today we tried to win the race, but the gamble of only making a single stop did not pay off. When Hamilton came back into the pits for his second stop, we chose to try and play our hand: now it's easy to say that we should have made that choice too, but it would have meant we had tried nothing and we could also have lost position to Vettel.
"The last laps were very long indeed: the tyres dropped off suddenly and I was too slow to defend myself from those coming up behind. My engineer was telling me to hold them off but there was no way I could do it. The real problem today was the tyre degradation, definitely not the strategy, which at the very most cost us one place, but let's not forget that it was that very same strategy that allowed to us to get ahead of Vettel at the first stop.
"The car was competitive practically all race long: it wasn't the quickest because here the McLaren, as was expected, was very quick, but definitely we have made a step forward in terms of performance. We need to work out how to improve the tyre degradation: it can be affected by very minor factors such as a few degrees more or less in temperature, although here maybe they had also come to the end of their life. It is not a tyre world championship, but every detail must be studied to aim for victory.
"For the first time this year, we have not just been trying to limit the damage, in that we were actually aiming for the win. It's a positive sign and now we must confirm it at Valencia and Silverstone. We are definitely returning home with more confidence in our chances, because this was the most significant step forward we have made in terms of car development for a long time."
Felipe Massa: "I am angry with myself for the mistake at Turn 1. I lost touch with the quickest group and then my tyres were vibrating too much, which meant I had to pit early. Then I tried to extend the next stint of the race as much as possible, even hoping not to stop again. Unfortunately, towards the end, I did have to make a second stop, because they were almost down to the canvas.
"Maybe bringing forward the final stop could have got me ahead of Kobayashi again, but it would not have changed much after that. I am disappointed, because we showed we were competitive with our main rivals: now we are there, fighting with them, which was not the case just a few races ago. Tenth place definitely does not reflect our potential.
"Now it is vital we continue to work in this direction: it was a weekend in which we were always fighting for the top places and we have improved in every area and that has to be a confidence boost for the rest of the season."
Mercedes
Nico Rosberg: "Sixth place is a decent result today and it's important for both me and the team to keep scoring points for the championship and maintain our consistency. It was a mixed-up race and it was difficult to find a rhythm, particularly at the start, but by the end, the gap to the leading cars was not that big. It could have gone better this weekend, and we just need a little bit more performance to be competing at the front. However we are making good progress and increasing our understanding of the tyres all the time."
Michael Schumacher: "Unfortunately, our weekend in Montreal didn't turn out trouble-free for me and a hydraulic problem with the DRS forced me to end my race early. At first, I didn't know exactly what the problem was; I overshot the corner, ran through the grass and asked myself what was going on. Then the team told me about the problem and I saw it in the mirrors. Of course it's disappointing for all of us but it's not a question of pointing fingers; stuff like this happens. I know the team are doing their best and that it probably hits them even harder than me. We'll be back on the attack in Valencia."
Lotus
Kimi Raikkonen: "The car was a bit better in the race than it was in qualifying. I seemed to get stuck behind people a few times. The DRS zone is not very long, and it's still a difficult battle if the car ahead of you is also using the DRS. We had a chance to do a bit better, but it didn't quite all come together today. We scored points again so that's always a good thing, especially this season. Qualifying yesterday wasn't perfect so obviously that left us with more work to do. If you start further forward it's easier to finish higher up the order. We'll try to achieve that in the next race."
Romain Grosjean: "It's been a great day for the team. It was an incredible race and the one stop strategy worked perfectly for us. It wasn't an easy race, but we wanted to be aggressive to achieve a good result. Yesterday was a bit disappointing, but we learnt a lot from Friday to Saturday and the fruits of all these lessons were seen today. It wasn't easy to manage the second set of tyres for so long, but it worked so I'll happily do that again for another result like today. It's fantastic to finish in second position on my first visit to Montreal, hopefully I will finish in first on my second time! I would like to thank the entire team for the amazing job we've done this weekend."
Force India
Paul di Resta: "I think we all feel a bit disappointed to miss out on points today. To qualify eighth and run as high as fifth shows we were well placed and things were running smoothly for the first few laps. Then I seemed to suffer with some high tyre degradation on the super-softs so we pitted quite early, but on the soft tyres we just didn't have the performance to race the cars around us and we slipped back. It's a missed opportunity but sometimes you get weekends like this. We need to go away and analyse things, lift our heads high and bounce back harder next time."
Nico Hulkenberg: "Our result today is a bit disappointing. We thought we could get in the points, but every race is hard to predict this year and we were not able to deliver what we hoped for. Ultimately we didn't have enough speed today and suffered with high tyre wear compared to the cars around us. We had to do a two-stop strategy while a lot of our rivals were able to stop once and they got a big benefit from that."
Sauber
Sergio Perez: "When you start 15th and there is no rain or chaos you don't really expect to finish on the podium. We were quite aggressive today. The strategy and the pit stop have been very good and I was able to overtake a few cars. I saw that for me the tyre degradation wasn't so bad and this allowed me to manage my pace quite well. We have a quick car but since Malaysia we have been unlucky for one reason or another, and then yesterday we had such a disappointing qualifying.
"Today's result is a great reward for all the guys who work hard. The last time I scored points I was also on the podium and think this is quite a nice way to do it. Also it is particularly sweet to have been at the podium ceremony here in Montreal because we are not too far from my home country and there are many Mexicans here. It is a great boost for the team and I am very pleased for everybody."
Kamui Kobayashi: "My car was okay today and the team deserves the good result. For me we had planned two stops, but it turned out that one stop was possible and even quicker. I started on super soft tyres and after my pit stop I did 46 laps on the set of soft tyres. I had a good race pace when the tyres were in good shape, but in the end it wasn't easy. However, to me the most difficult thing today was traffic and I think, under the circumstances, P9 was about the maximum possible from 11th on the grid."
Toro Rosso
Daniel Ricciardo: "I finished where I started. I got a good launch off the line but there was nowhere really for me to go, so I opted to go down the inside at Turn 1, which put me on the outside of Turn 2, where I tried to go around a few of the guys in front of me. But there was not as much grip there as I had expected and this cost me a few places. So from then on, I had some work to do as it put me on the back foot. From mid-race to the end, I could not match the pace of those I was racing against. Our pace is simply not enough to crack the top at the moment, so we must not get downhearted, but keep working hard to try and improve."
Jean-Eric Vergne: "This has not been a very good weekend for me on my first visit to Canada in terms of how things went at the track, although I enjoyed the circuit and the time I spent here. I qualified twentieth yesterday and finished fifteenth today. It's definitely not an easy circuit with the walls so close and you have to push hard every lap and from that point of view the afternoon was okay, but of course the result is disappointing. Getting a drive through penalty for speeding in the pit lane did not help and it happened because, as I came in for a pit stop, I had some sort of problem with the pit lane speed limiter, which we will have to investigate. The strategy? I don't think we could have done anything different."
Williams
Pastor Maldonado: "Today the car felt very consistent and was pretty well balanced, but unfortunately starting so far back after qualifying meant that I could not really have a good run at finishing in a points-paying position. Our one-stop strategy meant that I had to manage the tyres carefully but when I did get to push in the final few laps the car was quick. The car's performance in long runs is something we can be optimistic about heading into the next race, we just need to focus on improving our qualifying pace so we start from a better position."
Bruno Senna: "It was a difficult race today because I lost a lot of time on the first stint on the supersoft tyres and from that point on it was just a case of trying to look after the tyres as much as I could during the second stint. We have learnt a lot from this race and I am looking forward to the next one in Valencia, where hopefully we can get the most out of the car's potential."
Caterham
Heikki Kovalainen: "That was an uneventful afternoon for me. I had a good start, passed Senna early on but then struggled a little with the tyres which maybe held me up a bit. Our pace today was not quite what we thought it would be and we were being lapped a little earlier than we had anticipated, but that was really the only issue for me today - other than that it's been a good weekend."
Vitaly Petrov: "For me that was a good race. I battled with my team mate right to the flag and had a couple of good stops that gave me a chance to keep the pace up through the whole race. The tyre deg wasn't too bad, despite the track temperature, and we didn't have any problems with the car, so for where we are right now that's a good afternoon's work. We have some improvements coming in the next few races and the aim is for those to help us get to a point where we can race one or two of the teams ahead - that's another positive sign of progress so we're definitely going in the right direction."
Marussia
Charles Pic: "First of all, I'm happy to finish the race - my first time here - and although it has been a tough weekend, I think from the perspective of the team, and me personally, it has been a good experience to learn where we need to improve. Our pace here has not been good compared to our closest two competitors, so we have to understand more about why that was. For my side, the start went well and we maintained position, then Timo and I had a good race.
"From there, it was all about looking after the car and getting to the finish. Next stop is Valencia, a track I've raced at before, so I will lose less time to acclimatisation and be able to spend more time preparing the car. I got pole there in GP2 and I have a good feeling for the track - another different type of street circuit - so I think it will suit me and the car much better. Some work in the simulator next week should also help us prepare well."
Timo Glock: "Not a great race for me. In general the first stint was quite okay I think until I suddenly lost power for some reason; I think the engine temperature went quite high. After 14 laps I was suffering quite badly with rear tyre degradation and the combination of the two issues was quite difficult to manage. We had to come in quite early for the pitstop and then I came out in blue flags and was unable to use the new tyre effectively.
"I could at least recover the ground I lost to Charles and close the gap, but at the end I suffered so much with the brakes; they were getting longer and longer on pressure and it was too dangerous to continue, so I had to retire. This was my first DNF and in general Canada has not been that great for us this year, which is a shame because it's a track I love. Now though I'm looking forward to Valencia and to seeing what we can do to improve there."
More to follow....