Driver reaction - Germany practice
What the men in the driving seat had to say after a wet and rather frustrating Friday at Hockenheim...
Last Updated: 20/07/12 4:56pm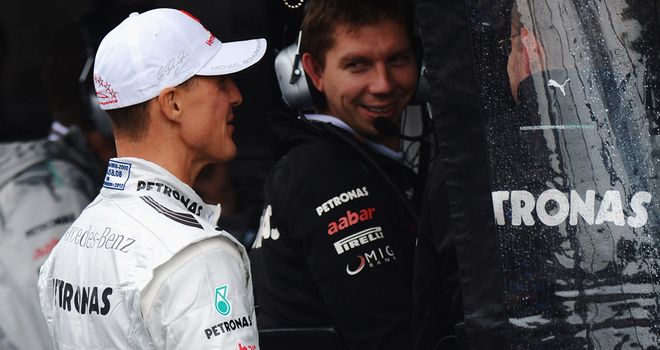 What the men in the driving seat had to say after a wet and rather frustrating Friday at Hockenheim...
A McLaren led the way after Practice One, and a Williams after Practice Two, but the real story of the day was the rain which curtailed running throughout.
McLaren
Jenson Button: "We got some good running under our belts today. Conditions weren't perfect, but the forecast looks the same for tomorrow; so it was a very useful session for us and I think we gathered some useful data in terms of comparative tyre and set-up work.
"For us, trying to get the tyres working is one of our main issues, so we spent a lot of time focusing on that - it wasn't all successful, but when things came together, our pace was good. We've still got some more work to do to be quick in the wet, but FP2 was a useful session in terms of telling us where we need to be heading.
"I think we should be happy with most of the parts we've put on today - most of them worked correctly - so it's nice to see the improvement. I want to say a big 'well done' to the guys at the factory, they've done a great job. Hopefully we'll be able to see the improvement in performance throughout the rest of the weekend."
Lewis Hamilton: "The men and women back at the factory did an incredible job to get all the upgrades to the track this weekend - they all deserve a big pat on the back for that. It's quite a positive step: it's still difficult to accurately predict was sort of a step we've taken as we couldn't back-to-back between the old and new components, but it's definitely a step forward.
"Hopefully, we'll get more of an indication as the weekend progresses - although, with more wet weather predicted for tomorrow, it might not be until Sunday that we can tell what we've got. Still, the car doesn't feel bad at all.
"It's tough in the wet out there; like driving around on an ice-rink - with puddles! - but I feel positive that we can do something good this weekend."
Red Bull
Sebastian Vettel: "We couldn't learn too much today, so we just got used to the conditions, as there may be rain tomorrow and also on Sunday. The forecast isn't looking great. It would have been good to have got some dry running in, especially this afternoon to test a couple of things and see how the car feels - it's hard to get a proper baseline when the conditions keep changing. We have to carry the extremes into tomorrow and Sunday, so we obviously tried to limit the running on those tyres."
Mark Webber: "That was a bit unreal. We didn't expect the rain to be this bad today, but it was quite heavy at times - we even used the extreme full wet tyre. That's two races in a row now with tricky conditions. We haven't done much dry running yet, but Sunday looks like it will be better weather-wise. We needed to check what the track conditions were like in terms of grip level, as it's a different layout here to Silverstone and different asphalt. We tried a few small new parts today. The lap times were all over the place and there were a few incidents, but we got everything we could out of that session."
Lotus
Kimi Raikkonen: "We didn't learn a lot today with the weather conditions as they were ; it was like Silverstone when we also didn't have very good conditions. We tried a few different things which I think some people noticed today. It would have been nice to have some more dry track time but you can't do anything about that. The track does feel quite slippery when it's wet ; it's definitely not very grippy in these conditions. Overall, it was a pretty normal Friday when you try different things and get as much running as the weather allows."
Romain Grosjean: "It was a difficult session with the rain coming down. It looks like we'll have more wet running tomorrow so it was good to get a feel for the wet and intermediate tyres. We had a few things we were hoping to test in dry conditions but unfortunately this was not the case. If we get to Sunday without any dry laps then people won't have so much of an idea about tyre degradation and the difference between the compounds, which may help me starting further back on the grid with the penalty. Either way, we now have a good base line setup from today and hopefully this will help bring us a decent result at the end of the weekend."
Mercedes
Nico Rosberg: "We learned a lot today as we were able to test in the different track conditions, and use the wet, intermediate and dry tyres. So I guess we are well prepared for whatever the weekend brings. Unfortunately we have to change my race gearbox here as a precaution after discovering an issue after Silverstone. So I will receive a five-place penalty which is a shame for our home race but I will push hard to gain a good result. As we have seen this season, a lot can happen in the race."
Michael Schumacher:"The way I ended the second session was obviously not part of the plan and I'm sorry that my mistake has given my guys even more work to do this evening. I simply slid off track because I lost a little concentration: we were talking on the radio and I was altering some settings at the same time. But that's all part of the game. Overall, the session went ok, even though we didn't do too much running in the first session because the conditions were a bit too inconsistent. I think that qualifying will probably be wet tomorrow, so today's weather was useful in that respect. Now we need to do more work on the computer to tease out the insights we weren't able to get from our track running."
Williams
Pastor Maldonado: "It was a challenging practice session for everyone because the track conditions were changing a lot and I was trying to adapt my driving style and the car to best suit those conditions. We have a good balance in the car in wet conditions, even with a damp track, and the time I set in the second session shows that if it rains tomorrow we will be competitive."
Bruno Senna: "It was a bit of a frustrating day because the weather was so changeable. We started on extreme wets but the track dried out very quickly and we then went on to intermediates where our pace was competitive which is promising. Unfortunately we missed the window to get some good laps in on the drying track but overall the car is feeling good and with a bit more set-up work we can have a good weekend."
Valtteri Bottas: "Unfortunately the rain affected what we were testing and we had to adapt to the weather, but we still managed to do quite a few laps and completed most of what we were aiming for. The session ended disappointingly for me when I lost the back end of the car coming into the stadium section, locking the rear when I hit the brakes but I want to thank the team as they did a great job to put the car back together for Bruno's afternoon session."
Force India
Nico Hulkenberg: "Another Friday practice where it was difficult to find a rhythm and get through the job list. In the morning the rain showers only gave us very limited time to run dry tyres, so I didn't really get a feel for the hard development tyre. The track surface here is also very smooth and it was quite low grip this morning, especially with the damp parts of the track. With the rain showers this afternoon, all we could do was understand the wet and intermediate tyres in case the wet weather continues tomorrow."
Paul Di Resta: "A very short day for me with limited mileage in the wet. The track was drying up quite nicely towards the middle of the session and it was near to the crossover point for slicks until the rain returned. We've done our wet weather preparation so we just need to see what the weather brings tomorrow."
Jules Bianchi: "It was not an easy morning session because of the rain showers, which meant we had to stop and wait for the track to dry. The rain was not heavy but it made the track very slippery. I did most of my laps on the medium compound tyres and I was improving lap by lap. I set my quickest lap on my final run when the track condition was at its best and I was able to get closer to the limit of the car."
Sauber
Sergio Perez: "Of course we were hoping for more dry running today, but it is good we now have some experience with both the intermediate and full wet tyres, because we might need them for qualifying tomorrow. I really hope we can put in a strong qualifying performance so we can make the most of our chances in the race. Regarding the new hard tyres we were using in the morning, I found it difficult to warm them up but overall to me they seemed to be alright."
Kamui Kobayashi: "I was struggling a lot in the wet and I had zero grip. I suppose there was something wrong with my car and we will check that now. Tomorrow is another day and I'm positive we can be strong here."
Toro Rosso
Daniel Ricciardo: "The morning went well in terms of doing a lot of laps and getting plenty of track time. We evaluated some changes to the front wing, doing a back to back test, in a sort of mini-aero test, to provide the guys with some data. Then, we were able to get on with the usual Friday programme and I stayed on the Prime tyre, rather than trying the experimental Hard that was available today. Considering how many laps I did, I think the lap time was not too bad and I am hoping we can be more competitive here than in Silverstone. This afternoon off the track? I just locked up the front and slid into the gravel. There was no damage done and I'm just glad I didn't hit anything. The wet running went well and could be useful if we have rain for qualifying."
Jean-Eric Vergne: "In the dry this morning, the car worked pretty well and the lap times don't mean much, as I was running the Hard prototype tyre Pirelli brought here for evaluation purposes. I felt the car was strong in FP1, which means we have a decent car for dry conditions if that's what comes for the rest of the weekend. Then, in the wet this afternoon, I was pleasantly surprised at how well things went on the Extreme wets. When I ran the Intermediates, we did not have the right balance on the car, but I'm sure we can fix that, in which case I would be happy if we had rain tomorrow afternoon for qualifying. It should be good!"
Caterham
Heikki Kovalainen: "We completed a decent mileage today but I think we still have quite a bit of work to do, mainly on finding grip. The conditions in FP1 were good to start off with and we managed to get through most of the aero programme we'd set, including a couple of very slow single lap runs on dry tyres when it was getting pretty wet! In FP2 we started on the full wets for the first run, then went onto the inters but we still couldn't quite find a really good balance. We'll look at that tonight and make sure we can push on tomorrow in FP3 and qualifying."
Vitaly Petrov: "I'm pretty pleased with how today's gone. In conditions like we had in both sessions one of the main things is to make sure you don't make any mistakes, and we had a big programme for both FP1 and FP2 and it was important to make sure we go through them with no problems.
"Inside the car we tried a few setup changes to help dial out the understeer, and on the dry tyres in the morning session we were definitely going in the right direction as the session ended. In the afternoon we tried a few things on both the wets and the inters and, again, made progress, but we have a lot more to come."
HRT
Pedro de la Rosa: "Today was a bit of a strange day, but I'm happy to have been able to run this morning on primes and one last stint on intermediate tyres. That way, if it doesn't rain in the race, we've got a small idea of what we can encounter and if tomorrow the track is wet, which it seems it will be, at least we've got an idea of what it can be like. The mechanics did a good job to get the car out today and now we must work on the set-up for tomorrow".
Narain Karthikeyan: "It wasn't my best day because I didn't run in the morning and FP2 was wet. It wasn't very productive and if tomorrow is dry I will be facing completely new conditions. But it looks like it's going to rain tomorrow so today's data will be useful. I expect it to be tough tomorrow but I'm ready for the challenge."
Dani Clos: "It was an interesting session where I was able to run in dry conditions for a large amount of time, although the track was changing. Some rain drops started to fall which, at times, made it a bit more complicated. But I'm happy with how it went. We did a good job and the car responded well, which is the objective."