Driver reaction - Hungarian GP
The drivers have their say after a hot race at the Hungaroring, where Lewis Hamilton took victory for McLaren.
By William Esler
Last Updated: 29/07/12 6:27pm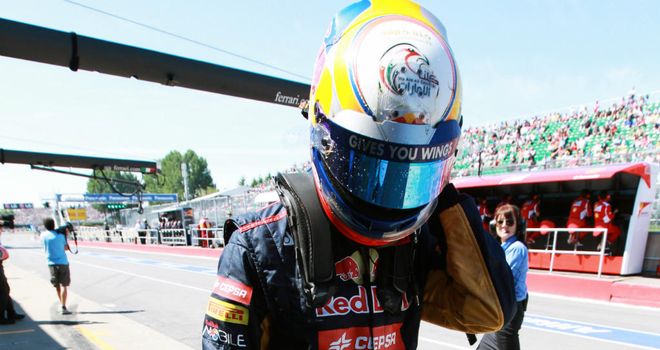 The drivers have their say after a hot race at the Hungaroring, where Lewis Hamilton took victory.
Red Bull
Sebastian Vettel: "I think our overall speed was better than the actual result we got today. I was stuck behind Jenson in the first stint; he was slower and we lost some time there, but of course you can't just pit and come out in clean air, there's traffic, so there's not much we could have done. The tyres were not too bad at the end, but we thought that we should try something, the tyres on the cars in front could have fallen off, but it didn't happen. The race pace was very good, so now it's up to us to do better in qualifying and at the start; then it's a different race."
Mark Webber: "We were hoping people would be in a bit more trouble with their tyres at the end. We were in fifth place and had a nice cushion, but we've had plenty of times this year where the tyres had stopped working towards the end of the race. Today it didn't really work out that way and we lost places through trying something different. I was quicker in the closing stages, but it's hard to overtake here and I couldn't get the job done. Still, we moved up three places from the start, we have good points and it's very open for the rest of the year."
McLaren
Lewis Hamilton: "Well, what can I say?! I'm over the moon! The team did a fantastic job! Absolutely brilliant!
"It was a really enjoyable race - but it wasn't at all easy. In fact, I reckon that it was one of the toughest races I've ever driven - but, guess what, I'll savour it all the more for that.
"I was under a lot of pressure throughout all 69 laps. First, Romain (Grosjean) and then Kimi (Raikkonen) were right behind me, all the way through, and I had to look after my tyres without letting my pace drop, which was pretty tricky at times.
"It isn't a static situation when a race goes like that. The feel of the car is changing all the time. You get different messages from the tyres with every lap. But they lasted - I managed to make them last.
"It was a case of managing the gap behind me, over the whole lap, every lap. In particular, I had to make sure that, every lap, I always had a big enough gap at the last corner, so that I wouldn't be overtaken in the DRS zone on the pitstraight. And I managed to do that every time.
"As I say, the team did an absolutely incredible job - and the support we've had here in Budapest, not only from the visiting British fans but also from the local Hungarian fans, has been phenomenal.
"And to be able to win a Grand Prix on the weekend that the Olympic Games started in the UK too, well, I feel like we've done our part to contribute to what I hope will be many more British successes over the Olympic Games period. Someone has just told me that we've scored Britain's first gold medal of 2012. Well, it isn't really that, is it? But it's the first British victory of the Olympic Games period, which is pretty cool.
"Looking at the season as a whole, it's clear that after the mid-season break we'll have a lot of work to do. But, for now, let's celebrate - all of us, family, friends and fans - and put on our Vodafone rocket-red tops, and enjoy the moment.
"Nobody celebrates like we do."
Jenson Button: "First of all, I want to say a big 'Well done!' to Lewis and the entire Vodafone McLaren Mercedes team. Fantastic job, guys!
"For me, though, I guess today was quite a bit more frustrating than it was for Lewis. Having said that, I was really pleased to be able to get ahead of Seb (Vettel) on the opening lap, passing him on the outside of Turn Two, and to be able to hold a very solid third place at that point. I was on the leaders' pace too. In fact, even after the first stop, I could still see the leaders - so we were obviously still pretty close.
"Then we decided to go for a three-stop strategy - but after my second and third stops I encountered traffic, unfortunately, which made things really difficult for me because the traffic I was stuck in was lapping quite a bit slower than I could have been lapping if I'd had a clear track.
"But there are lots of positives to take away from this weekend: our car is obviously quick, as I was able to show at Hockenheim and Lewis was able to confirm here, and in the second half of the season I know that everyone at Vodafone McLaren Mercedes will work as hard as possible to maintain and continue that upward performance development curve.
"Now, as we go into the mid-season break, I'm going to go away and relax. I'm really looking forward to it, in fact."
Ferrari
Fernando Alonso: "It's a positive result, no doubt about it. We knew this would be a complicated weekend because we were not quick enough, but despite everything, we managed to extend our lead over Webber. In terms of the championship it has therefore been a very good weekend.
"To have finished ahead of one Red Bull and right behind the other in these circumstances was very important because, on paper, we should have expected to finish seventh. Hamilton was out of our reach this weekend, but we did not lose much ground to Vettel and these are in my opinion, the strongest of the group that's behind me in the championship.
"We made the right strategic choices: it's true I lost a bit of time behind Perez and this cost me a place to Raikkonen, but the Finn was probably out of reach this afternoon. We have a lead of forty points, courtesy of a car that has not been the best in this first half of the season. Now we must try and make a good leap forward in terms of performance to allow us to keep the lead in the Championship, because in the long term, what we have now will not be enough.
"If we are where we are, it's because we have always made the most of what we had and because of an excellent reliability record: it's not by chance that you get 23 consecutive points finishes. July has been a tough and stressful month, with three races and a lot of work at the factory. Now I want to take a break for a bit and fully recharge the batteries, to show up again in Spa in perfect shape, in the hope that the second part of the season is as positive and productive as the first one.
"There are five weeks to rest and work, looking to the future, starting with two very demanding races at Spa and Monza."
Felipe Massa: "My race was ruined at the start, when I spun the wheels, possibly because the clutch had overheated: that cost me two places which I then never managed to make up. Overtaking is really difficult at this track and, even if at some points in the second stint, I was stronger than Webber and Senna, I never managed to get the slightest chance to pass them.
"Therefore, this has not been a great race for me, but at least I managed to bring home a couple of points. At Silverstone and Hockenheim, our pace was a match for the best, but that was not the case here and this definitely made the whole weekend difficult. This first part of the season has definitely not been very positive for me, although today I certainly feel better than at the start and I'm sure the second half will be better.
"My contract? Until the situation is not clear, there's nothing to say! I'm concentrating on doing well in the next races and that is my number one aim."
Mercedes
Nico Rosberg: "We've had a difficult weekend here in Budapest, and just haven't been quick enough. In the race today, I had a good start and was able to gain three positions by the end, so I got the most out of it. Being happy with one point is not an ideal situation though. We need to find out why we are off the pace at the moment. I hope that we can do better in Spa after the break and we will push hard to make the improvements necessary.
Michael Schumacher: "Today was obviously one of those races that you will not look back at for very long. Our engine temperatures were very high before the start, and when the yellow lights came on, I switched the engine off. After I had started from the pit lane, I picked up a penalty and then a puncture.
"So all in all, the beginning of the race was not very pleasant for us. Everything you do not need came together. We did not have full telemetry before the start and during the period of overheating, and this is why we finally decided to retire so as not risk any damage which might make us suffer in the next race.
"Now we can now check the car properly before the break and prior to Spa. This weekend is not one to remember, but then there are weekends like this which you can only accept. I am sure we will be looking much better in the next races to come."
Lotus
Kimi Raikkonen: "It's a shame we couldn't quite get the win but it's a good result for the team and we'll keep pushing to make that final step. My start was not too bad but then we had some issues with the KERS and I lost a place to Fernando (Alonso).
"When we got it working again we were stuck in the pack so it was a bit frustrating, but once we were in clear air we could push and it looked like we could make up a few places in the second stops. The team said it would be very close with Romain, but it was okay in the end. We managed to catch Lewis (Hamilton) but it was impossible to pass."
Romain Grosjean: "It's a good result for the team, but to be honest I'm a bit disappointed. We had a good battle for the lead with Lewis (Hamilton) all through the first two stints, but then I got stuck behind Michael (Schumacher) who didn't respect the blue flags at all which cost me a lot of time. Because of this I lost a place to Kimi, and at the same time a possible chance to fight for the win.
"It's very hard to overtake here; every time I came close to someone in front I would lose a bit of front end grip which made it impossible. Still, that's racing and we've take home a lot of points for the Constructors' Championship which is a real positive."
Force India
Nico Hulkenberg: "A very difficult race, to be honest. I struggled a lot with the balance this afternoon and we just didn't have good enough pace. The rear tyre degradation was also high and it wasn't easy towards the end of the race.
"So with all things considered I think P11 was the maximum that was possible because we didn't make any mistakes and the two-stop strategy was definitely the right decision. We were not far away from the points, but we still need to go away and analyse what happened so that we can improve in time for the next race."
Paul di Resta: "I don't think P12 is a fair reflection of the speed we had in the car today. My race was compromised by a poor start and I lost a few positions going into turn one. I had the same issue in Germany last week so we need to understand how we can improve that going forward because it's hurting our track position.
"The first few laps were quite tough but the car came alive after lap four and brought me back into contention. Unfortunately it was impossible to maximise the speed of the car because there was no chance to overtake and once the pit stops were complete it was just a case of bringing the car home."
Sauber
Sergio Perez: "I'm afraid there isn't much to say today. We were just lacking the pace. We tried to stretch my first stint for a different strategy, but in the end I think there was just nothing that could get us into the points today. It is a shame, but we will fight back after the summer break."
Kamui Kobayashi: "We have simply been too slow here. We have been struggling all weekend, especially with the medium tyre compound. I also lost a few positions right after the start when I found myself on the extreme left side of the track with nowhere to go anymore. Finally I got the call to come in because of a hydraulic leak and that was it. For some reason the Hungaroring didn't work for us."
Toro Rosso
Daniel Ricciardo: "I had a reasonable start passing a couple of cars, after which I tried to stay in contact with Di Resta and managed to stay close enough to be in the DRS zone for a few laps. But after that he began to pull away gradually and basically, today we just did not have the pace to match our rivals. The earlier stints on the Options were not too bad, apart from a few balance issues here and there.
"We managed to improve the car as the race went on, but for the last stint on the Mediums, it took a while for the tyres to work and maybe my set-up was too conservative for the start of the stint, as we had plenty of pace left at the end of it. I don't think there was much more we could have done today. Now it's the break and I hope we can come back stronger in Spa."
Jean-Eric Vergne: "I had a really good start, passing both Saubers and a Force India, which then pushed me wide at the first corner, so I lost position and dropped behind the two Caterhams. I got past both of them and after that I was behind Kobayashi and then Daniel, who was a bit quicker, as I had started on old Options and he was on new ones.
"When I made my stop for new Options, I came out behind Kobayashi and was behind him for all that stint, which was a shame as it meant Daniel was pulling away from me and I felt I could have been quicker. Towards the end, the pace was not that good and in the closing stages I had to make an unscheduled fourth stop because debris in a side pod was causing an overheating problem. Without that I would have been just behind or just ahead of Daniel. The break? I'd rather be racing!"
Williams
Bruno Senna: "Today was a nice race. We pushed very hard on the strategy to make it work especially as the track conditions and the weather were very different from what we were expecting, so I'm happy with the team and I hope we can carry this momentum on.
"There were a lot of battles for me and it was hard it keep the tyres alive because the temperatures were so high, but it's good to start in ninth place and finish in seventh. I think this is a turning point for us. The race was good, it was a fun weekend, the team are happy and the break is now welcome as it will be a chance to rest before we continue to push in the second part of the season."
Pastor Maldonado: "It was a difficult race today. I had a bad start and lost a lot of positions which compromised our race from the beginning. It was hard to keep good pace in the traffic and then we also had to serve a drive-through penalty. I was on the limit racing Di Resta when I locked the brakes and lost some grip, but I was on the inside of the corner and so there was some light contact.
"We had to concentrate on tyre management today and we gathered a lot of information for the future. We weren't as competitive as we have been, but we now need to work hard to focus on the second part of the season after the summer break."
Caterham
Heikki Kovalainen: "It was a decent race. I made a good start and got up to 16th on the first lap and maintained a pretty good pace for the whole race from there. We're realistic about the performance of the car, but I think the balance and setup were very good this weekend.
"I'm also really pleased with how we managed the tyres and I think the strategy worked well. The Hungaroring is a difficult track to overtake on, so we didn't think we'd be able to make up too many places, but I'm very happy with how the car performed and feel that the team has done a great job this weekend.
"I'll be keeping busy during the summer break, lots of fitness training and spending time with friends, and then I'll be looking forward to getting stuck into the second half of the season."
Vitaly Petrov: "Overall this weekend has been a valuable lesson for us. In the race the car felt very different to how it performed in qualifying and we need to go back and look at the data to try and understand why. It's a bit strange as we had definitely improved it over the weekend, but in the race it just didn't feel the same.
"We have tried a few different setups this weekend, and we know what works, and what doesn't. When we've had time to look through all the data from today's race we'll understand what happened today and we'll make sure we learn from that for the rest of the season.
"On the positive side I think the team worked really well this weekend, and I'm really looking forward to the summer break. I hope everyone in the team can get some well deserved rest and then I'm really looking forward to getting on with the second half of the season."
HRT
Pedro de la Rosa: "It was a tough but nice race. It was very hot but we had a good pace. We went for a two-stop strategy, starting on mediums, then mediums again and finishing off on softs. At the end I had Glock in my sights and he was blocking his tyres a lot, but the race finished before I could overtake him. The blue flags didn't help much either and this time I was unable to pull it off. Overall, I'm happy but it was a survival race. For the second half of the season we've got a few upgrades planned which we hope can help us take that step forwards that we need to be ahead of Marussia. Now we have to rest a few days to return with our batteries recharged."
Narain Karthikeyan: "I had a good start to the race, maintaining Pedro's pace and running ahead of Glock after his spin. But after the first pitstop he was running very strong on softs, I was on mediums, and he overtook me. It was also very complicated to manage the blue flags, especially because there were so many of them. With five laps to go, the car was steering to the right, it was getting worse, and coming out of turn 3 the steering broke, so we have to figure out what happened exactly. It was a tough race, but we must continue working to improve when we return from the summer break."
Marussia
Charles Pic: "I am very happy to end the first half of my first season in this way and to be achieving the targets I set for myself. The race didn't begin so well, as I had a poor start again, so we must look at that and solve it for Spa and beyond as it is another factor that can help us progress in the race. After that, the race pace was very good and I am happy that our performance relative to the Caterhams is now much clearer to see, particularly as I had a nice and close battle with Petrov.
"Now we go into a long break when I will have the chance to reflect on the season so far and look at what we can do for the next half of the season. I would like to thank not just my engineers and car crew but the whole team for a very happy start to my F1 debut. It has not been easy for the team but we are making real progress. I wish everyone a good rest for the holidays and look forward to coming back fighting at the Belgian Grand Prix in four weeks' time."
Timo Glock: "Another race to forget for me, a bit like Hockenheim. I had no pace and no balance in the car from the beginning on. Despite this I was still quicker in the first two laps but then experienced the rear end instability again. I lost the car suddenly under braking and couldn't catch it. I spun and then I was behind the HRTs and struggled massively again with the balance.
"I don't know what the problem is at the moment, but I think it is a good time for the break. My thanks to the team for the hard work in trying to resolve my problems with the car and I wish them a good holiday. I hope that we can all come back and enjoy a stronger second half of the season together."