Vettel's penalty deemed to be fair
The Sky F1 pundits believe that while Sebastian Vettel's transgression at Monza was only slight, he deserved to be punished for forcing Fernando Alonso off the road.
Last Updated: 09/09/12 6:52pm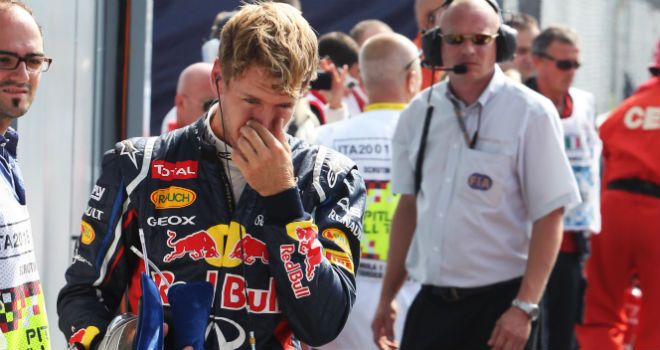 A diplomatic Fernando Alonso has refused to condemn Sebastian Vettel for the block which saw the Red Bull driver hit with a drive-through penalty during the Italian GP - but the Sky Sports F1 pundits believe Vettel's punishment was deserved.
In a role-reversal from last year, when Vettel successfully took to the grass to pass Alonso around Curva Grande, Alonso was judged by the race stewards to have been forced off the road by the World Champion as the Spaniard sought to overtake the RB8 during Sunday's race.
Ultimately, the punishment meted out against Vettel proved academic with Alonso passing his rival on the next lap and the German then retiring from the grand prix as it entered its final stages - caveats which enabled Alonso to deftly sidestep the question of whether Vettel ought to have been punished when he spoke to Sky Sports F1's Natalie Pinkham after the race.
"Fair or not fair, he had to retire at the end of the race and so the penalty had no impact on the result so let's try to forget," commented a fence-sitting Fernando.
The Sky Sports F1 pundits, however, were less circumspect.
"Vettel was in the wrong," declared Anthony Davidson as he reviewed footage which saw the F2012's front-right tyre at one stage almost interlock with the Red Bull's wheels. "It was a little bit over the top."
Colleague Johnny Herbert agreed that it had been a close-call both for the two drivers concerned and the stewards.
"It was just too much," Herbert said. "You have mirrors and when you look into those mirrors you can see if there is someone there. He didn't seem to do that and he just kept on going. He's very aware if Fernando's there or not and he just overpushed it. Maybe it was a driver error or mistake but I think that they [the stewards] did the right thing."
It was a view echoed by Martin Brundle during live coverage of the race. "Every time I see it, it looks a little bit more naughty from Vettel," Martin concluded. "The stewards have lots of extra data and GPS to see exactly where the car has been on every lap and they clearly feel he force Alonso off the track.
Comparing the 2011 incident with this year's, Davidson explained that there had been a salient difference:
"There was still a gap [last year] between the two cars. Fernando gave Vettel a lot more room and then straightened up the car once he saw Sebastian off the circuit."