Renault: Failures 'not acceptable'
Red Bull's engine suppliers Renault have conceded that the performance of their systems at the Italian GP was "not acceptable".
Last Updated: 10/09/12 9:43am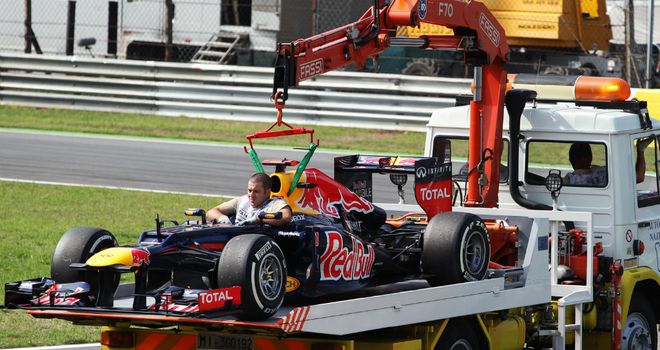 Red Bull's engine suppliers Renault have admitted that the performance of their systems was "not acceptable" at the Italian GP and have vowed to get on top of the reoccurring alternator problems for Singapore.
Reigning two-times World Champion Sebastian Vettel was forced to shut down his RB8 towards the end of both Saturday morning practice and then, most dramatically of all, in Sunday's race after alternators on his engine failed due to overheating.
The same problem back at the European GP in June also cost Vettel a near-certain race victory there, meaning the two alternator-induced race retirements have lost the German in the region of 33 points - the baulk of his current 39-point deficit to Fernando Alonso in the Drivers' Championship.
Renault have apologised for the latest failures and are promising to finally eradicate the problems for the final seven races.
"This weekend has not been acceptable from either a performance or reliability point of view," a statement from Renault Sport read.
"We have to apologise to Red Bull for the two failures on Sebastian's car, first in FP3 and now in the race. In both cases the alternator failed. We introduced a new spec' of alternator following the problems in Valencia and believed this would overcome the issues. We are still looking into why the part failed again here but we do know that even though the alternator was being operated entirely within the prescribed range, the part itself overheated and shut off the power supply.
"This is a priority between ourselves and our suppliers and we have to ensure we are fully on top of the problem before Singapore."
With Renault's other leading customer team, Lotus, also experiencing a KERS failure on Jerome D'Ambrosio's car on Sunday, the French firm acknowledged: "Clearly these types of issues should not happen and we will work tirelessly between ourselves and our suppliers to be back on form in all areas in Singapore and for the rest of the season."