Whitmarsh unaware of any wing complaints
McLaren chief Martin Whitmarsh is not expecting the front wing on the MP4-27 to run into any problems with the FIA at Suzuka this weekend.
Last Updated: 03/10/12 2:00pm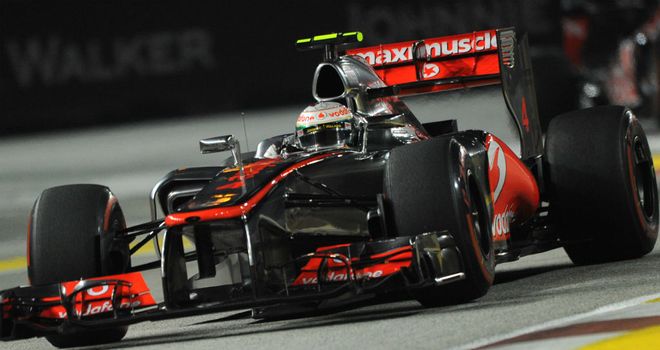 McLaren chief Martin Whitmarsh is not expecting the front wing on the MP4-27 to run into any problems with the FIA at this weekend's Japanese Grand Prix in wake of speculation in the German press that Ferrari had raised concerns over the design.
A report in Auto Motor und Sport has claimed that Ferrari had spoken with Formula 1's governing body over the front wing on both title rivals McLaren and Red Bull's cars, apparently making the observation that both wings were tilting on their horizontal axis at speed.
However, when asked by journalists whether he was aware of a complaint by their rivals in a phone-in with journalists on Wednesday, Whitmarsh said it had come as news to him regarding both his own team and Red Bull.
Indeed he expressed confidence that the front wing on McLaren's car was fully compliant with the front wing flexing regulations, which have been tightened up over the past few seasons.
"There's been no specific conversations to my knowledge," Whitmarsh replied when asked if he had been involved in any discussions with the FIA over the matter.
"That doesn't mean they haven't happened but I think I'd probably know.
"I think the regulations require the wings to be rigid. Of course no wing, no aerodynamic surface is infinitely rigid.
"From time to time pressures and disputes arise between teams who feel that other teams are too flexible or whatever.
"I don't envisage, one, any particular problems for McLaren for McLaren in that regard in the near term. Consequently I don't think it's anything that will harm us.
"Also I'm not aware of anything with Red Bull incidentally."
Whitmarsh added that while it is normal, and, important, for the FIA's technical department to police cars on an ongoing basis amid F1's ever fierce development race, McLaren certainly hadn't been spoken to and there wasn't a brewing controversy about to affect the title battle.
"The FIA technical department have to remain vigilant and be testing front wings, rear wings, attachment systems all the time and making sure, one, not only do they comply with the testing requirements of the regulations but that the teams don't find other ingenious or creative ways to circumvent the intention," he said.
"I think from time to time many teams get spoken to by the FIA and expected to correct a situation. We're not in such a situation ourselves and I'm not aware and don't believe that it's going to be an issue that affects the championship."