Former World Champion Mario Andretti has given a big thumbs-up to the new Circuit of the Americas track
Former World Champion and Lotus tester Jerome D'Ambrosio effusive in praise of new US GP venue
Last Updated: 22/10/12 9:27am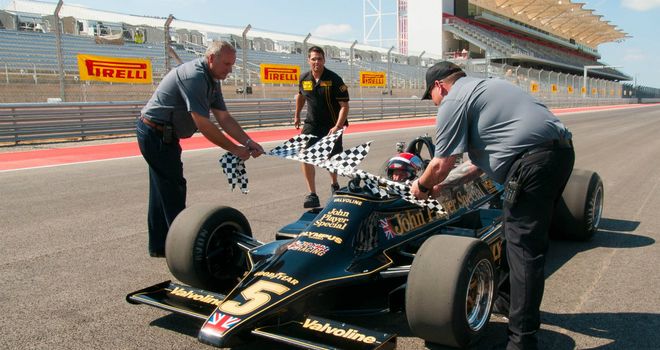 With just three weeks to go until F1's return to the United States after a five-year absence organisers at the Circuit of the Americas held a 'first lap ceremony' over the weekend with ex-drivers and local celebrities invited to christen the new facility and 3.427-mile track.
American racing legend Andretti got behind the wheel of his 1978 title-winning Lotus 79 car, and various others, to give the undulating layout a test run and afterwards praised the challenge presented by the track.
"It's everything I expected and more," the 72-year-old said.
"The track is phenomenal. It has all the features that you are looking for, giving you the opportunity to overtake, while negotiating some tighter corners. You can tell a lot of thought has gone into it."
Current Lotus test driver Jerome D'Ambrosio was also in attendance at the event and drove the former Renault team's 2010 car, the R30, before it ran into an engine problem which prevented Andretti from running in it as well.
Nonetheless before the issue struck, the Belgian was also effusive in his praise of the circuit and is confident it will prove conducive for good close racing.
"There's a real buzz about the Circuit of The Americas and it was fantastic to get out on track to demonstrate the R30," D'Ambrosio said.
"It's a very enjoyable layout with a couple of really good places for overtaking, some long fast sweeping 'S' corners, and some really good high speed changes of direction like 'Becketts' in Silverstone.
"It was a shame not to get more laps, as an engine issue meant we were unable to continue running, but I had enough time to get a really good feel of the circuit. It's an enjoyable track for a racing driver and also fantastic for the fans as the viewing areas are very well placed; there should be plenty of action.
"The first corner is quite special and it will be interesting to see it when people are dicing for position in the race. Austin is a superb city with a great atmosphere, and I think the city will live around Formula 1 for the week of the Grand Prix and that's something we all can enjoy; it's really going to be something quite special."