Bernie Ecclestone predicting further cull of European races over the coming decade
F1 supremo tells Martin Brundle F1's global expansion will continue
By James Galloway
Last Updated: 28/10/12 8:32am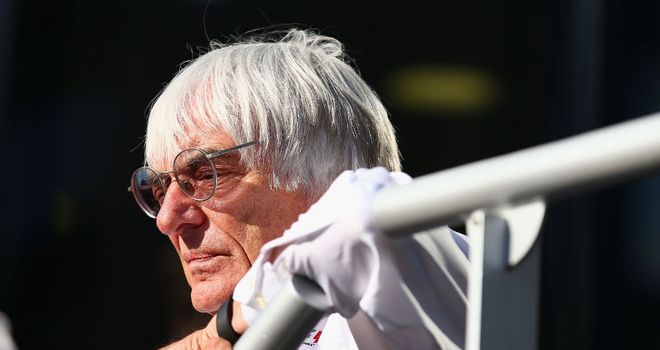 Whereas nearly 70% of the F1 schedule consisted of European rounds at the end of the 1990s, just 40% of this year's record 20 events are held in what has been traditionally considered F1's heartland.
With Spain's second race in Valencia having already been cut from next season's schedule, only seven European events survive on the calendar into 2013 - the lowest overall total since the late 1960s when seasons were far shorter.
And F1 supremo Ecclestone has indicated that the number is likely to reduce still further as the sport continues to seek out new markets.
Asked in an exclusive interview with Sky Sports F1's Martin Brundle where he envisaged F1 in ten years' time, Ecclestone replied: "We'll keep trying to move forward. We're a world championship.
"We'll probably lose two or three more races in Europe as we have to sort of move on."
Put to him by Martin that such a move would mean there would be just four races left in Europe, Ecclestone somewhat more cryptically replied: "Who knows."
The scheduled inclusion of New Jersey on next season's calendar would have reduced the number of European rounds to just 35% - exactly half the number as in 1997 - while future new races have been mooted in Thailand, Mexico and South Africa.
Asked about Ecclestone's prediction by Sky Sports News' Craig Slater, McLaren and FOTA chief Martin Whitmarsh admitted he would prefer the current balance on the calendar to be maintained, but conceded that F1 needed to go where there was the demand and finances.
"Bernie's responsible for the commerical development of the sport," he said.
"But we can only race in European if people want us there and there's a lot of competition, a lot of places fortunately want to host grands prix.
"At the moment 20 races, now the majority are outside Europe is quite a hard slog for the teams. But I think it's Bernie's job to promote and develop the sport and I hope we stay with the same proportion of European races personally - but that's probably because I have to travel to them all!
"But, frankly, Bernie's got to go out there and get the deals where he can."