Nico Hulkenberg to race for Sauber in 2013
German to leave Force India for team's Swiss rivals
Last Updated: 27/11/12 4:21pm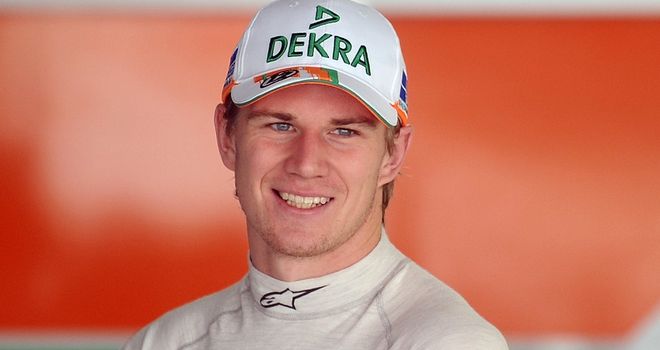 The 25-year-old has spent the last two seasons with Force India, the first as test and Friday driver, but a transfer to the team's rivals has been mooted for several weeks in wake of Sergio Perez's transfer to McLaren.
Hulkenberg's impending switch was finally made official on Wednesday with the driver saying he believed he was joining a team that he could achieve success with.
"I'm really looking forward to working with the Sauber F1 Team," he said.
"It's a well-placed team and very competitive.
"Plus it's a team in which young drivers have repeatedly delivered exceptional performances. I would like to take up that baton.
"The Sauber F1 Team is currently going through a very positive development and I'm certain that together we can achieve a lot.
"Until that time I will remain fully focused on my job with the Sahara Force India Team. I'd like to thank the management at Sahara Force India for giving me the chance to return to Formula One as a team driver."
Sauber made no mention of the identity of Hulkenberg's team-mate for next season in the announcement, however, simply saying they will "announce its second driver for the 2013 season at a later date".
With Kamui Kobayashi thought unlikely to be retained, Sauber's current Mexican test driver Esteban Gutierrez has been hotly-tipped to join Hulkenberg in the 2013 line-up although young Dutchman Robin Frijns has also been mentioned.
On Hulkenberg's impending arrival, Sauber Team Principal Monisha Kaltenborn said the German's performances in his two racing seasons in F1 to date had impressed all at Hinwil and she was confident the young star would fit right in.
"We've been observing Nico for some time now and his performances have been very persuasive," she said.
"That was the case in GP2 and has continued into Formula 1. An obvious highlight was how he scored pole at Interlagos in 2010 despite the most challenging external conditions. He clearly showed that he can seize the chance if it arises.
"But high spots like that are one thing; systematic teamwork is another - and on that score I have confidence in Nico too. I'm sure he will fit in very well with the Sauber F1 Team. We look forward to working together with him."
Given Sauber are only one position ahead of Force India in the Constructors' Championship, and both teams are perennial midfield outfits, some observers in the paddock have suggested that such a switch for Hulkenberg - who made his F1 debut with Williams in 2010 - would be something of a sideways move.
However, speaking on Sky Sports F1 over the Indian GP weekend, Ted Kravitz explained that the big advantage of any move could be that Sauber have long-time ties to Ferrari.
"I refer you back to some pretty strong rumours we heard earlier in the season that Ferrari were interested in Hulkenberg in terms of taking over from Felipe Massa," Ted said.
"Some Italian journalists even reported that Hulkenberg had a contract to replace Massa at Ferrari. So these are all pointers to perhaps Ferrari wanting to know a little bit more about Hulkenberg.
"Yes, he's had a pole position in difficult conditions in the wet in Brazil when he was driving for Williams and yes he's undoubtedly fast but because Sauber are a bit of a satellite Ferrari team this is a way, potentially, for Ferrari getting to know Hulkenberg better with an eye to maybe replacing Massa in 2014."