The FIA has announced that the German Grand Prix will take place on July 7
Governing body also reserves July 21 for extra European race
Last Updated: 20/12/12 2:27pm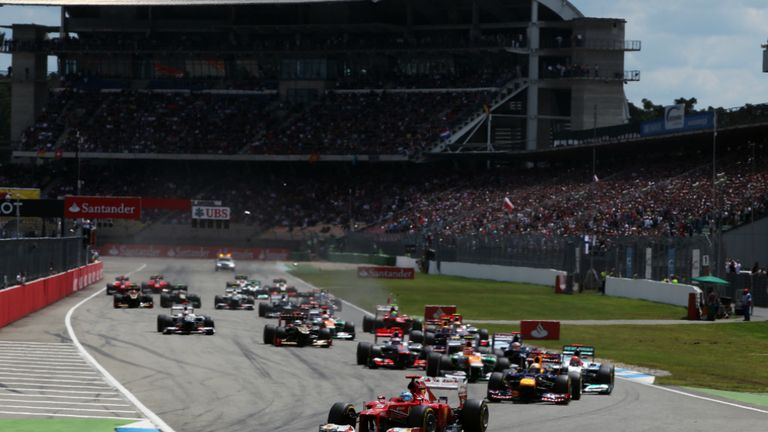 At a meeting of the governing body's World Motor Sport Council in Istanbul on Wednesday, it was also decided to reserve the July 21 date for another European race.
It has been hoped that the French Grand Prix might rejoin the calendar but with both the Magny-Cours and Paul Ricard circuits unable as yet to agree deals, F1 supremo Bernie Ecclestone has suggested that the Turkish Grand Prix might reappear after a two-year hiatus.
Speaking to Italian newspaper Gazzetta dello Sport, Ecclestone said: "I am going to Istanbul to see if we can get the Turkish GP back before participating at the World Council."
The WMSC has also ratified amendments to the 2013 and 2014 Sporting and Technical Regulations, including a removal of the 'force majeure' argument when a car stops on track during qualifying.
McLaren tried unsuccessfully to cite force majeure when Lewis Hamilton pulled up after setting the fastest time in qualifying for the Spanish Grand Prix in May.
Hamilton, whose car was underfuelled, was forced to start from the back of the grid as a result.
In contrast, Red Bull successfully argued force majeure when Sebastian Vettel did the same after qualifying in Abu Dhabi - engine supplier Renault having instructed the World Champion to pull over.
However, the World Champion's car also failed to provide a mandatory fuel sample when later tested and he too was penalised.
From now on, the FIA will instead determine how much fuel the car would have used to get back to the pits and add it to the one litre sample minimum.
More stringent front wing deflection tests will be introduced next year while the move to limit the use of DRS to its specified zones during practice and qualifying has been ratified.
Meanwhile, the team personnel curfew will be extended from six to eight hours on Thursday night and only two exceptions will be allowed during a season (instead of four).
An eye-catching change to the 2014 F1 Technical Regulations is that the requirement for cars to be driven exclusively under electric power in the pit lane has been postponed until 2017.
A number of changes have also been made to the power unit regulations with the aim of limiting technology in some areas in order to reduce development costs.
And changes made to bodywork design, originally aimed at reducing downforce and drag for increased efficiency, have reverted to 2012 specification.