Sky Sports F1 HD to show the Monaco GP as one of 10 races exclusively live in 2013
Details of 2013 race coverage released
Last Updated: 18/01/13 1:02pm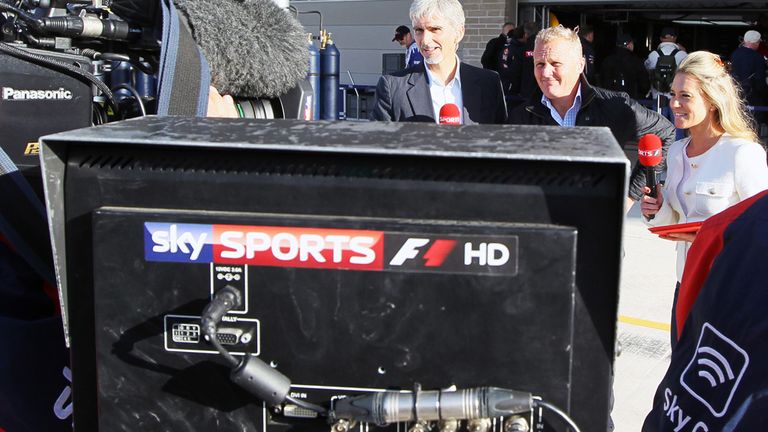 Sky Sports has confirmed its race coverage for 2013 which will include live coverage of every practice session, qualifying session and race from each grand prix weekend with 10 exclusively live. Every race will be screened on the dedicated Formula 1 channel Sky Sports F1 HD.
The season opens with exclusive live coverage of the first two grands prix - Australia then Malaysia - only on Sky Sports F1 HD. In 2013 viewers will enjoy:
• Every practice, qualifying and race of the 2013 Formula 1 calendar live on Sky Sports F1 HD
• Three of the first four grands prix weekends exclusively live
• 10 races exclusively live, including the Monaco, Singapore, Abu Dhabi and USA Grands Prix
Sky Sports executive producer of Formula 1 Martin Turner said: "The season starts live only on Sky Sports F1 HD. We'll bring viewers the whole story of the season, live from every practice, qualifying session and race in the calendar.
"We're looking forward to covering the Monaco Grand Prix live and exclusively - it's the jewel in the crown of F1 and this is the first time that GP will be exclusively live to Sky Sports F1 HD.
"We'll follow the twists and turns of the most glamorous weekend in Formula 1 to bring viewers closer to the iconic race that every driver wants to win.
"Last season, we ran features on every team on the grid, broadcast the first UK F1 coverage in Dolby 5.1 surround sound and showed the Team Principal and Driver press conferences live too. We also introduced virtual screen technology which created the virtual car seen in the F1 Show and allowed us to recreate a driver's perspective during key moments of a race.
"Next year promises to be a great season, and we'll look to go from strength to strength as we give F1 the Sky Sports treatment in 2013."
Next year as well as the complete Formula 1 season, Sky Sports viewers can watch live coverage of the Masters golf, the British Lions Tour to Australia, back-to-back Ashes series and more Barclays Premier League football matches than ever before.
The F1 season kicks off on Sky Sports with The F1 Show on 15 February followed by coverage of all three February tests and car launches.
Commentary next season will again come from Martin Brundle and David Croft, with expert analysis by Damon Hill, Anthony Davidson and Johnny Herbert. Fronting the coverage are presenters Simon Lazenby and Georgie Thompson alongside reporters Natalie Pinkham and Ted Kravitz.
In addition to a full calendar of live Formula 1 coverage, F1 fans will enjoy a unique insight into the future of their sport with live coverage of Formula 1 feeder series GP2 and GP3.
The live race weekends will be supported by weekly episodes of the F1 Show beginning on 15 February 2013 and round the clock coverage on Sky Sports News HD, skysports.com/formula1 and @skysportsf1.
Viewers can watch live on TV with Dolby 5.1 surround sound, via Sky Go or using Race Control accessed via the red button, skysports.com/formula1 or the Sky Sports App for iPad. Race Control users can choose two of up to ten camera views, including driver and pit lane cameras, and data streams to watch on split-screen.
More information on Sky Sports F1 HD can be found here.
2013 FIA FORMULA 1 CALENDAR
The full 2013 FIA Formula One World Championship Race Calendar is as follows:
17 March Australian Grand Prix Exclusively live
24 March Malaysian Grand Prix Exclusively live
14 April Chinese Grand Prix Live
21 April Bahrain Grand Prix Exclusively live
12 May Spanish Grand Prix Live
26 May Monaco Grand Prix Exclusively live
09 June Canadian Grand Prix Live
30 June British Grand Prix Live
7 July German Grand Prix Exclusively live
28 July Hungarian Grand Prix Exclusively live
25 August Belgian Grand Prix Live
08 September Italian Grand Prix Live
22 September Singapore Grand Prix Exclusively live
06 October Korean Grand Prix Exclusively live
13 October Japanese Grand Prix Live
27 October Indian Grand Prix Live
03 November Abu Dhabi Grand Prix Exclusively live
17 November United States Grand Prix Exclusively live
24 November Brazilian Grand Prix Live