Robert Kubica 'still believes' he will one day race in Formula 1 again
Recovering Pole insists he can still return to the top level
By James Galloway
Last Updated: 23/01/13 3:16pm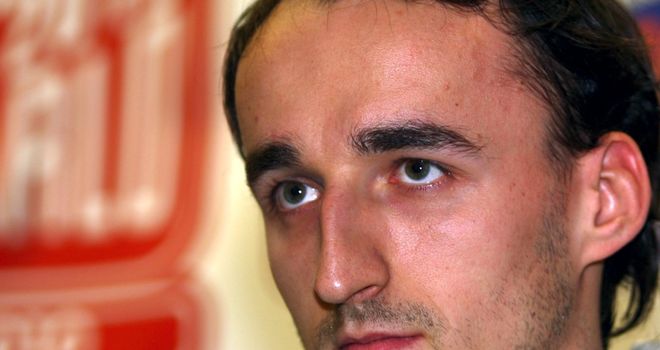 The former BMW and Renault driver has been out of the sport since being involved in a horrific accident in February 2011 that caused multiple fractures to his right arm and leg.
Having had numerous operations over the past two years to improve the mobility of his arm and hand, the 28-year-old returned to a competitive motorsport environment last September in a rally car - winning at the first attempt at an event in Italy - and has since completed in further rallies and driven a Citroen WRC machine.
Mercedes' new motorsport boss Toto Wolff revealed earlier this week that Kubica was set to test one of the German manufacturer's DTM cars in Valencia and it had been suggested that the Pole's most likely destination for a competitive future in motorsport was either in a rally or touring car, rather than in the tighter confines of an F1 cockpit.
But speaking in an interview in the new edition of F1 Racing magazine, Kubica made it clear that he hasn't given up on F1.
"I still believe I can come back," he declared to the magazine.
"It's not just a dream. Right now I have limitations with driving single-seaters, but they are less than they look from the outside.
"Things are improving. It wasn't like this six months ago and it wasn't like this three months ago. And thanks to rallies and tests on the race track, slowly my condition is improving - but there's still a long way to go."
He added: "If you cannot have the thing you want, you want the thing you have. Most important for me is that I have seen the pace is still there and I am absolutely sure I can drive competitively again."
Kubica explained that, while the strength in his arm is "not what it was", the "bigger problem is the limitation in the supination and pronation of the arm and the limited functionality in my fingers".
"But I'm convinced that this will come back slowly," he added.
"Nerves need a lot of time and I see progress even if it's slow. I am quite sure this will be... not fixed, but not a big problem."
Kubica admitted that he found F1 "not easy to watch" since his accident and that working towards a return to the top flight remained his goal.
"When you have raced for 20 years and one day you have to stop... it's not easy, especially when you are hit with big problems," he added.
"But being in a rally car is helping me with recovery and the day I sit behind the wheel and don't think any more about limitations...this would be the best rehabilitation.
"If I have luck and keep working and the puzzle comes together, maybe one day I will drive an F1 car."