Paul di Resta has challenged Force India to score points consistently in 2013
Scottish driver wants Force India to move up to the next level
By William Esler at Silverstone
Last Updated: 03/02/13 9:21am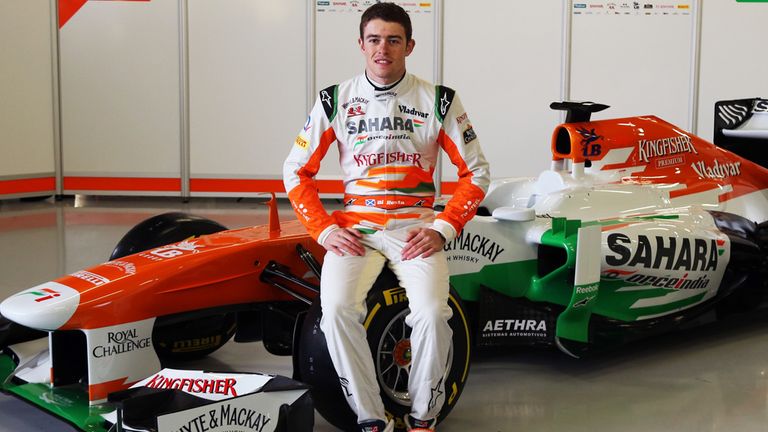 The Silverstone-based team fell to seventh in the last season's Constructors' Championship, failing to move closer to the likes of Lotus, Mercedes and Sauber after a promising 2011.
There were, however, positives along the way, including two fourth-place finishes for the team, whilst the now departed Nico Hulkenberg led the Brazilian Grand Prix for a long period.
"It (the season) has to be positive - I think we need to start the season stronger than we have done over the past couple of seasons," di Resta said.
"I think to move up to that next stage we need to score points and keep the momentum in.
"It is my third year and I am more ready for the challenge than I ever was, I am a year wiser, I've got the confidence in the team and the people in the team to do that. It is all about the work we put into this car and the work we do over the next two months.
"There is a lot of running, a lot of different challengers are going to come up against us, but ultimately the key point is qualifying in Melbourne - that's when it is gloves off."
The Scottish driver has worked hard on his fitness during the winter and feels he is heading into the new season in the best shape of his career.
"I've sacrificed a few meals," the 26-year-old joked when complimented on his figure by Sky Sports F1's Johnny Herbert.
"It has been a good winter, obviously it was a difficult finish in Brazil (where he crashed out) but I think it was the right time to head away and regroup, recharge the batteries and give everyone a break.
"It was the longest ever F1 season, with many highs and lows along the way, and this year is obviously very important for us and we will continue to put the work in. I've put in a big effort on the fitness, as I always do, I think working with my trainer for an extra year means we can see the weaknesses and what we need to do.
"I enjoy doing the fitness side of it, I treat it as a social event to catch up with friends and it is all about enjoying it and keeping it mixed up. We travel the world and we see many different things and I think that gives you some good ideas to keep yourself ticking away."