Nico Rosberg completed no fewer than 148 laps as Mercedes got their test schedule back on track
"A great test day" at last for the Silver Arrows
By Mike Wise
Last Updated: 07/02/13 8:10pm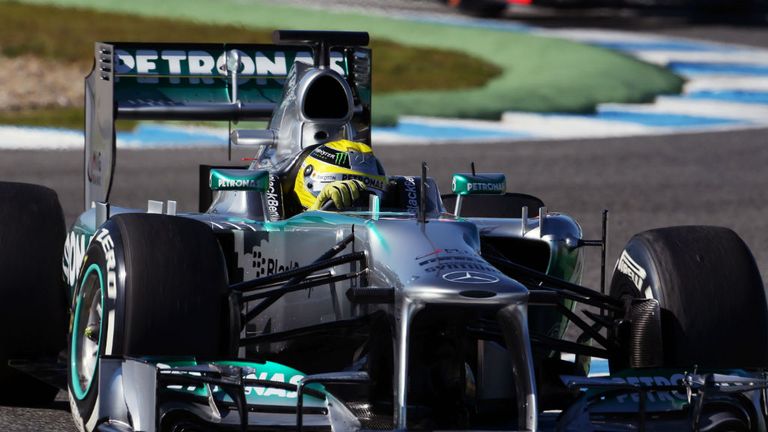 The German completed no fewer than 148 laps of the Jerez circuit - a total distance of 407 miles or, more or less, the equivalent of a drive from London to Glasgow.
In truth, Rosberg had little other option after the teething troubles Mercedes have had with their W04 this week. On Tuesday, an electrical problem curtailed his running to only 14 laps while new team-mate Lewis Hamilton managed just one more 24 hours later before a brake failure sent him into the tyre barrier.
Speaking on Wednesday evening, Hamilton set a target of between 110 and 120 laps of running on each of the final two days and Rosberg was more than happy to oblige.
"I'm very excited because it was a great test day," enthused the 27-year-old after finishing second on the timesheets behind Ferrari's Felipe Massa. "We were consistent, did everything that we had on the plan. In fact, we ran out of ideas of what to do because we're limited with tyres. In the end, we were like, 'let's so some pit stops' and things like that."
Despite the appearance of burnt bodywork close to the car's exhausts, Rosberg reckoned there was nothing wrong with it other than a lack of front grip.
"It all worked out well - no problems whatsoever. We've just been unfortunate the last two days. It's problems that could have been avoided but they've also been difficult to fix. It's unusual for relatively small problems," he said.
"Today showed that we have a very reliable car. Nothing at all went wrong today on the car - not the slightest thing - so that's cool. We made progress with a new front wing today which was good, a good direction there.
"I'm struggling a bit with understeer at the moment, but that's what it's about: to highlight what our problems are, tell the factory so they can get on top of things ASAP."
Of his own condition at the end of the day, Rosberg added: "I had no problem whatsoever doing 150 laps, whereas in previous years it was always a little bit difficult getting into it. But now I feel like I've never stopped for the last two-and-a-half months, so that's cool. I'm really happy about the fitness level."