Barcelona, Day Four: Lewis Hamilton dodges showers and red flags to end test on top
Wet, cold weather and eight stoppages dominate final day
By James Galloway and Mike Wise in Barcelona
Last Updated: 23/02/13 6:52am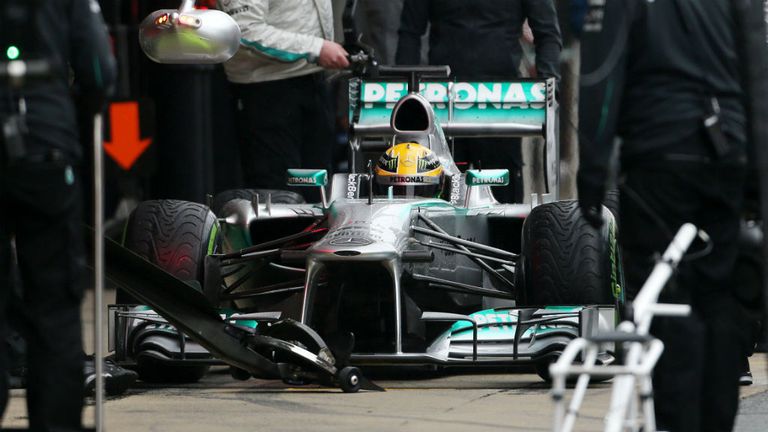 On a day that cold and wet weather took hold at the Circuit de Catalunya, Hamilton's pacesetting lap of 1:23.282, set at the beginning of a medium-length run on the medium tyres, would have only been good enough for tenth place on the Day Three timesheet and was the best part of a second and a half slower than Sergio Perez's benchmark time of the whole week.
"The conditions today meant that we didn't complete as many laps we would have done in the dry but we have gone through the test items that we wanted to achieve this week," Hamilton said.
"We have been working on our consistency over long runs and we managed one run this morning on dry tyres; the car felt okay but the conditions were also very cool, so we cannot draw too many conclusions. Like I said in Jerez, I can feel that we have a good foundation with this car but there is still a lot to learn and we know that the name of the game is to improve our downforce."
Hamilton's former McLaren team-mate Jenson Button took second place, three tenths back, with Jean-Eric Vergne third for Toro Rosso on the soft tyres and Jules Bianchi a solid fourth on his audition day in the Force India.
After a two-week break from the F138, Felipe Massa returned to the Ferrari cockpit and recovered from a second-lap spin to complete 77 laps in seventh place with Mark Webber just behind for Red Bull in eighth.
Friday's miserable conditions at the Spanish GP venue were of little surprise given they had been forecast all week, although it actually wasn't until the lunch break when the heaviest rain - and hail - hit the circuit, which rendered the afternoon session an extended wet test.
Despite falling morning drizzle drivers had still completed their installation laps on slick tyres. However, the slippery track seemed to catch the returning Massa out as by the Turn Four hairpin on his second lap the Brazilian's Ferrari F138 was facing backwards in the gravel trap.
That early red flag set the tone for the opening two hours as, with the rain steadily increasing in intensity, a succession of drivers misjudged the grip levels around the track, despite by now having switched to intermediate tyres.
No sooner had Sauber rookie Esteban Gutierrez brought out the red flag for the second time when he beached his C32 at Turn Five, Caterham's Giedo van der Garde pirouetted off the road coming onto the pitstraight. The morning's fourth red flag arrived soon after when Toro Rosso's Jean-Eric Vergne repeated Gutierrez's error at the tight Turn Five right-hander.
With the rain soon stopping, and the track drying slowly, some more competitive slick-tyre times were eventually able to be completed and it was Hamilton - who had characteristically been the first to discard the grooved wet rubber - who made the early running, consistently lowering his own benchmark before eventually clocking a 1:23.282.
McLaren driver Button, who had admitted on Day Three that the team were struggling to understand their new MP4-28, was the only other driver to break the 1:24 barrier, the Englishman four tenths quicker on mediums than Toro Rosso's Vergne was on softs.
Having known all week his sole day at Barcelona in the VJM06 was likely to be wet, Bianchi importantly enjoyed an error-free session and managed 54 laps for Force India as the team continue to deliberate whether they appoint the Frenchman, or Adrian Sutil, as Paul di Resta's team-mate.
With Ferrari, Red Bull and Lotus all appearing to run heavier on fuel than either Mercedes or McLaren when the track was dry, Caterham's van der Garde managed to finish in the heady heights of seventh place despite the Dutchman having brought proceedings to a halt for a second time just before lunch when he pulled over in the CT03.
Gutierrez was another driver to bring out two red flags - the second time when he spun in the wetter afternoon conditions at Turn Four - but still managed to complete more laps than anyone during the day with 96.
"It was a very interesting day for me as well as for the team, because it was important to get some experience in wet conditions," the Mexican said.
"For me it was the very first time I had driven a Formula 1 car in the wet. It was particularly interesting in the morning, when the track was wet to begin with and then started to dry out. I was able to drive with dry tyres in very tricky conditions, which was a situation I could experience in a race."
Having completed more laps than anybody with their new FW35 over the first three days, Williams took Day Four's poor weather as their cue to complete sustained pitstop practice, with neither morning driver Valtteri Bottas (23 laps) nor his afternoon replacement Pastor Maldonado (13 laps) recording a timed effort.
Two further stoppages inside the closing 30 minutes, Hamilton between Turns Six and Seven, and Bianchi on the pit straight, eventually brought by far the most incident-filled day of the winter so far to a stuttering close.
Day Four Timesheet:
1. Lewis Hamilton, Mercedes, 1:23.282, 52 laps (M).
2. Jenson Button, McLaren, 1:23.633, 70 laps (M).
3. Jean-Eric Vergne, Toro Rosso, 1:24.071, 80 laps (S).
4. Jules Bianchi, Force India, 1:25.732, 61 laps (M).
5 Esteban Gutierrez, Sauber, 1:26.239, 96 laps (M).
6. Giedo van der Garde, Caterham, 1:27.429, 50 laps.
7. Felipe Massa, Ferrari, 1:27.553, 77 laps (M).
8. Mark Webber, Red Bull, 1:27.616, 64 laps (M).
9. Max Chilton, Marussia, 1:29.902, 51 laps.
10. Romain Grosjean, Lotus, 1:34.800, 41 laps (H).
11. Valtteri Bottas, Williams, No time, 23 laps.
12. Pastor Maldonado, Williams, No Time, 13 laps.