Barcelona, Day Four: Mercedes' Nico Rosberg signs off from testing in style
W04 fastest on the final two days of the winter season
By James Galloway in Barcelona
Last Updated: 04/03/13 6:26am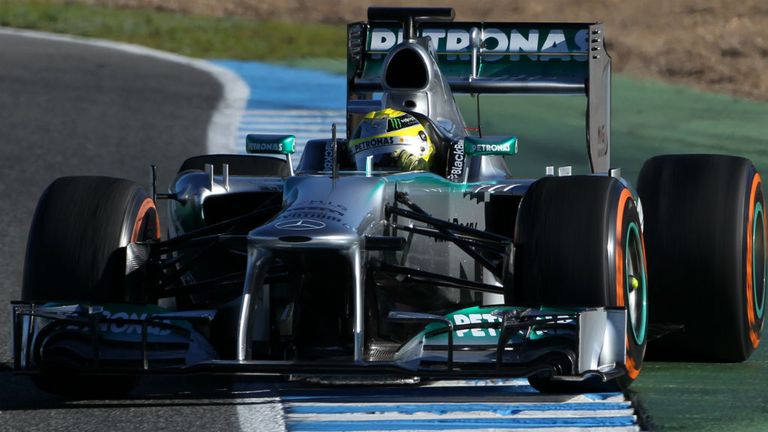 After team-mate Lewis Hamilton had heightened expectations surrounding the Brackley team by setting by far the fastest time of the winter hitherto at the Circuit de Catalunya on Day Three, Rosberg managed to go beyond that mark - by four tenths of a second to be precise - amid a series of short, qualifying-style soft-tyre runs in the morning in the increasingly-impressive W04.
His best lap of 1:20.130 - a mark he matched to within 0.050s later on - will therefore stand as the fastest of the whole eight days of running at the Spanish GP venue - although Mercedes' had to partially share the Day Four limelight with Ferrari as Fernando Alonso also beat Hamilton's earlier benchmark in the first sign of true pace from the F138.
Jenson Button ended McLaren's pre-season in third place on the times, albeit some 1.3s back on Rosberg, with Sauber's Nico Hulkenberg fourth and Lotus's Kimi Raikkonen fifth. Only Raikkonen in the top five failed to clear the 100-lap hurdle.
So while Mercedes confirmed the threat they possess, Alonso, who admitted to Sky Sports F1 on Friday he felt Ferrari were still behind their key rivals, still caught the eye and clocked 1:20.494 in a similar run on the soft tyres, before switching to some longer stints on two harder compounds in the afternoon.
Mercedes and Ferrari ended the final day significantly clear at the front on the timesheet but few, if any, expect that level of superiority over their rivals to be replicated come the first qualifying session of the season in 13 days' time.
Red Bull, for one, are likely to have a large say in the first battle for pole in 2013 at Albert Park but the World Champions again gave little away on Day Four as Sebastian Vettel spent his time on the circuit on heavier fuel and running medium-to-long length stints.
Indeed, the German's best time of 1:22.514 - which placed him a middling eighth on the timesheet and over two seconds off the ultimate pace - was set on what were likely to be the medium tyre, although they were technically from a batch of unmarked Pirellis.
Indeed, speaking to Sky Sports F1 afterwards, Vettel admitted the headaches teams have experienced with tyres in cool temperatures at Barcelona had meant "we have never had a winter more inconclusive than this one".
"Testing was good for us a whole but we would have loved to have had more consistency - especially from a tyres' point of view," he added.
"I think every team had this kind of problem and it made it difficult to read the changes we made."
One notable change Red Bull did make during the afternoon was to revert to an older specification wing on the RB9, having rolled out a new version on Saturday.
Rivals McLaren, meanwhile, ended what was a similarly inconclusive winter from them with Button's time of 1:21.444 on the softs his and the team's best time of the test, but a long way off the Mercedes.
In the afternoon Button switched to long stints on first the hard, and then medium, Pirellis and finished the final day with 122 laps on the board.
While Raikkonen was fit enough to return to the Lotus E21 for the final day of action, Lotus completed less than half the total mileage of the majority of other teams after yet another gearbox problem cost them nearly all the morning's running.
But, as has been the story of their winter, when the car was on the track it was quick and consistent with Raikkonen's fifth-fastest lap coming late on amid a run on soft tyres.
Meanwhile, Williams assessed further aero revisions on their FW35 with first Pastor Maldonado, and then Valtteri Bottas, at the wheel with Caterham finally finishing ahead of Marussia on the timesheet once again.
Day Four timesheet
1. Nico Rosberg, Mercedes, 1:20.130, 131 laps, Soft tyres.
2. Fernando Alonso, Ferrari, 1:20.494, 120 laps, Soft tyres.
3. Jenson Button, McLaren, 1:21.444, 122 laps, Unmarked tyres.
4. Nico Hulkenberg, Sauber, 1:21.541, 118 laps, Soft tyres.
5. Kimi Raikkonen, Lotus, 1:21.658, 50 laps, Soft tyres.
6. Paul di Resta, Force India, 1:21.664, 112 laps, Tyres unknown.
7. Pastor Maldonado, Williams, 1:22.415, 42 laps, Tyres unknown.
8. Sebastian Vettel, Red Bull, 1:22.514, 100 laps, Unmarked tyres.
9. Valtteri Bottas, Williams, 1:22.524, 31 laps, Soft tyres.
10. Charles Pic, Caterham, 1:23.115, 116 laps, Tyres unknown.
11. Jules Bianchi, Marussia, 1:23.167, 62 laps, Tyres unknown.
12. Daniel Ricciardo, Toro Rosso, 1:23.628, 91 laps, Tyres unknown.
13. Max Chilton, Marussia, 1:24.103, 49 laps, Tyres unknown.