Barca Day Four: Driver reaction
Next stop on March 17: Melbourne!
By Sky Sports Online
Last Updated: 04/03/13 8:41am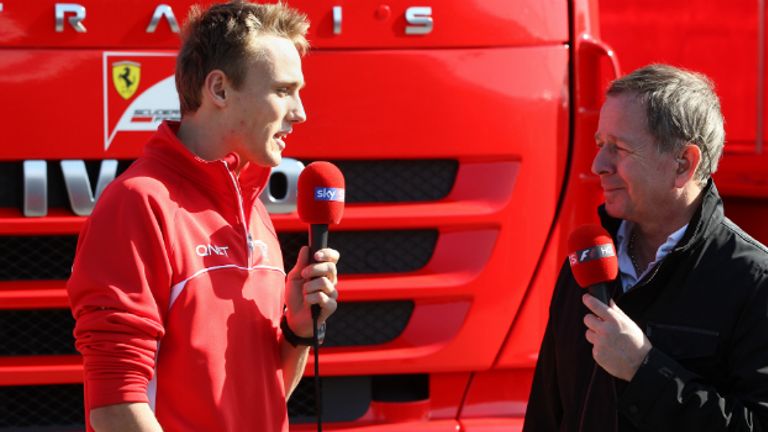 Mercedes
Nico Rosberg: "I'm pleased with our pre-season testing programme. We have achieved a lot of mileage and I can feel that the balance of the car is good. I have the general feeling that we are in a better position than in the second half of last year but this is testing not racing, of course. The conditions in the first race will be completely different to here as it will be much hotter in Melbourne and Sepang so we need to wait and see. Thanks to the team here at the track and back home at the factory for all their hard work over the last month. I hope it pays off and we can look forward to a positive season ahead together."
Red Bull
Sebastian Vettel: "We're in good enough shape I think. Overall testing has been good for us and we didn't have too many problems. But if you sum up all three tests I think all the teams were linked in to what the tyres could do and at times it was extremely difficult to read the set-up changes and find a direction because the tyres were always pretty challenging.
"In terms of how we did this week, well, over the past couple of days we maybe didn't tick all the boxes that we wanted to but we have bit of time left to prepare before the seasons starts. The target is there to improve and we will do that. I'm looking forward to Melbourne now and can't wait for the racing to begin."
Lotus
Kimi Raikkonen: "I was sick yesterday and the car was sick this morning. It's not what you want, but you go testing to find out if there are any problems with the car. For sure, we haven't completed all the laps we wanted during pre-season, but that is often the case. We've found a few issues and we have solutions for them, which is positive. Personally, I felt much better today and I was fine driving. We ran through a lot of assessments this afternoon and the feeling in the team is that we have a strong basis to start the season; even if we haven't shown that every day. I'm happy with the car and looking forward to going racing."
Williams
Pastor Maldonado: "Winter testing has been good for us. The FW35 has been very reliable but we are still learning how the car behaves. The FW35 is completely different to drive compared to the FW34, mainly because of the new Coanda exhaust. It has given us greater overall downforce but we still have a way to go to make sure we get the maximum benefit. We have a good base to work from though so now we just need to unlock the full potential of the car. We have some great data to compare from this year and last, so it's all to do back at the factory now."
Sauber
Nico Hulkenberg: "We did most of the planned programme with a qualifying and a race simulation. The qualifying simulation went quite smoothly, but we have some potential left with the balance of the car and some homework to do before Melbourne. But I think that we found some interesting directions, and overall I'm quite satisfied. The race simulation didn't go hundred percent according to plan. Tyre degradation at the beginning is very high, and it's quite challenging to keep tyres alive."
Toro Rosso
Daniel Ricciardo: "We had some shorter runs to do in the morning, during which we tried most of the tyre compounds, while getting through all the items on our job sheet. In the afternoon we managed a few long runs, which was good, as we hadn't done many at this test, because of the bad weather. I think we learned a bit there. I'm now looking forward to Australia and hope that we'll be able to produce some good speed at my home race."
Force India
Paul Di Resta: "My last day in the car before Melbourne and we made the most of it. The race distance this afternoon was straightforward and there were no red flags while we were running. The weather was much warmer today and that gives us useful tyre information, which we can compare with the data we have from Adrian's work yesterday in similar conditions."
Marussia
Jules Bianchi: "I think it was a very positive morning for me and the Team as we did a lot of work and kept improving throughout. The pit stop work was very important and although this took away some of my time for performance work, I think it is essential for us to be fully prepared. We have maximised the one and half days of running I have had and the weather has remained good for me, so I feel happy with what we have achieved. I am ready for Melbourne. Next week I will visit the UK to do some work on the simulator and I will also go to the Marussia Technical Centre for the first time to meet the rest of my new Team. There is a lot to squeeze in over a very short space of time, but I can relax on the plane next weekend. Before that, I want to fit in as much as I can. My thanks again to everyone for a very quick but warm introduction to the Marussia F1 Team. I think we can have an exciting and positive season together."
Max Chilton "Overall I'm very pleased with the work we've done this week, exploring different set-ups in varying conditions. This range of experience will help us a lot in the first few races when we are likely to experience a few different extremes I think. The work we've done this afternoon with live pitstop scenarios will also be very useful. It would have been nice to have ended a positive week with a little more performance focus, as in the short amount of time we had at the end of the day I wasn't able to get the best out of the tyres when the conditions were cooling again. From the positive signs in the dry earlier in the week though, I'm happy and feeling prepared and confident for Melbourne now. The Team have done a great job to get the most out of the three pre-season tests and let's look to the season now for a positive reward for all the hard work."
Caterham
Charles Pic: "I'm pleased with how the last day of testing has gone. We've finished everything we planned for this test and completed 116 laps today, including a race simulation and full pitstops so we've done everything we can to prepare for the start of the season in a couple of weeks.
"It was also important to use the tests to familiarise myself with the whole team. I've really enjoyed working with everyone - there's a good atmosphere inside the team and we're realistic about what we can achieve this year so we'll go into the season with a good spirit and aim to take advantage of anything that comes our way when the races start."