2013 Australian GP Qualifying postponed until midnight UK Time on Sunday morning
Rain stops play in Melbourne with only Qualy One completed
By Pete Gill
Last Updated: 16/03/13 11:01am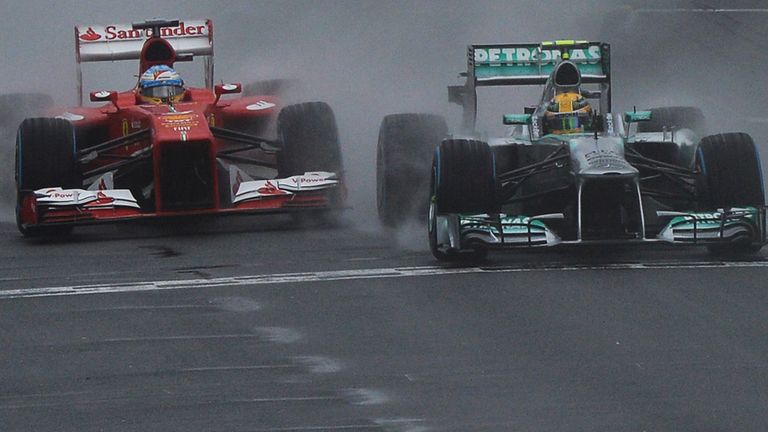 With only one of the three qualifying segments completed before race organisers called a halt at 7pm local time, British motorsport fans face the prospect of a midnight start on Sunday morning, with the race taking place six hours later at 6am.
In truth, for all the disappointment and aggravation the rescheduling will cause, race organsiers had little choice but to postpone the session, with too much water on track and too little light remaining.
With conditions grim and wet throughout, just 20 minutes of track action were possible over two hours before FIA Race Charlie Whiting declared nature the victor of a day best forgotten.
"It's a shame because of the weather but absolutely the right decision was made to stop the qualifying - or postpone it for tomorrow," said Red Bull team boss Christian Horner.
"The conditions are just deteriorating too quickly, particularly with the daylight and too much standing water."
The forecast is at least more promising for Sunday although the risk of showers still persists.
The delayed Qualifying One segmet did at least produce thrills and spills galore, with nearly half of the field sliding off the sodden track and Lewis Hamilton, Felipe Massa, Charles Pic, Giedo van der Garde and Esteban Gutierrez all hitting trouble in the form of an Albert Park barrier.
While both Massa and Hamilton were extremely fortunate to escape relatively unscathed from their collisions and avoid an early exit, both Caterhams suffered front-wing injury to add to the insult of being out-qualified by the two Marussias at the back of the grid.
Gutierrez's leery crash into the barriers - which also saw the Mexican youngster eliminated - did at least bring temporary relief for the beleaguered Williams team, offering a reprieve for fellow rookie Valtteri Bottas as he snuck through to the second stage of qualifying, but there was no way through for team-mate Pastor Maldonado and no punches pulled either from the angry South American afterwards.
"I think we're back to two years ago [for] conditions in the team. We need to work very hard to sort the problems. The car is undriveable at the moment and we need to work," he thundered.
Alas, only the Melbourne weather ended the day in a worse mood, leaving the remaining field of sixteen drivers to live to fight on another day and European-based armchair fans to plan their own two-stint strategies for race day.
Sky Sports F1's Australian GP coverage
Qualifying (Q2 and Q3): Saturday night from 11.45pm - Live!
2013 Australian GP: Sunday morning from 4.30am - Live!